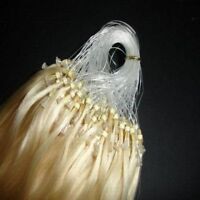 MICRO RING EXTENSIONS
HOW TO APPLY, AND WHAT YOU NEED TO LOOK FOR..
So, as an owner of a pretty successful hair extension company, I frequently get asked how to apply micro ring/micro link extensions
,
or "easy loop" extensions, as they are called on eBay.

HOW TO APPLY......

When sellers tell you they are very easy to apply, they are correct. They really can be put in by anyone, so enlisting the help of a friend, any friend, is the most common thing to do. It is pretty rare any of my clients actually get them put in professionally, because let's face it, if we're buying extensions off ebay we're trying to save money, and getting them then put in professionally is an unnecessary expense.

SO HERE'S HOW IT'S DONE..
As you can see in the photo, micro ring extensions are made up from lots of little strands, much like pre bonded extensions. However, instead of the strands getting glued into your hair, therefore damaging your hair, etc. they each carry a bead around the tip of the strand. If you are using "easy loop" extensions, they already come with the plastic loop (as seen above), which has been pulled through the bead. So all you have to do is take a strand of your own hair, place it through the plastic loop, and pull the bottom of the plastic loop which lies under the bead. This pulls the hair through for you, so all you need to do is clamp it shut with pliars.

Lots of people complain that microlinks fall out.. this has to do a few factors...

A. POOR QUALITY SUPPLIERS!! Please be aware of this.. make sure you READ their feedback.. as this is the last thing you want. Spending hundreds of dollars for them to fall out within a week.... if they have used cheap beads that aren't silicon lined, they will not hold.

B. YOU HAVEN'T CLAMPED THEM TIGHT ENOUGH.. simple. If they aren't clamped tight enough, they will slide out. Press them tight as hard as you possible can.

C. YOUR STRAND OF HAIR IS NOT THICK ENOUGH.. very important... make sure you use ENOUGH hair when you pull it through, it should be a bit tough to pull through, not so tough that the loop breaks, but it shouldn't slip through too easily. If there isn't enough hair in the bead to hold it up it will slide out.

WHAT TO LOOK FOR............


When buying any type of extensions you have to be very careful about quality... many on ebay claim to be 100% remy human hair... this does not say anything. The origin of the hair is very important. If they don't state where the hair is from.. it's poor quality Asian hair. Asian hair is rubbish... it will frizz within a few washes. BE CAREFUL. It is very cheap for them to buy hence why they sell so many.
The best type of hair out there is Russian or Indian. There really isn't that much of a difference between the two, except Russian is thought to be more pure and untreated, but they are both great, Indian is just a fraction of the cost.
I stock only Indian hair. It is affordable and beautiful quality. That is why so many salons stock my hair. Best price for the best service.
Also make sure the hair is REMY. If the hair is not remy, the cuticles are all mixed up and it will tangle in one wash.

If you were interested in good quality Indian hair, it is hard to find on ebay. I always have it in stock but don't always have it listed on ebay. If you don't see any under my name, please send me a message and I can create a listing for you, or message me and I will give you the address to my online store. I sell for very good value.

I hope this guide helped you! I know a lot of people feel iffy when buying microlinks off ebay, but you really shouldn't. A monkey could apply them.

Goodluck ladies!

COUTURE.HAIR.EXTENSIONS