Lesson - Eyes
The eyes are the windows to the soul. If you want to captivate, do it with your eyes. Eye-catching make-up begins with the eyes. Below are several eye make up techniques that you can experiment with.
The key to great eye make-up is a few quality brushes, highly pigmented shadow (either cream or powder) and good blending. BLEND, BLEND, BLEND and if in doubt, BLEND!
Preparation: Di Kennedy uses in her bridal and commercial make up kit, Janssen's Wrinkle Free Eye Zone Gel. It is a clear gel for gentle care of the delicate skin around the eyes and helps to reduce puffiness and dryness, prior to the application of eye make up. Use before your foundation base, and apply concealer over the top, sparingly to create an even toned surface for shadow and liner. It isn't necessary to apply a specific eye primer, just a good eye gel and concealer does the same thing.
SMOKY EYES: The gothic and victoriana inspired looks for SS 06/07 means the smoky eye is huge. for the next year. Everyone loves a smoky eye. Di Kennedy's Secret (matte black) Silky Eyeshadow is perfect for this, along with Jetliner, Secret Admirer or Smoulder are also really easy to use. Just start with the colour concentrated along the lashline, and blend up and out as the pictures below. The New York Fashion Week for Fall 06/07 is looking like this, and we love the smoky eye here. To do this look, first apply Powderliner Pencil in Coal to inner rims, upper and lower, then apply Secret to the lid and allong the upper and lower lashlines, using the angled liner brush. Then, applying a little at a time to prevent fall out onto the cheeks, pat Secret onto the lid and blend upwards to the crease. Build the colour from the lash line upwards so it fades out in an upward shape, just above the crease as see below. Lips are oh-so slightly stained and matte.
If the eyes are strong go for skin tones lips, using products like Di's new Lacquer "Cupie Doll" (expected late September) or Nudie Lipstick. You can even apply clear gloss over nude lips or mix some with a touch of foundation or Lustful Mineral Shadow. Sabrina (make up by Di Kennedy and photo Michael Kennedy) Houssami below wears Creme Dream Lacquer on her lips, Secret Silky Shadow on eyes, with Wicked Di-Line as a liners. Mascara is Lush Lash in Black.
EYE SHAPES
Look at your eyes objectively in the mirror or a photo. What do you want to achieve? Bigger eyes, bedroom eyes, attention grabbing eyes or innocent eyes?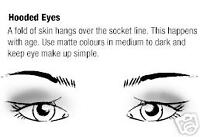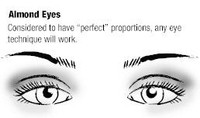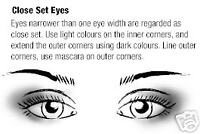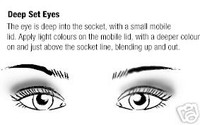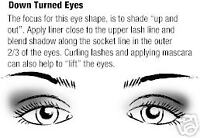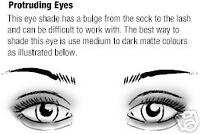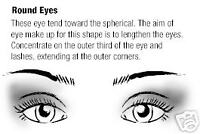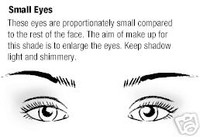 EXOTIC EYE SHAPES
Women from different races have different shaped eyes. There are gorgeous almond asian, deep sultry middle eastern shape, the sensuous african and indian and the rounded blue eyed westerner. Many women try to change the shape of their eyes to look different, rather than embracing the beauty in their own shape. Instead of coveting another women's eye shape and trying to fit into a standard mould, try to bring out the unique qualities of your own attractiveness. Revel in the difference, stand out and be proud!
EYE SHADOW TIPS AND TECHNIQUES
Below are four popular eye techniques:
Smoky: Soft and velvety, the secret to a perfect smoky eye is blend, blend, blend. The goal is to control the smudge. Colours to use include grey, brown, dusty mauve, deep green, navy, charcoal.
The darkest shade goes close to your lash line and blends upward, getting lighter away from the lashes. Try Silky Eye shadow 338 Velvet (matte), 212 Smoulder (smoky brown), 415 Hot pants (pearl) or 339 Bronze (gold shimmer). To apply and blend use the Shadow Brush from the Signature Brush Set.
Classic Eye Liner: Think of Maria Callas, Audrey Hebpurn or Marilyn Munroe. Where would they be without their trademark eye liner? Try using Indelible Gel Liner. This is a classic to master, and it will serve you as well as a great suit or a little black dress.
Hold the brush like a pencil and practice, practice, practice. All this is a single, smooth sweep of crisp colour that starts thin, gets wider towards the outside of the eye and ends in a little flick. It can be any thickness from fine to bold. For all out movie star glamour try adding false lashes.
If you find gel or liquid a bit daunting, try using a pencil.
The Classic Contoured Eye works for most people. You simply focus on the crease of the eye, in the out 1/2 to 1/3 of the eye and use a deeper colour to acceptuate where the showdows would be if the contour was more pronounces.
It can serve to add depth, but not recommended for eye shades that are already deep set. For deepset eyes keep colours light and avoid contouring too much, focus on hightlighting. Remember, light comes forward, dark receeds.
MASCARA TIPS:
Always apply mascara to the bottom lashes first, to prevent those little spots on the brow bone. Di recommends applying 2 coats to the tops lashes. If you are very very fair, why not try a slightly lighter shade than black or get your lashes tinted, as it will look more natural.
If your lash hairs are very fine, use a thinner mascara, with a denser brush. The Lush Lash mascara is perfect for fine lashes on sensitive eyes. If you have thick lashes that are straight, head for Di Kennedy Curling Lash Mascara.