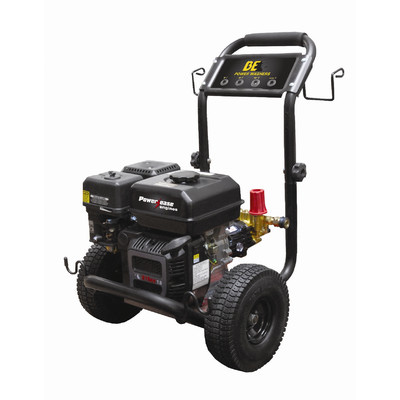 After using a pressure washer, people will be left wondering how they've gone so long without owning one for themselves. They are one of those items that are inherently useful and have multiple functions.
An industrial pressure washer is perfect for cleaning everything, including cars, bikes, boats, windows, garden furniture, paving, patios and driveways.
The wide range of features make it perfect for drain cleaning, moss removal and tank cleaning. Simply put, an industrial pressure washer is worth its weight in gold if used correctly.
It is the perfect domestic tool and one that eBay proudly stocks in mass. The world's leading online auction site has great deals on home tools, which are well worth checking out.
Domestic vs. Industrial
There are two types of pressure washer available, that being industrial and domestic. Many people have the misconception that they're the same; this couldn't be further from the truth. Industrial models are actually the superior form, even if it doesn't immediately seem that way.
· Industrial pressure washers have high quality components made out of materials such as brass. This is opposed to the flimsy plastic parts featured in domestic models.
· An industrial machine will give users well over 100 hours of quality use before parts show signs of wear. A domestic machine's life cycle is far shorter.
· If a shopper is the after accessories, industrial pressure washers are not short of them. Domestic pressure washer accessories are harder to come by.
How to Use an Industrial Pressure Washer
Each pressure washer has its own instruction manual that references use. However, there are some generalisations that apply to all models:
· Will either use a gas or electric engine that runs the pump.
· The pump raises the amount of pressure on the water that comes out of the nozzle.
· The water can be controlled by a pressure trigger, allowing the user to turn the stream on or off in an instant.
· Nozzles will have a setting that allows for the spray pattern to be altered, along with the pressure power.
Types of Industrial Pressure Washers
There is no shortage of pressure washers on the market. The type of pressure washer chosen will be determined by everything from power to water consumption. The following are the types of industrial pressure washers that shoppers are likely to find on eBay:
· Electric
· Petrol
· Diesel
· Hydraulic
The difference between them usually relates to power administered and water pressure generated. This can have an effect on how it tackles a job, whether that is processional or domestic. If possible try all types of industrial pressure washer before buying one, while considering the price implications at the same time.
Industrial Pressure Washer Features
Industrial pressure washers are the pinnacle of cleaning product design, and this is because they aren't short on features. Expect them to be able to perform a multitude of tasks, while adding to the ease of use of an industrial pressure washer.
| | |
| --- | --- |
| Feature | Description |
| High-Pressure Hose | Increased pressure can help a stream of water reach a distance of over twenty-five feet. Simply put, more pressure equals more cleaning potential. |
| Extra Nozzles and Tips | Additional tips and nozzles let the user alter everything from spray speed to water control. |
| Tyres | Industrial pressure washers are moved via their in built wheels. Some units come with interchangeable tyres that help it move across rougher terrain. |
| Detergent Tank | When an item is particularly dirty, detergent is required. This means users will need to take advantage of an added detergent tank. |
| Telescoping Handle | It's no surprise that industrial pressure washers are heavy and bulky. It can make moving them difficult, but having an adjustable telescoping handle can aid this. |
| Storage | There are plenty of accessories available to buy for industrial pressure washers, so it is important to have somewhere to store them. Having storage allows users to remain organised and always have add-ons at hand. |
Cleaning Power
Industrial pressure washers are purchased for their power, but unlike domestic pressure washers, there isn't a standard option. They vary in power depending on brand and model, so shoppers should take the time to familiarise themselves with what is available.
Type

GPM** and PSI*

Uses

Electric-Powered Pressure Washers

1300 to 1800 PSI

0 to 1.5 GPM

Light work and domestic duties, this includes car and shutter washing.

Gas-Powered Pressure Washers

2000 to 3000 PSI

1.5 to 2.5 GPM

Heavy-duty tasks, such as spraying down decks, patios and windows.

Professional Pressure Washer

3000 to 4000 PSI

2.5 to 4.0 GPM

Tough on any and every surface, can remove all forms of dirt, and is the typical industrial pressure washer form.
*PSI – Pounds per square inch **GPM – Gallons per minute
Industrial Pressure Washer Accessories
Even though industrial pressure washers come with a whole array of features, users may feel that they need to add more to improve ease of use. The following are the three accessories commonly used alongside an industrial pressure washer.
| | |
| --- | --- |
| Attachment | Uses |
| Rotating Brush Attachment | The perfect tool for tackling tough stains and muck. |
| Extension Wand | Adds length to the hose and makes it easier to reach hard to reach places. |
| Turbo Speed Nozzle | Allows an industrial pressure washer to generate that extra oomph when required. |
Brands
Pressure washers have become increasingly popular in the home, with brands constantly releasing new models. There is no shortage of manufacturers and brands associated with the field of industrial cleaning.
· Karcher
· Comet
· Northstar
· Varo
· Sealey
· Briggs and Stratton
· Makita
· Pramac
· Ryobi
It is important to remember that an industrial pressure washer is a long-term investment, and no one won't wants to be saddled with one that is unsuitable. Explore the brands listed above, and try out their ranges in order to understand what industrial pressure washer is suitable.
How to Buy an Industrial Pressure Washer on eBay
After finding the perfect industrial pressure washer, it will be time to check out eBay to find it at the most competitive price. Head to the home and garden section and find the pressure washers sub-section to start browsing through the auction listings.
To make the search for industrial pressure washers more concise, use the search modifications to the left of the page. These options include everything from brand to pressure variations. If a shopper has a model number in mind, they can make great use of the sites advanced search options.
eBay is always there to help buyers and protect them during the shopping process, but it doesn't mean that shoppers can stop being cautious. Take time to consider a seller's feedback rating, payment services, delivery options and returns policy. Always remember that if a shopper doesn't feel comfortable with a seller, they shouldn't purchase an item from them. When the time comes to pay, using PayPal will ensure an extra level of added security is in place.
Conclusion
In years gone by, people used to have to spend hours on end tackling dirt and grime. However, those days are long gone thanks to the arrival of the industrial pressure washer. They have the ability to blast away dirt and make cleaning a breeze when used correctly. Versatility is the aim and mobile cleaners are now must own items.
After locating the right pressure washer, there is only one place that can guarantee to have it at the best price. eBay is the world's leading auction site and the market leader in cleaning equipment.