How to install GPS into Toyota Camry & Toyota Aurions
AUSTRALIAN Toyota Camry Installation Guide
Toyota
Camry/Aurion
August 2006 to late 2011 Models
PLEASE NOTE THAT THESE INSTRUCTIONS ARE FOR AUSTRALIAN BUILD EDITIONS - CUSTOMERS IN THE USA WILL HAVE 3 EXTRA STEPS FOR THEIR POCKET & SIDE TRIMS.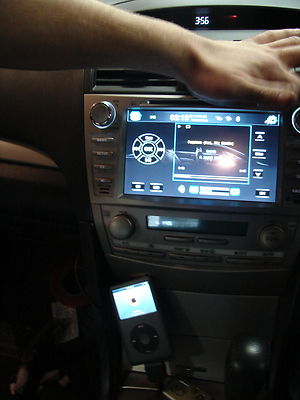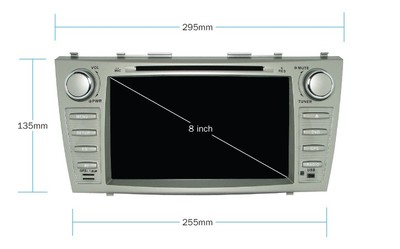 Please note that the
motorformula
Units sold in our eBay store have twice the resolution of the $2700-$4000 options form the factory.
Measure your Double Din Prior to ordering anything off the internet!
One of the most exciting things you can do for the interior of your car is to upgrade the centre console to include a DVD, GPS, MP3 Ipod, Bluetooth etc kit with an 8 inch screen.
Fully integrated DVD GPS Head Units for Camry
Its also pretty scary as you will be pulling apart your car (maybe for the first time) and then integrating something into it and you might have questions about quality and functionality.
We recommend that you buy Australian stock from an Australian retailer so that you can be assured that they care about what they send you.
A good Retailer who is here for the long haul will test all of their products prior to shipping it to you (or letting you pick it up) to ensure that you are getting a device that is in full working order.
Many customer come to us after having spent $$$ on a unit from overseas or from a "no pickup" operator and have gone through the nightmare of having to pull apart your car, install the unit, re-assemble your dash and then find out that they sent you a steaming pile of not working!
Even worse some people paid to have it installed, then uninstalled and then after 2 months (overseas turn around time) re-installed.
4 Points to follow before you spend your money:
Get it local.
Get some contact Details and call, make sure they can help you
Get an address
Test it on 12v power when it gets to you!
Please rate this guide with YES, if you think it's informative. Thanks for reading our guide.
Fully integrated DVD GPS Head Units for Camry
Installation instructions for installing a isuperstore OEM Style Head unit into a late 2006, 2007, 2008, 2009, 2010 and early 2011 Model Toyota Camry, Aurion or similar vehicle. isuperstore and its subsidiaries recommends that all installations be undertaken by a professional or under the guidance of a professional. No appropriate installation advice will be provided over the phone or via any electronic means. Should you require assistance over and above what is in the installation guide you should seek appropriate assistance from a professional. You should read this installation guide in its entirety to ensure that you have all the required parts and tools necessary for correct installation. All care has been taken to ensure that this is accurate in relation to the installations undertaken previously.
It does not take into account changes to fittings, components or electrical systems that may have been undertaken by the manufacturer, previous owners or service technicians of your vehicle.
You should test it on 12v power when it arrives to confirm 100% Operational Status. Should any functions fail to operate you will need to document these and contact the seller or one of their subsidiaries to discuss the nature of the error and a solution for it. Should you discover a fault or operational issue with the system once it is installed, you will need to identify the area of your vehicle that is causing the issue as the unit was working when you tested it on 12v. Be mindful of modifications to the aforementioned vehicles such as Lights, Amps, Subs, Speakers, Inverters, wiring, or any other factory or non-factory options.
Prior to Installation you should ensure that: Your Park brake is engaged and working, your keys have been removed from the ignition, that your battery has been disconnected from the negative terminal.
Before Starting your installation you will need the following: Phillips Screwdriver Set, wire Strippers, Plastic Trim Removal Tools, vehicle Specific Trim Removal Tools, 10mm Socket and Driver, Electrical Tape/Heat shrink.
Care must be taken when working with or around airbags and safety systems. Severe injury or death can result from accidental deployment of airbags and automatic restraints and any error lights or messages in regards to airbags and safety systems must be attended to by an authorised technician to ensure that correct deployment will occur when necessary.
Use care when removing the trim and dashboard components to prevent damage to the look of your vehicle. Where possible use your hands or plastic trim tools to prevent marks or damage to painted components or scratching of plastic surfaces.
Plastic fasteners common to all vehicles need to be removed on the correct angle to prevent breakage and unnecessary wear. All fasteners and clips should be inspected for damage and replaced as necessary.
Prior to pulling or prying out any panels you should inspect the area and the panel for any hidden screws that may need to be removed first. Remove all pockets and sockets that are around the area to inspect for any screws or bolts that may be hard to see.
With the Handbrake on, move the shifter into drive and grasp the centre console on both sides of the front pocket and lift up and back.
Carefully remove the socket power underneath this trim and ensure it does not get damaged. Place the trim out of the way as it will scratch easily.
Next we will need to remove your top AC vents. Use your plastic trim removal tool to pry these out and carefully disconnect any cables on the back.
Now you will have access to remove the Factory radio. There are 4 screws that hold it in place. You will need to use your screwdriver or 10mm socket to remove these.
Carefully unplug your connections from the rear of the unit, make sure you do not stretch or pull on any of these. You will now be able to see the 4 screws on either side of your stereo that hold this assembly together. Remove all 8 screws and place your old unit out of harms way. Now is the best time to plug in the
Motor Formula
wiring adapter to your cars harness.
Now is when you will need to run the cables and plugs for your accessories. The GPS antenna will need to be placed on the dashboard close to the windscreen. Front and centre is best but you can also choose to have it on either the left or right near the pillar. USB and iPod Cables should now be run to their final location prior to connecting the unit. You can lay these to the glove box or another available pocket.
By law in Australia, it is illegal to have a video playing within view of the driver. Please connect your handbrake cable to the wire marked "brake in" on the
Motor Formula
Harness. This has been put there to save points on your licence and lives on the road. Not connecting this wire may also void your warranty as in the event of an accident, should it be found that you were playing a video, you would have been breaking the law and as such may be in breach of your insurance policy. Should you not be able to identify your handbrake wire in your car. Please consult the manufacturers guide for your vehicle or you can Google the subject online to get directions for this.
The TV antenna cables (optional) should now be run from the engine bay through an accessible wiring grommet and into the back of the dash. The easiest access point on most cars, is through the side panels and then bring them into the centre of the console so they can be connected. Be sure to label your TV and GPS cables, as they look the same.
If you are installing your rear screens and wish them to be slaved to the from screen, you will need to find an accessible hole in the carpet under the seats. Be sure to leave enough room for the cables to track back and forward with your seat movement. You will need to feed the video cables through under the carpet/floor coverings and into the centre console. Be sure to keep them against the centre console, as you don't want them under your feet.
If you are installing a camera with this unit, you will now want to take advantage of the cables you brought up to your dash from the camera. Connect the RCA feed from the camera into the cable marked "Cam In" and also splice and connect your single core power wire up to the cable marked "reverse In"
First you will need to remove the transportation screws if present. Also take the time to familiarise yourself with the wiring diagram on top of the unit to be aware of any anomalies in your vehicles harness and to make sure you have taken advantage of this time to plug in and run any accessory cables and connectors you want.
Now that your cables are run, you should power up the unit to ensure it is getting the correct power. Through accessories, and also when the engine is running.
You will now need to reassemble the dash and reinsert the brackets onto your new unit. Be careful not to screw in the bottom rear screws as they will connect with the circuit board on the new DVD player.
You will now need to re-install the components of your dash by following the first few steps in reverse order. Be careful to follow the order laid out as incorrect installation can damage your vehicles trim.
Be carful when sliding the new system and assembly home so as not to damage or pinch any of the connections or wires.
Cheers!
---



©

Copyright motorformula 2015 all rights reserved.