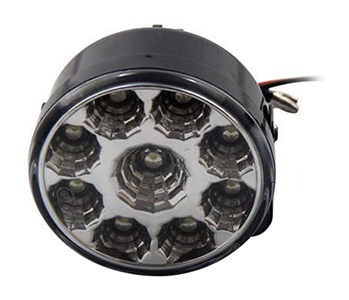 Fog lights are an important safety implement and one of the most essential electronic accessories for a vehicle. They are often attached to the front of the vehicle (and sometimes its rear) in order to allow a driver to see out of the car more easily through thick fog or mist. LED fog lights are particular type of fog light, made with an LED light, that are particularly bright and use less energy than other types of fog lights. Shoppers looking to purchase an LED fog light can learn more about them and how to select the right one below.
Benefits of LED Fog Lights
LED fog lights are often chosen because they are better for the environment than halogen bulbs. In fact, they use about 75% less energy than other typical fog lights. Not only is this good for the Earth, it also means they last a lot longer than other types of fog lights and do not need to be replaced. Most LED fog lights are able to last about 30,000 on a car. One of the other benefits of LED fog lights is that they are brighter than the typical fog light, helping drivers to see in thick fog.
Choosing the Right LED Fog Lights
When choosing fog lights, there are some important considerations to keep in mind. Making an informed process can ensure that LED fog lights are as effective as possible on a car, as well as suited to a driver's particular aesthetic tastes.
Colour
One of the main considerations for LED Fog Lights is what colour the lights are. The traditional colour of fog lights is yellow, because it is particularly effective at cutting through fog, with the longest colour wavelength and the ability to disperse water vapour causing the fog. Another popular LED fog light colour is purple, which tends to make one of the brightest LED lights.
Mounting Location
Drivers should also consider where the fog lights will be mounted or installed on a car when selecting which lights they want. Most fog lights need to be mounted low on the front of the vehicle in order to effectively cut through fog, and drivers should consider whether their car is built with enough room on its front grill or front bumper to install the lights. Shoppers looking for rear fog lights should also whether the lights can be mounted on the rear of a car and whether their car has space for the lights on its rear end.
Style
Companies make LED Fog lights in a range of styles. Some fog lights are simple, understated black metal lights, while other include large, metallic features that give a car a more sporty or rugged appearance. Drivers should select the kind of LED fog light that aligns with their personal style and aesthetic.