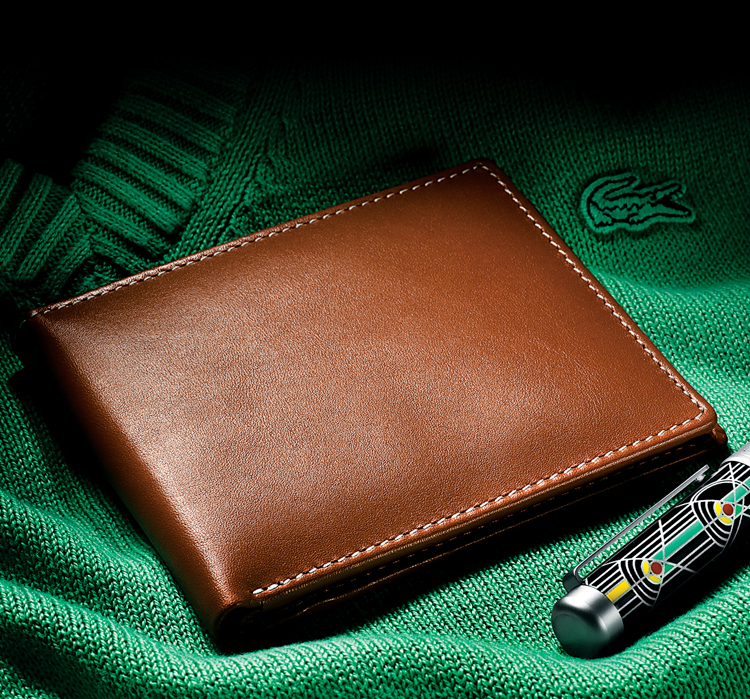 A wallet is an invaluable device for storing personal belongings, such as money (in coin and note form) and cards. Wallets are generally made from leather, plastic or fabrics, and are pocket size and foldable for convenience.
The term 'wallet' has been used since the 14th century to describe a bag or knapsack that carries items. However the term 'wallet' to depict a "flat case for carrying paper currency" dates back to 1834.
The purpose of this guide is to inform the reader all about leather wallets and to explain how to purchase them efficiently and safely on renowned auction website eBay.
Wallets
Wallets come in many different shapes, styles, colours and designs. Generally though, wallets are the same pocket size, so that they can be tucked away into clothes pockets or stored in a handbag. They are designed to keep personal items safe and secure whilst also providing easy access into the different compartments inside.
Besides currency, the personal items that can be stored in wallets include:
· Credit and debit cards
· Identification cards (driver's or provisional license, citizen card and miscellaneous ID cards)
· Loyalty cards
· Work access cards
· Gift cards
· Business cards
· Public transport passes
· Photographs
· Keys
· Chequebooks (not so popular in modern wallets)
Many modern wallets feature individual slots for cards, zipped sections for storing loose items, such as change and transparent windows, so to store identification cards or public transport passes for convenient easy use whilst storing it safely in place.
Styles of Wallets
Leather is by far the most popular material to be used when making wallets. Due to this there is an extensive range of leather wallets with different features and functions to choose from in a multitude of styles, colours and designs.
Bi-Fold Wallet
The most common type of wallet is known as the bi-fold. This wallet is medium-sized, but can only store bank notes in a folded fashion. Cards may be stored in either a horizontal or vertical manner.
Breast Wallet
Another popular wallet type is the breast (or secretary) wallet. This wallet has this name because it is intended to be stored in the breast pocket of a jacket or coat. Breast wallets are of a substantial size and can easily hold unfolded bank notes and cheques.
Front Pocket Wallet
This wallet type may also be referred to as a 'money clip' because it is essentially a case without a specialised compartment for currency or pockets to store cards in. Bank notes are typically folded and held to the wallet using a metal clip.
Long Wallet
Long wallets are typically a larger size than traditional wallets and are usually worn with jeans and fastened by a chain, strap or rein. Long wallets generally keep bank notes flat and feature a coin purse for loose change.
These wallet types were made popular by bikers who wished to keep their wallet secure whilst riding their motorcycle. Long wallets paved the way for the introduction of smaller chained wallets made popular by the punk and grunge fashion movement in the 1980s and 1990s.
Travel Wallet
Travel wallets, as the name suggests, are specifically designed to be used whilst on holiday or travelling. These wallets safely and securely store essential documents, such as boarding passes, tickets, passports, traveller's cheques, foreign currency, health insurance cards, maps, travel insurance papers, as well as hotel and trip booking information.
Tri-fold Wallet
Similar in principle to the bi-fold wallet, the tri-fold wallet has two folds in it, providing extra storage space than its single-fold counterpart. Cards are predominantly stored vertically in tri-fold wallets.
Wallet Band
This wallet type uses an elastic band (usually rubber although sometimes fabric) to securely store cash and cards. Wallet bands are a popular alternative to traditional wallets, which can feel too bulky.
Leather Wallet Considerations
There are often many considerations to factor in when shopping for leather wallets. Below outlines the most important issues to take into consideration:
Is it suitable? There are many different variations of leather wallets, all with their own features and functions, so it is essential that the buyer asks themselves if it suits their individual needs. For example, if they already use an additional coin purse with their wallet and continue to do so then it's unlikely that they'll need a leather wallet with a separate coin section.

By asking whether the wallet is suitable not only ensures that the right wallet is purchased; it can also save some money.
Is it the Right Size? Everyone is different so the size of the wallet is a very personal choice. When shopping for leather wallets the buyer must think about what and how many items they'll be putting inside it as it will help establish if the size is appropriate or not.
Will it Last? Unlike wallets made from other materials, such as fabric, leather wallets are very long lasting because of their durable and versatile material. The higher the quality of leather, the longer it will last, so consider spending a little more on a better quality leather wallet - after all, it is an essential item that has an important job to do. Also the frequency that wallets are used (typically every day and often multiple times) means that little bit extra the buyer has spent on the wallet goes a long way.
How to Buy Leather Wallets on eBay
eBay is a great place to buy leather wallets, not only due to the likelihood of finding a good deal, but because of the extensive choice that the renowned ecommerce website offers. For a successful and efficient purchase on eBay, follow the guidance below:
Search: To start a search on the website, enter 'leather wallet' into the search toolbar. Using the menu on the left, select 'clothing, shoes, accessories' and then pick either 'men's accessories' or 'women's accessories'.
Brand: For many people, the brand or make of the wallet is more important than its functionality. There are many brands who manufacture leather wallets, from Billabong and O'Neil to Calvin Klein and Marc Jacobs.
Shop Safely: In order to ensure a completely successful purchase read the product description carefully and thoroughly, and review all of the postage and payment options before purchasing. Also remember, if unsure about the product or any part of the transaction, it's always possible to ask the seller for more information or ask them a question using the contact the seller function.
eBay Deals: Don't forget to check out the latest deals on leather wallets by checking in the 'wallets and purses' section. Many additional discounts can be found here along with free postage costs.
Conclusion
There are many issues to consider and factors to take into account when buying a leather wallet. However, with the important information outlined and the crucial considerations explained within this guide, coupled with eBay's highly detailed and customer service-orientated website, buying a leather wallet has never been quicker or easier.
Buying on eBay should be considered not only due to the potential of finding a good deal; but due to the extensive choice of leather wallets that the website offers. Remember to keep all personal and banking details safe and secure by using payment authority PayPal to complete transactions with eBay sellers.