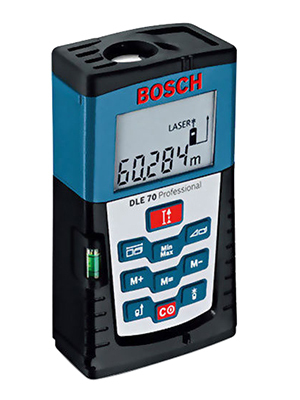 Do-it-yourself enthusiasts need to have the correct tools to complete their projects, and measuring and detecting tools fulfil an important need. These tools are essential when tackling a variety of tasks around the home, such as building bookcases, installing bathroom and kitchen fittings, and hanging artwork on walls.
Functions of Measuring and Detecting Tools
Measuring and detecting tools fulfil a variety of functions, including:
Measuring width, length, and area.
Pinpointing the location of wood, metal, and electrical wires in walls.
Determining the temperature of an object.
Gauging the amount of moisture in walls, wood, or soil.
Calculating the alignment of structures.
Distance Measuring Tools
These type of tools may be digital or manual and are used in a variety of environments. Measuring devices include:
Tape measures are used to measure distances of up to 5 metres, but longer tape measures are available. The tape is usually made of cloth, plastic, fibreglass, or metal and often retracts into a small case or winds around a central axis.
Vernier calipers are used for measuring inside, outside, and depth; they can measure anything from one-tenth of a millimetre to 120 mm. They come in digital and non-digital formats.
Measuring wheels are great for measuring long distances quickly and can be used indoors and outdoors; small-diameter wheels are good on smooth surfaces, while larger wheels are ideal for rough areas. Measuring wheels are available in mechanical and electronic designs.
Measuring rods consist of sturdy lengths of metal or plastic that telescope out into a long stick; they're used to measure distances and heights on building sites.
Laser distance measures use laser beams to measure the distance between two points. These compact tools are accurate, able to calculate area and volume, and are useful in areas where access is blocked.
Detecting Tools
Before drilling or cutting takes place, detecting tools can be used to determine where water pipes, electric wires, wooden beams, and metal girders are in walls and floors. These tools have a penetration depth of between 27 mm to 70 mm, depending on the brand and model. Detecting tools work by emitting an ultrasonic beam. The beam bounces back when it hits an object, and the device records the measurement.
Temperature measuring tools are useful in detecting draughts around doors and windows. Before painting walls, cabinets, doors, or window frames, it's important to know if surfaces are completely dry; and, this is where a moisture detector comes into play. A moisture detector is also useful for checking if a flower bed needs water or if the barbie wood is dry enough to burn.
Levels
Making sure a shelf is straight is as important as measuring its length, and digital and laser levels are the tools to use. Tiling work needs to be done with a level so that each tile is perfectly placed. Bubble or spirit levels are reliable and easy to use, while laser levels give an extremely accurate reading.
Conclusion
Whatever measuring and detecting tools are needed, eBay has a huge selection of products on offer. Do-it-yourselfers, construction workers, and home repair people use distance measuring tools, detectors, and levels to make their tasks easier and more efficient.