Part 1: "A Bootleg's Tale"-or-General Things to Know about Bootleg Productions
Do I really need to worry about buying fakes or bootleg anime merchandise?
In the anime community, there has been a lot of debate in regards to whether it is wrong to buy bootleg anime. In my opinion, it is up to the individual anime fan to decide. If you ask me, my answer would be that I am more in the favor of buying non-bootleg items.
Without going further into the debate, my actual stand is: All of us deserve to know the right information whether the items we are buying are original. Therefore, from my point of view, all anime sellers have the moral obligation to tell customers if the items they are selling are bootlegs.This way we can make the right decision when making a purchase.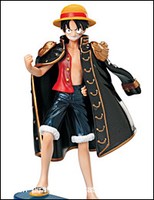 [Even pirates get pirated these days]

What's the big deal about buying bootleg? Some say that buying bootlegs will damage the anime industry in general. Those anime and manga artists who are meant to get royalties from their work don't get what they actually deserve. However, all morality aside, buying bootleg anime may impact us directly. Though bootleg items are usually cheap, in general they are poorly made.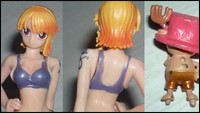 [Okay - perhaps 'poorly made' is a gross understatement!]
Many bootlegs have short lifespan. Furthermore, what annoys people the most: bootlegs usually come with very bad quality of paint or design. This happens particularly with figurines. As for bootleg model kits, they usually contain pieces that do not fit together.
Now, if you go to an actual shop and see bootleg items, you may decide to walk away and not make a purchase. However if you make a purchase online or through eBay, you will only realize that you have purchased a bootleg after making a payment and receiving your item.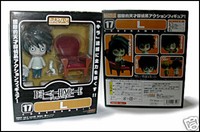 [Sometimes Bootlegs seem to good to be true
- it was sold for $10, whereas the original would be somewhere between $60-70]
The usual scenario is you'd try to get a refund afterwards, but somehow the seller that was once friendly, never replied your email again. The only thing you do is to leave a negative feedback and curse the seller.
Which in overall, you'd very likely agree with me that it is not worth the money, experience and time invested.
"I thought there are no bootleg anime items in eBay."
Unfortunately, this is not the case. You can test this by simply entering the word 'anime' into eBay search. You'll realize how many bootleg anime items are featured on the list.
In recent times, eBay has applied a stricter supervision on DVDs in general (anime included). However, other anime items seem to be still loosely supervised.As for intellectual property violation, eBay has created the Verified Rights Owner (VeRO) program. What is VeRO? It is a program in which the intellectual property owners could easily report listings that infringe their rights.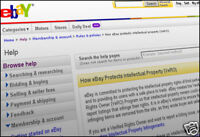 However, as for majority of us, this VeRO may not be relevant. Why? Let me explain to you. Note that this is a quote from eBay policy:
"
Only the intellectual property rights owner
(*emphasis added) can report potentially infringing items or listings through eBay's VeRO program. If you are not the intellectual property rights owner, you can still help by getting in touch with the rights owner and encouraging them to contact us."
From what I understand from the policy statement, if we happen to stumble bootleg items, the best we can do is to contact the actual intellectual property right owner. The problem I see is: First of all, we may not know who property owners are. Even if we contact them, they may not be bothered to do anything about it. So…we, as buyers, are still left in the dark.
Because of this, I think we as anime fans, should arm ourselves with the knowledge and skills in spotting bootlegs. So at least we know how to avoid buying them. Unless, of course, you actually don't mind owning bootlegs.
"Bootlegs or Doujinshi?"
Before we are able to spot bootlegs, we need to define what bootlegs items are. In my own definition, anime bootlegs items are simply unauthorized production of anime or manga items in commercial quantity.
The reason why I add the word 'in commercial quantity' is because I'd like to acknowledge the existence of Doujinshi. In fact, Doujinshi is and should be respected in the anime industry. Many well known manga and anime artists actually start their career through Doujinshi.
Those of you who don't know what Doujinshi is, it is the work of fans, amateurs or even professionals that is published outside the mainstream anime industry.
Doujinshi mainly include but not limited to manga, games, anime and etc. Often, they are based on other anime or manga which have been around.
However, the key difference is they are never produced in commercial quantity, and always in limited number. To the point that many anime fans, even in Japan, regard Doujinshi as limited edition items and they are willing to pay premium price.
In terms of selling Doujinshi online, in my opinion, sellers still have an obligation to clearly state on their listing that their items are Doujinshi. This is to avoid any misrepresentation of their products and also to address any copyright issue.
How about bootlegs? Bootlegs items are hardly produced by fans or artists; usually they are made by business people or profiteers. Their utmost motives are simply money.
Click here to continue to Part 2: Spot a Bootleg!
Click here if you want to find out more about me or OzAnimart.
If you found this guide is informative or helpful, Please click the
"YES"
button below, your vote is appreciated!