As shoe retailers, we know the hardest part in shopping for shoes on-line is to make sure you get the correct size shoes every time without having to go back and forth with exchanges which increase the cost of shopping on-line for all of us.
We've put together a simple guide to assist you in making the correct selection, regardless of whether you're purchase is from Shoe City Outlet or elsewhere.
It is important to remember that the size conversions are STRICTLY guides and not an absolute certain answer to your sizing concerns. The best way to ensure that you get the correct size shoes EVERY TIME is to measure the length of your right foot (if you're right handed) and left (if you're left handed) from heel base to big toe as well as across the ball of the feet. Then simply COMMUNICATE with your seller prior to bidding regarding advice on which size you should be purchasing and availability etc.
We have attached below conversion charts relating to shoes carried by Shoe City Outlet which may assist in your size selection.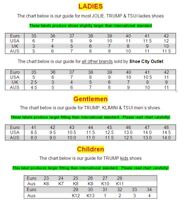 It is important to note that there is no SINGLE INTERNATIONAL CHART. Whilst most vendors and labels try to work with the most commonly used measurements and size scales (available by simple Google search), measurements are almost always issued to factories, by the actual ordering or designing company and this will be different from label to label as different shoes are intended for different destinations (countries) and so variations are created based on the same visible size. To make matters worse there are further variations created based on the style of shoes (peep toe vs closed boots vs sandals etc) and these will fit different shapes of feet in different ways.
What if you're between sizes or can't decide between two sizes? Eg: I'm not sure if I should buy European size 38 or 39 in a particular style.
In this instance we recommend you buy the larger of the two sizes and couple this with 'Sollette' ball inserts available with each of our shoes purchased from Shoe City Outlet.
These inserts will typically close the gap by 1/2 to 3/4 of an Australian size (2mm to 4mm). This will generally solve the sizing issue and make the decision easier.
Hope this guide was useful in assisting with your size selection. If you have further questions, you're welcome to contact us via eBay messaging.