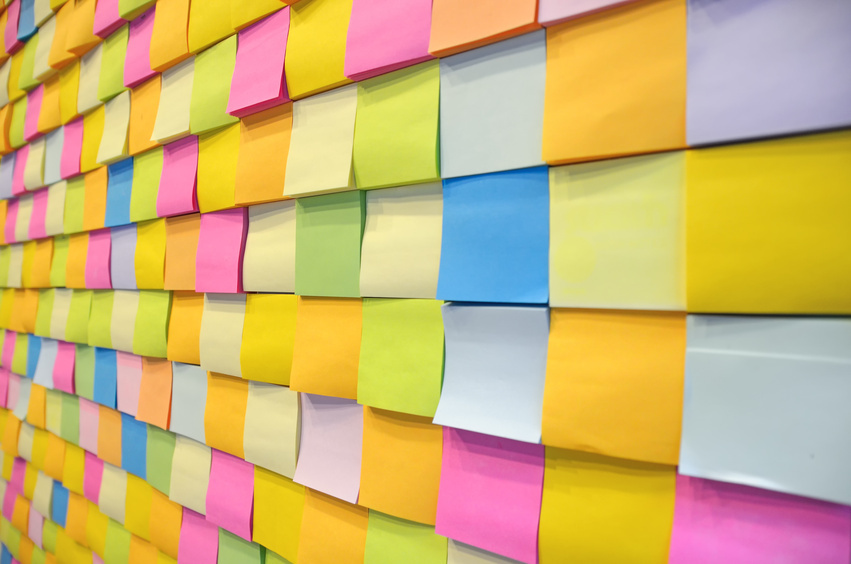 It's hard to imagine a world without Post-It Notes. Introduced in 1977 by 3M, these sticky notes have turned into an invaluable resource for not only home offices but also remembering around-the-house tasks, and helping creative, artistic souls produce masterpieces. Their usefulness makes them perfect gifts for almost every type of person.
Characteristics
A Post-It Note is a piece of paper with an adhesive strip of glue across the back that allows it to stick to surfaces with only a slight bit of pressure. The adhesive on the sticky note allows you to remove and re-stick it to items when necessary without it losing its adhesive quality. The adhesive is also able to be removed without leaving a sticky residue behind, making Post-Its perfect for clean and busy people alike. Because they are easy to write on and durable, they save paper, and are therefore perfect for recycling.
Post-It Notes are most often square and found in the colour yellow. While they're commonly used in offices to relay notes among coworkers, they have evolved throughout the years. These days, Post-It Notes and sticky notes are found in a wide variety of colours -- mostly bright and vibrant ones -- and are available in a wide range of geometric shapes, shapes of animals, and things of the like.
Types of Post-It Notes
The adhesive on Post-It Notes was originally developed by accident in 1968, when 3M's Dr. Spencer Silver was attempting to develop a super-strong adhesive. However, his invention wasn't able to gain acceptance until 1974, when his colleague Art Fry had the idea of using it to anchor his bookmark into his hymn book. A few years later, in 1977, the Post-It Note was released under the product name "Press 'n Peel."
Designed for leaving notes and reminders in work settings, such as on desks and computers, but they've expanded far past that in the last four decades. Today, they are used around the house for the same reasons, and typically stuck on areas like refrigerators, doors and cars. Sticky notes have also become a tool for artists to express themselves.
Here are some common Post-It Notes on the market.
Full Adhesive
These are the original sticky notes, and are based on the 3M Post-It Notes that dominated the market from 1977 until the company's patent ran out in 1997. These Post-It Notes are almost always square and come in the standard yellow colour along with alternatives, such as white, fluorescent orange, aqua blue and hot pink. They are typically 7.6 cm x 7.6 cm, though they can run bigger. They are most commonly used in offices, but have also been used in sticky-note art.
Super Sticky
These notes are similar to the full-adhesive ones but come with a stickier, thicker adhesive that sticks stronger and holds on longer than the full-adhesive type. These notes are best used around the house because they can hold better on wooden doors, stainless steel refrigerators and tables, and vehicle dashboards. Super sticky notes come in the same colour schemes as full-adhesive notes.
Pop-up Notes
These notes come with a similar adhesive as the basic notes, but have adhesive strips on both the top and bottom of the note so they can "pop out" from other notes or pieces of paper. That makes them good for sticking on other paper or reports, and the pop-up quality is also good for art.
Die-cut Shapes
Unlike the notes above, these sticky notes aren't square or rectangular. They aren't usually symmetrical, as they are cut into diverse shapes and can take on the form of things like animals, stars, and leaves. These are rarely used in office settings; instead they are often marketed as cute sticky notes and used as novelties around the house or in art.
Personal Planners
Larger than the standard Post-It Notes, personal planners are 18 x 20 centimetres and come with a calendar, making them very handy for keeping track of business appointments in the office or maintaining a family's schedule at home. A lot of these types of notes are lined or contain grids to help those who need to plan organize their work with clarity.
Conclusion
One can find other sticky notes on the market. There are environmentally friendly green notes as well as erasable notes, which a person can write on and then erase their work on, making them usable more than once. Post-It Notes are extremely useful in all situations and can also be bought in bulk, making them a popular purchase across all demographics.