What's the difference between the Raspberry Pi 2 and the Raspberry Pi Model B+?
Although both models look the same, there are a couple of hardware changes that really put the Raspberry Pi 2 ahead of the game.

Most notably the Pi 2 uses a Broadcom BCM2836 ARMv7 chipset with a powerful Quad Core Processor running at 900MHz, while the Model B+ falls back on a Broadcom BCM2835 ARMv6 Single Core processor running @ 700 MHz.

The other main difference between the two is the amount of RAM each one carry. The Model B+ is limited to 512 MB SDRAM @ 400 MHz while the Pi 2 boasts a a hefty 1GB SDRAM running @ 450 MHz.

Be sure to double check the model before purchasing as the increase in power from the Pi 2 makes a huge difference not only when browsing through your OS of choice, but also when watching 1080p video.
Complete Raspberry Pi comparison chart
Confused by the Raspberry Pi naming scheme and not sure which to buy? This comparison chart outlines the differences between each model.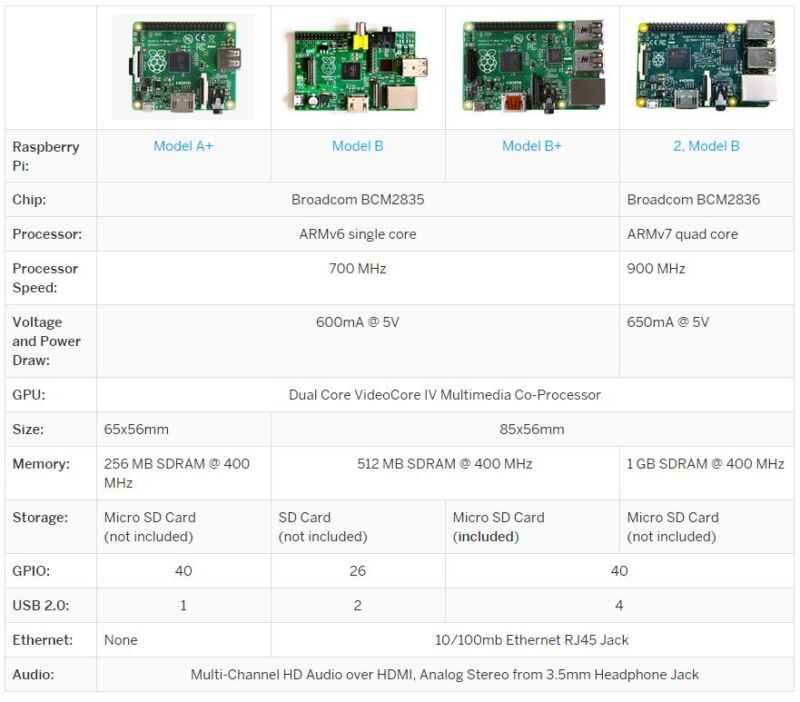 All of these Raspberry Pi Models share the following features:
Operating Systems: Raspbian RaspBMC, Arch Linux, Rise OS, OpenELEC Pidora
Video Output: HDMI Composite RCA
Supported Resolutions: 640x350 to 1920x1200, including 1080p, PAL & NTSC standards
Power Source: Micro USB