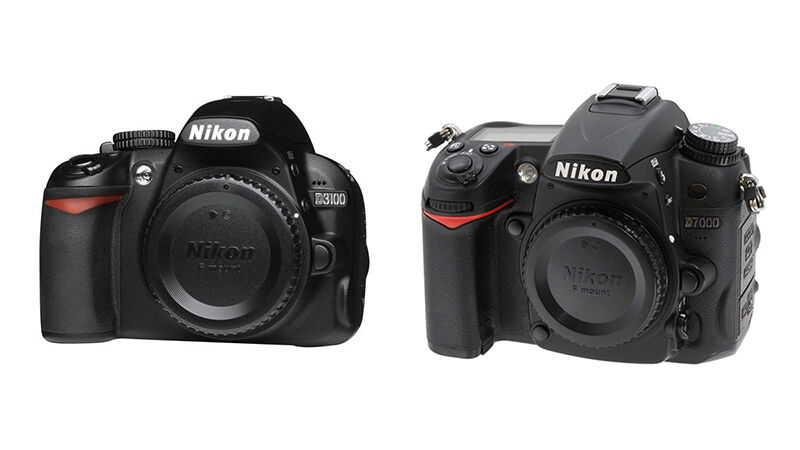 Released in 2010, the Nikon D3100 and D7000 have been two of the most popular crop sensor Nikon DSLR cameras for beginners and aspiring amateurs alike. The Nikon D3100 was positioned as the company's entry-level DSLR, while the D7000 was marketed as the upper-intermediate option with a more advanced feature set before being replaced by the newer D7100.
Despite their age, both are still highly capable cameras and can be purchased at excellent prices. For those looking make the leap into the world of DSLR photography, there is a confusing array of technical specifications used to differentiate one camera from another. While the Nikon D3100 and D7000 are both capable of exceptional image quality, they are aimed at different users and have many key differences between them that prospective buyers should be aware of.
Similarities between the Nikon D3100 and D7000
Although there is more that separates the Nikon D3100 and D7000, they share a few things in common, mainly in format, image sensor quality, and video capability.
Nikon DX Format
Both cameras are crop sensor DSLRs that are compatible with Nikon's DX lens series, but are also compatible with full-frame FX lenses, albeit with a 1.5x crop factor.
Image Sensor
For a complete newcomer to DSLR photography, the difference in image quality between the two cameras will be virtually indistinguishable when used in full automatic or Program mode. This is because they both use almost the same APS-C image sensor components.
Full HD Video
Both cameras are capable of shooting full HD 1080p video at 24 frames per second.
Differences Between the Nikon D3100 and D7000
Both cameras were released in late summer 2010. As the Nikon D7000 came with a significantly higher price point, it is no surprise that it comes with a range of more sophisticated features to justify the added expense.
Size and Weight
Comparing both models side by side, it is immediately noticeable that the D3100 is a smaller and lighter camera. The size of the D3100 makes it an appealing option for casual photographers who want a significant upgrade over a point and shoot camera. The Nikon D7000 feels bulkier and is around 40 percent larger and 20 percent heavier than the D3100.
Image Quality
While the most important aspect of taking a great image is the photographer, the Nikon D7000 has numerous advantages over the D3100 to help with capturing a great photo. A complete beginner may not see much difference between the two, but the D7000 produces better images in low light situations. It is also easier to use for sports or wildlife photography. The image quality advantages of the Nikon D7000 over the D3100 include:
Resolution of 16.1 megapixels compared to 14.2 megapixels on the D3100
Higher maximum light sensitivity of 6,400 ISO compared to colourISO on the D3100
Slightly improved colour depth
Improved dynamic range
Faster shutter speed (1/8000s vs. 1/4000s)
Significantly faster continuous shooting (6 fps vs. 3 fps)
Build Quality
The Nikon D7000 is the more rugged camera. Unlike the D3100, it comes with a weather-sealed body, and can be used in all conditions including rain. The D7000 can sustain a knock or two as it comes with a magnesium alloy body shell compared to the all-plastic D3100. The difference in construction will matter more to those who are looking to take up photography as a serious hobby, and use their camera on a regular basis.
Camera Features
The Nikon D3100 offers a basic feature set for a DSLR. Those who are happy to use their camera in automatic or Program mode should be satisfied with the Nikon D3100. One of the main areas where the D7000 shows its worth is how quick and easy it is to change exposure settings in Manual mode through the LCD top display. It allows users to adjust the lens aperture, ISO, and shutter speed without digging through the menu settings.It also comes with several other enhancements over the D3100 such as:
Brighter pentaprism viewfinder instead of the pentamirror version on the D3100
More accurate focusing (39 autofocus points vs. 11 autofocus points on the D3100)
Larger viewfinder
Longer battery life (1050 shots vs. 550 shots)
Higher resolution screen
Nikon D3100 vs. D7000: Verdict
Given that the Nikon D3100 and D7000 are aimed at different demographics and occupy different price points, it is unfair to make a direct comparison between the two. One is an entry-level DSLR while the other is aimed at amateurs and enthusiasts with more experience. The Nikon D7000 is clearly the superior camera, but upon release it was also almost twice the price of the D3100. Buyers can find great deals on sites like eBay. Both are excellent cameras depending on the needs and expectations of the buyer.
Who Should Buy the Nikon D3100
The D3100 is ideally suited to DSRL photography newcomers and offers most of the same features as the newer Nikon D3200. Its affordability makes it a great tool to learn the basics of photography. It is capable of producing outstanding image quality, all in a small, light, affordable, and portable package.
Who Should Buy the Nikon D7000
The Nikon D7000 is the perfect upgrade for those who have outgrown their entry-level DSLR. Its improved exposure handling, higher ISO, superior build quality, and easily adjustable settings make it a great purchase for buyers looking to get seriously into photography as a hobby.