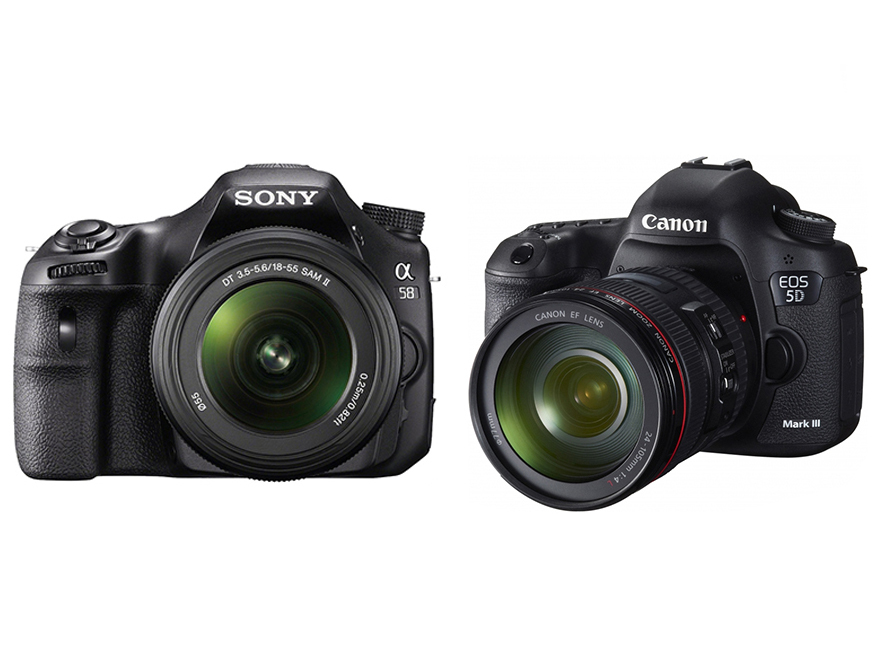 Both the Sony Alpha A58 and the Canon EOS 5D have strong profiles. The Sony sports 20 megapixels compared to the 12.8 on the Canon, giving it an advantage on the image quality front however the Canon's magnesium alloy body is much must durable than the plastic body of its competitor.
eBay is a great place to begin searching for DSLR cameras as it can provide the user with all the information needed to make an informed decision.
Buying Considerations of the Sony Alpha A58 and Canon EOS 5D
The cost is often the most important consideration for a user and comparing the price of both devices is advised. That said, for those looking for a quality camera, regardless of cost will have to address and research certain factors such as lens type, number of pixels, image size, frame coverage, and compatible lenses amongst other things. eBay's filtering function can be particularly beneficial to the user and enables them to whittle down the results to only the relevant options. Whether the device is used or not plays a huge role in determining the overall cost of the device.
Sony Alpha A58 Specification
The following section will earmark some of the major specifications associated with the Sony Alpha A58. These specifications aim to showcase the high quality functionality of this Sony camera:
Part Code : SLTA58K.CEC
CCD Effective Megapixels : 20.0 megapixels
CCD Size : 23.2x15.4mm
Viewfinder : Electronic (1,440,000 pixels)
Viewfinder Magnification, coverage: 0 .88x, 100%
LCD Screen Size : 2.7in
LCD Screen Resolution : 460,800 pixels
Optical Zoom : 3.0x
Zoom 35mm Equivalent : 27-82.5mm
Image Stabilisation ; optical, sensor shift
Maximum Image Resolution : 5456x3,632
File Formats : JPEG, RAW; AVCHD, MPEG
Drive Modes : single, continuous, self-timer, AE bracket, WB bracket, HDR, panorama
Flash : auto, forced, suppressed, slow synchro, rear curtain, red-eye reduction
Auto-focus Modes: 15-point (3 cross type)
Closest Macro Focus: 25cm
Accessories: USB cable
Weight: 805g
Size: 96x129x145mm
Kit Lens Model Name Sony SAL1855-2
Focal Length Multiplier: 1.5x
Connectivity: USB, micro HDMI, microphone in, DC in
Battery Life: 690 shots
Memory Slot : SDXC, Memory Stick Pro HG Duo
Battery Type : Li-ion
Exposure Modes : program, shutter priority, aperture priority, manual
Shutter Speed : 30 to 1/4,000 seconds
Aperture Range : f/3.5-22 (wide), f/5.6-36 (tele)
ISO Range (at full resolution) : 100 to 16000
Exposure Compensation: +/-3 EV
White Balance : auto, 9 presets with fine tuning, manual, Kelvin
Additional Image Controls : contrast, saturation, sharpness, noise reduction, colour space
Image Quality
This device has a 20.1 million pixel sensor and it comes with an improved electronic viewfinder (EVF). Moreover on the back of the camera is a 3-inch tilting screen. With 460,000 dots, this camera has a high resolution and is ideal for budding photographers. This camera uses a 15-point AF system and this includes three cross-type sensors. The A58 is capable of shooting at 8fps in AE mode, or at 5fps at the camera's highest resolution. This is a great specification for an entry level camera.
Canon EOS 5D Specification
In contrast to the Sony camera highlighted above, it is worthwhile describing the specifications of the Canon EOS 5D for comparative purposes:
12.8 MP
full frame CMOS sensor
3 fps
60 JPEG image burst
9-point AF with 6 Assist AF points
2.5" LCD
Picture Style image processing
DIGIC II
Records RAW/JPEG images
Digital Photo Professional software
Compact magnesium alloy body
Connectivity options
Image Quality
The EOS 5D's 12.8 MP full frame CMOS sensor (35.8 x 23.9mm) offers the user a platform to express themselves. The viewfinder is designed to be bright and open in order to provide the user with wide angled shots. ISO settings extend the standard 100-160 range for this Sony camera. The EOS 5D can shoot a 60 large JPEG image burst at 3 fps.

Screen and Picture Style
The device is illuminated by 6 LED's and the extremely bright 2.5" 230K pixel LCD show the images to the user instantly after a shot is taken. There is a Monochrome mode supporting Black & White shooting with filters as well as toning effects. The device has pre-set controls that affect the sharpness, contrast, colour tone and saturation.
Extras
The device has a tough body that weighs just 810 grams; this is a durable and heavy duty camera. It is compatible with over 60 lenses and the USB port permits fast file uploads.

How to Buy a Sony Alpha A58 and a Canon EOS 5D on eBay:
To begin, the user must type into the search bar the keywords, in this case, "Sony Alpha A58" or " Canon EOS 5D". eBay will generate a results page and then the user can filter these results based upon criteria they desire.
There are many factors that must be considered with the main ones being price and working condition. Moreover, access to the seller ratings on eBay can provide the user with an additional consideration before purchasing.

Conclusion
There are many factors such as lens type, cost, condition, and megapixels that must be taken into consideration before purchasing. This guide has provided information about both the Sony Alpha A58 and Canon EOS 5D DSLR cameras. eBay is a great place to begin searching and can provide the user with all the information needed to find a solution.