Spridget - MG Midget & Austin Healey Sprite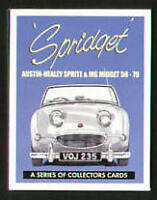 This is one of many illustrated classic car guides I've created for the community. I hope you enjoy it. If you wish to find out more about the classic Spridget car art featured in this guide please click here.
This guide celebrates the Austin-Healey Sprite and MG Midget family of sports cars. Affectionately referred to as Spridgets, these delightful no-frills machines were produced for 21 years between 1958 and 1979, with total production exceeding 350,000 vehicles.
Austin-Healey Sprite 1 (1958-1961)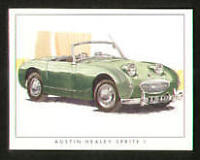 The philosophy behind the original Sprite project, set up in 1956, was simple: to build a low cost sports-car around standard components and the completely new Sprite was announced on 20th May 1958. Using many parts from the Austin A35, including a slightly modified engine fitted with twin SU carburettors, essential for a true sports car, the Sprite proved to be an instant success. At £455, excluding purchase tax there was virtually no competition in the same class for liveliness, reliability and sheer fun. Between 1958 and 1961 a total of 48,987 Mk 1 Sprites were produced.

MG Midget Mk1 (1961-1964)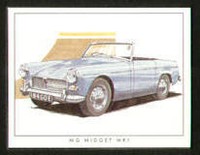 By 1960, Sprite Mk I sales were slackening and BMC decided that an update was required. Concurrently with the Mk2 Sprite, an MG version was to be introduced, mechanically identical with only the trim, badging and decoration distinguishing the two cars. The new vehicle was more conventional in style now having an opening boot and a bonnet separated from the fixed front wings. The 948cc engine was improved to produce 46.5bhp and the gearbox now featured the previously optional close-ratio gear set as standard. October 1962 saw significant improvements to both models with the introduction of front disc brakes and a 1098cc engine producing 55bhp.
MG Midget Mk3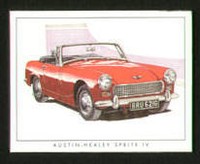 In late-1966, the MG Midget, like the Austin-Healey Sprite received an engine transplant, which made it a much improved car. Although still recognisably from the little A-series family, the new unit was a 1,275cc unit, effectively a detuned S engine, with 65bhp and a much more robust feel than the earlier 1,098cc engine. Along with the Sprite, which became the Mk4 at the same time, the latest Midget was also given a neat, lower profile fold-away soft-top. Production of this type ran until autumn of 1969, when a further facelift was made to what had become a British Leyland model.
Austin-Healey Sprite 4 (1966-1970)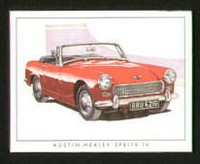 In October 1966 BMC announced what many people consider to be the best Sprite of all, the Mk 4, in which there was not only an engine worthy of the model, but a neat foldaway soft-top, which improved the little car's look. The Mk 4 's engine was still one of the A-series family but this time it was a detuned version of the Mini-Cooper S's 1,275cc unit and produced 65bhp with a great deal of lusty mid-range torque. It made the Sprite faster than its bitter rival, the Spitfire Mk III, and somehow it felt right, without strain or fuss, perhaps for the first time in its career.
MG Midget Mk4 (1969-1974)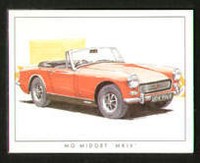 Face-lifted versions of the Sprite and Midget were introduced in October 1969. These Spridgets became truly badge-engineered versions of each other. Gone were the small but identifiable details which separated the two cars, now sharing the same radiator grille and purchase price!.
MG Midget 1500 Mk5 (1974-1979)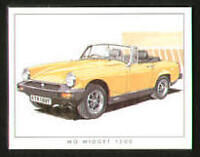 To continue selling the Midget in its major market, North America, some major revisions were necessary to the car in the year 1974. BL decided to equip the Midget with the Triumph Spitfire engine coupled to a Marina-derived gearbox with synchromesh on all four forward speeds. To meet low-speed impact regulations, large energy-absorbing bumpers in black polyurethane replaced the slender chrome, earning the car nickname "rubber-bumpered" Midget. There was also a revision to square wheelarches as the round wheelarches of the 1971-1972 cars were found not to provide such good resistance to rear-end impact damage.
Thank you for reading my guide and I hope you found it interesting!