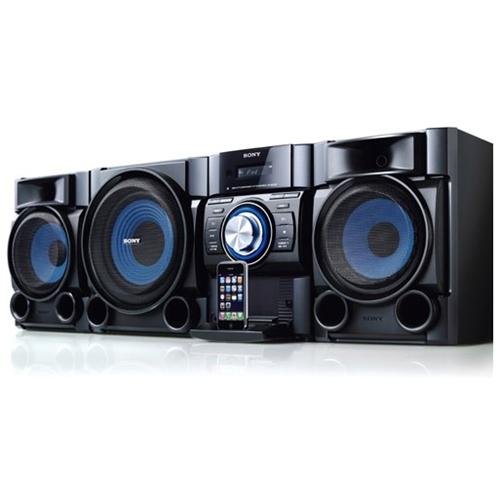 A Hi-Fi component for an iPod refers to any electronic device or accessory that can be connected to provide the iPod with some sort of amplification. These components range from docking systems that the iPod is placed in to large speakers that are connected through the headphone jack. Hi-Fi components range in price and power output, and buyers should spend some time considering which would be most suitable for them.
Buyers should also consider the type of iPod they have, as certain Hi-Fi components are made for use with specific models. The following guide will examine the most popular iPod Hi-Fi components sold today, and will explain how to find a suitable device on eBay. The site has a large selection of new and used audio devices at very reasonable prices.
Hi-Fi Components for iPods
The iPod is easily the most popular form of MP3 player sold today. There have been numerous models and different generations of iPod which have different components. This is an important factor to consider when searching for a Hi-Fi component, as the device may not be compatible with the buyer's current iPod.
Types of iPod Hi-Fi Components
iPod Hi-Fi components can be broken into three groups. Those that have docking stations require the user to connect their iPod to the device by slotting the USB entry point into a specific part on the stop of the system. Other Hi-Fi components use wireless technology to connect to the iPod. The least expensive options are connected though the headphone jack.
Docking Stations
Docking stations are able to achieve excellent and crystal clear sound quality, and these are generally the more popular iPod Hi-Fi component. Docking stations are made by a number of manufacturers, and greatly vary in price. It's important for the buyer to spend some time considering the features provided with the docking station, as this will have a direct influence on the cost. There are a few different docking station designs, and the following are the most popular.
| | |
| --- | --- |
| Stationary Docking Stations | Stationary docking systems are the larger models that are kept in one place in the house. These are quite similar to traditional stereo systems and often combine iPod capabilities with CD and radio playback. Buyers should spend some time investigating the various manufacturers that produce stationary stations, and should read up on customer reviews of desired models. Stationary docking stations are the most expensive option available, but will offer the greatest sound quality and volume output. |
| Portable Docking Stations | These are extremely popular with young adults and teenagers, and are available in a large variety of sizes. Portable docking stations are similar in concept to boom boxes, and can be easily carried around the house. The majority of these devices are powered by long lasting rechargeable lithium-ion batteries, and most come with an AC adapter that can be used to power the docking station when indoors. Prices for portable docking stations vary greatly, and will mainly be influenced by the size and volume output. It should be noted that the portable devices have a considerable lack in sound quality when compared to the stationary devices. |
| Clock Radios | Clock radio docking stations are modelled on standard radio alarm clocks, and allow the user to select a specific song from their iPod library that will be played when the alarm rings. |
Wireless
Wireless technology is become more and more popular, and there are multiple companies developing Bluetooth and AirPlay Hi-Fi components. Bluetooth is the standard wireless technology used with most wireless devices, whereas AirPlay is specifically made by Apple to work with Apple products only.
| | |
| --- | --- |
| Bluetooth | Bluetooth is the original wireless system, and has been used with electronic devices for a number of years. Bluetooth can only stream to a single set of speakers at a time, and is unable to support multi-room amplification. However, the benefit of Bluetooth is it works with nearly all known wireless capable Hi-Fi components, meaning buyers have a large selection to choose from. Hi-Fi components that utilise Bluetooth technology tend to be less expensive than those that use AirPlay. |
| AirPlay | AirPlay is Apple's official wireless audio feature, and it allows users to stream their entire iTunes library through their iPod. AirPlay is much more advanced than Bluetooth, and buyers that choose this technology will be able to stream music to multiple speakers, and send the track information to the device that is playing it. AirPlay Hi-Fi components tend to be a lot bigger than the Bluetooth models, and will use up a lot more power. This can be a problem if the buyer is using a battery-powered device, and they may find it more convenient to use a device that has an AC adapter. |
Headphone Jacks
There are a number of iPod Hi-Fi components that work by connecting the iPod to the amplification through the headphone jack. This is the least expensive option, and often just requires a standard 1/8 inch to ¼ inch jack cable. However, buyers should note that this will result in the lowest sound quality of all the mentioned iPod Hi-Fi components.
Buying Hi-Fi Components on eBay
All buyers are advised to use eBay for their electronic audio needs. The site has an unrivalled selection of devices and components, and these products are often sold at much more affordable prices than those in music stores or on specialist sites. Buyers may also find unique Hi-Fi components or those that are no longer currently manufactured. It's a good idea for buyers to spend some time thinking about which Hi-Fi component would be most suitable for them before beginning a search, and once they have done this they can head to eBay.com.au to begin browsing.
· Once the eBay homepage has loaded, click on the Shop By Category drop down menu found above the search bar. When this has opened, click on the Electronics heading to be brought to the relevant page.
· Click on the Hi-Fi Systems link found in the Audio tab. On the following page, scroll down to the 'Media Types' category, and click on iPod. This will load the relevant listings page, and from here buyers can begin their search for a suitable Hi-Fi component.
· Buyers that have an idea of the Hi-Fi component they want should enter as much information about the device as possible into the search bar and press enter.
· Buyers can use the 'Brand' filter in the 'Categories' table to list Hi-Fi components from specific manufacturers including Yamaha, Sony and Philips.
· It's a good idea to check out eBay Deals as they have a large number of iPod Hi-Fi components for sale at reduced prices. To find these products, first click on the Deals link at the top of the page. When the page has loaded then click on the Audio link found within the Electronics tab. iPod related items can be found about halfway down the page.
Conclusion
Hi-Fi components for iPods offer the user the ability to achieve real sound amplification whilst using music from their iPod's library. These are very popular devices and are becoming increasingly common in households across the world. However, buyers need to consider the type of iPod they own, and the various factors such as how the component is powered, and the quality of the sound it produces. Buyers should look for their desired iPod Hi-Fi components on eBay, and should check out the eBay Deals section of the website before they place any bids.