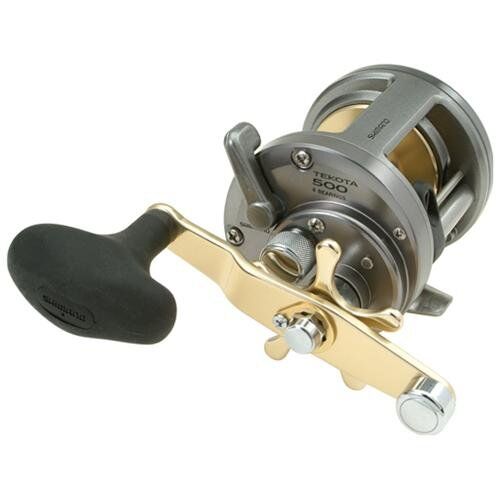 Choosing the right saltwater fishing reel can be difficult, particularly for beginners. There are a lot of aspects to consider in order to make the right choice. Saltwater reels differ in price and the components they are made up of. No matter what saltwater fishing reel is decided upon, it can usually be found quickly and easily on eBay.
There are three main types of fishing reel to choose from, each having their own advantages and disadvantages for certain types of fishing. The type of reel bought should reflect on what type of fish the angler aims to catch, as well as the location in which the fishing will be taking place.
· Baitcasting reel – These types of reels are best for casting heavy lures and lines. They are often used by experienced anglers as they are good for catching large game.
· Spinning reel – Spinning reels are best for catching small to medium sized game. They are better than baitcasting reels for long casts and are good for casting against the wind.
· Spincasting reel – Spincasting reels are also good for catching small to medium sized fish. They are easier to use and more reliable than other types of reel.


Things to Consider

There are many factors of a fishing reel which need to be considered for fishing in saltwater such as;
· Bearing count – The number of the ball bearings can be considered very important by some as it reduces the friction and jumpiness of the line when reeling in. However, some people believe that the ball bearing is not so important as long as the reel is well engineered.
· Line capacity – This is the length of line that the reel can hold. The higher the number, the more line the reel can hold. In saltwater fishing, having a long line is a good idea as there is much more space for casting.
· Body materials – The material the reel is made from. Fishing reels can be made from many different materials although with saltwater fishing, the best bet would be to get a reel made from graphite or cast aluminium. These reels will be slightly more expensive, however, the materials from which they are made are stronger and will not be corroded by saltwater, making them both easier and cheaper to look after in the long run.
Match the Reel to the Task

As previously mentioned, the first thing which needs to be considered before deciding upon which reel to buy is the type of fishing which the angler is set to enjoy. Things to think about are:
· The type of fish being caught as well as the size these fish are likely to be.
· The location in which the fishing will take place. This could depend on what type of fish are being caught as many fish are only found in certain places.
· Remember that certain reels that are suitable for fresh water will not be the same for salt water.
Once these things have been decided, continue to think about the specific type of reel that would best fit the specific requirements of fishing for the quarry. Keep in mind that spinning reels and spincasting reels are often found to be easier and therefore for beginners this may be the best choice.

If not entirely sure as to what type of reel is best to buy, or are not sure as to the specifics of an item, asking for help is a good idea. Ask someone in the area what type of reel they would use for the type of fishing of interest. Alternatively, do not be shy to ask the seller a question, particularly a rated seller. If they are selling fishing reels, chances are they will know about fishing.
How to Buy Saltwater Fishing Reels on eBay

Now that you know what you want out of a saltwater fishing reel, you can find it quickly and easily on eBay. While you shop, give thought to rods and clothing.
To start shopping, go to the sporting goods category, followed by fishing, then reels.

Categories
The categories list on the left side of each page will help you narrow down your listings by item type.

Product Finder
Use the saltwater fishing reel Finder to quickly narrow down item listings by brand and condition (new or used).


Keyword Search
Search eBay listing titles for specific words. For example, if you want to find new saltwater fishing reels, type the keywords "saltwater fishing reel new" (without quotation marks) into the search box. Click, "Search title and description" to expand your results. Visit eBay's Search Tips for more tips on searching with keywords.

If you can't find exactly what you want, try browsing eBay Stores or tell the eBay Community what you're looking for by creating a post on Want It Now. Alternatively, use the save a search option on My eBay and eBay will email you when a matching item becomes available.
Remember also to look at eBay's Deals page when searching for bargains.



Buy saltwater Fishing Reels with Confidence
Make sure that you know exactly what you're buying and understand how eBay and PayPal protect you.
Know Your Item
Read the details in the item listing carefully.
Remember to add delivery costs to your final price. If you're buying a high value item, check that the seller will insure it until it is delivered to you.
If you want more information, click the "Ask seller a question" button on the seller's profile or the "Ask a question" link at the bottom of the item listing page.

Know Your Seller

Research your seller so that you feel safe and positive about every transaction.

· What is the seller's feedback rating?

· How many transactions have they completed?

· How many positive responses do they have?

· What do buyers say in their feedback?

· Do they offer a money-back guarantee?

· What are the terms and conditions?

· Are buyers positive about the seller?

· Most top eBay sellers operate like retail shops and have a returns policy.

Conclusion

No matter what type of reel has been decided upon, whether it be baitcasting, spinning or spincasting, all of these types of reels can be found quickly and easily on eBay. Remember to match the reel to your quarry and all will be well.