These exciting toys are either bestsellers or newly launched in 2014. While all these toys will deliver hours of fun, they're also chosen to help babies 12 months and younger practice important developmental skills.
1
Vulli Sophie Giraffe Teether in Natural Rubber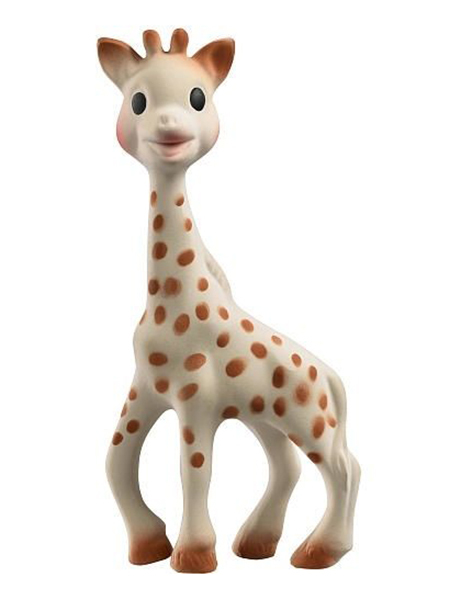 This cute giraffe from the French company Vulli may look like a simple toy, but the body is carefully designed to be an excellent teether from birth onward. Babies love to chew on the curved, thick legs of the giraffe, and it's small enough to keep in the stroller. The toy is made from natural rubber and is BPA and phthalates free.
---
2
Tiny Love Magical Night Mobile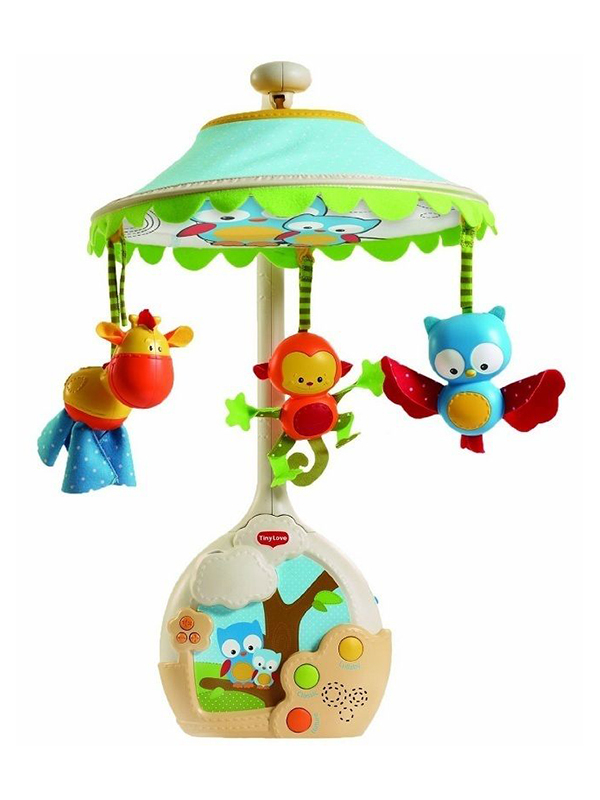 Unlike other mobiles that babies quickly outgrow, the Tiny Love Magical Night Mobile transitions to a ceiling projector and music box for older babies and toddlers. A mobile placed above the cot can help babies learn to focus their eyes and track movement starting from birth. The Night Mobile's music and lights can also help older babies learn to self-soothe at night.
---
3
Baby Einstein Nautical Friends Play Gym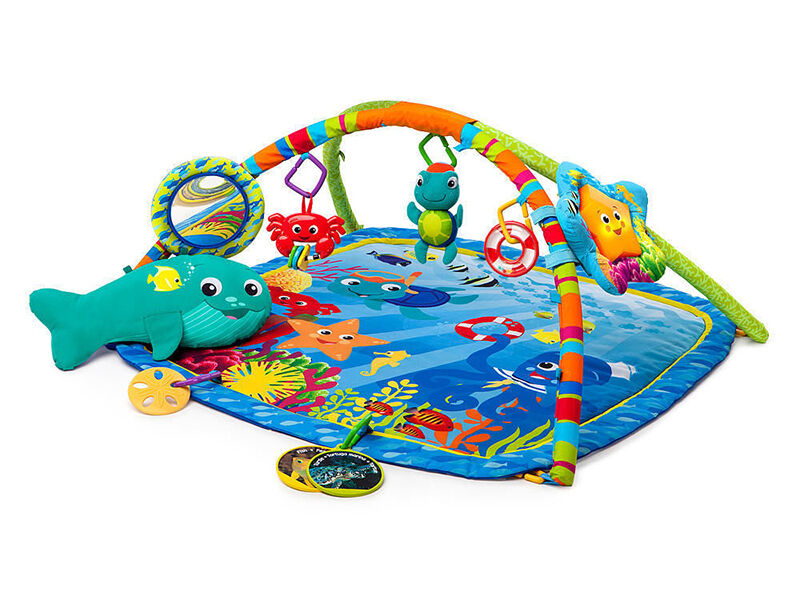 Babies can start exploring this sea-themed play gym almost immediately after birth. Music, lights, and a plush star fish will entrance younger babies, and a wedge-shaped whale pillow will support older babies during tummy time. Sea flash cards are included to help them learn to identify common ocean creatures. Good for 0-24 months, additional items to add to the play gym can be found on eBay.
---
4
Fisher Price Laugh & Learn Learning Workbench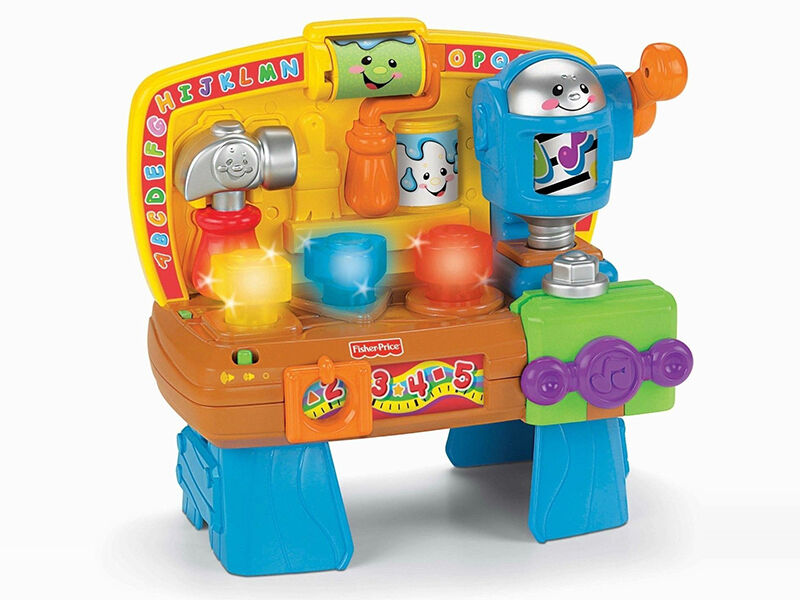 While more realistic workbenches are appropriate for toddlers, this Fisher Price toy will keep babies entranced as young as 6 months entranced. Between the happy faces on all of the tools and the playful musical tunes, the toy entertains and encourages babies who are learning how to sit and focus on mid-range objects. Later, the baby can practice using the hammer to tap light-up pegs.
---
5
Melissa & Doug K's Kids Pop Blocs Crocodile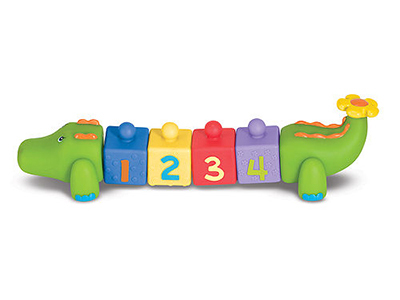 This soft plastic block crocodile set, appropriate for babies as young as 6 months, has four numbered blocks that fit together in between a green crocodile head and tail. The toy can be taken apart and the numbered blocks can be stacked or individually used. Fitting the blocks together will be tough for younger babies, but playing with this toy will help them build fine and gross motor skills, sensory perception, and overall logic.
---
6
B. Ballyhoo Ball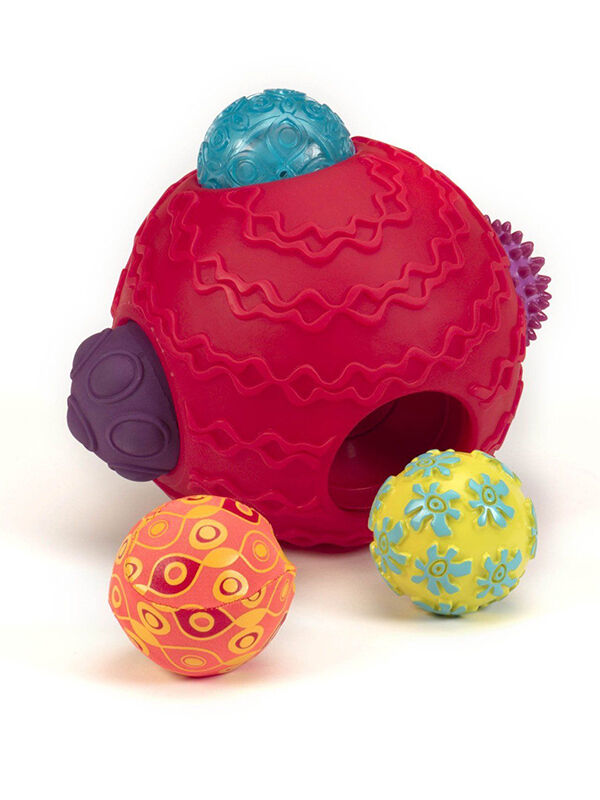 The B. Ballyhoo Ball has five differently-textured balls that fit into one larger red ball. By removing or inserting a different number of balls in the larger ball, a baby can affect how the toy will roll. Placing the balls into the correct spots will also help with hand-eye coordination and fine motor skills. The brightly coloured balls will also be intriguing to babies who don't develop good colour vision until five months old.
---
7
Playskool Rocktivity Mix 'n Crawl DJ Ball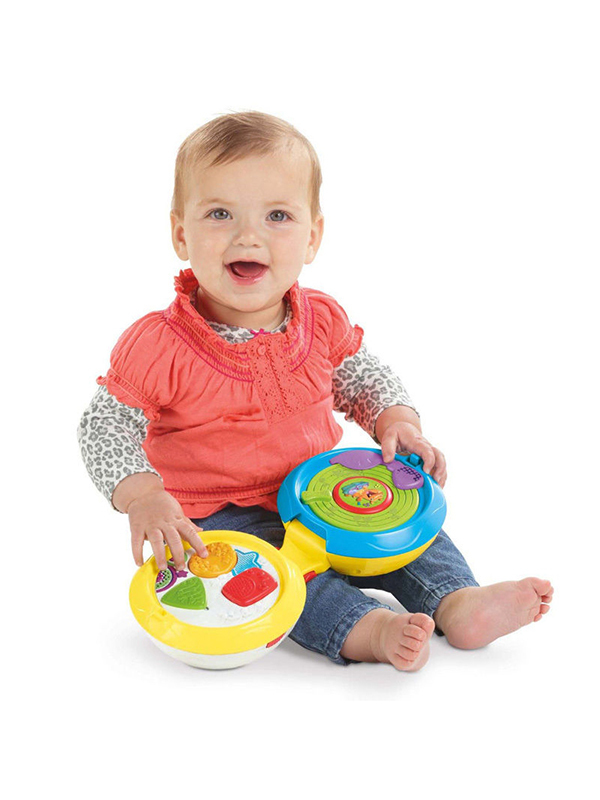 Younger babies can use this ball, but the real fun starts when babies begin crawling at around 6-8 months. This multicoloured ball plays ten different tunes, lights up, and rolls easily to encourage mobile babies to chase it and build their muscle coordination. The ball also opens on a hinge to reveal a DJ turntable that babies can use while sitting.
---
8
Franky the Hanky Whale from Lamaze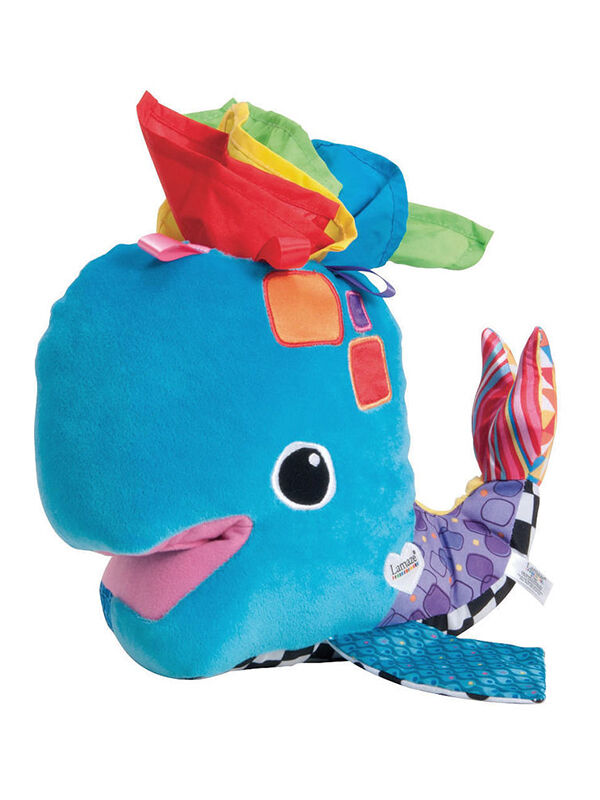 Many babies are fascinated with pulling tissues or wipes out of a container, and Franky the Hanky Whale encourages this enthusiasm. Franky has four colourful handkerchiefs that can be pulled out of his blow hole and stuffed back into his mouth for endless fun and a lesson in cause and effect for babies 9 months or older. This fabric toy is also made with ribbon pulls and various textiles to encourage sensory development.
---
9
Mirari Pop! Pop! Piano (9 months to 36 months)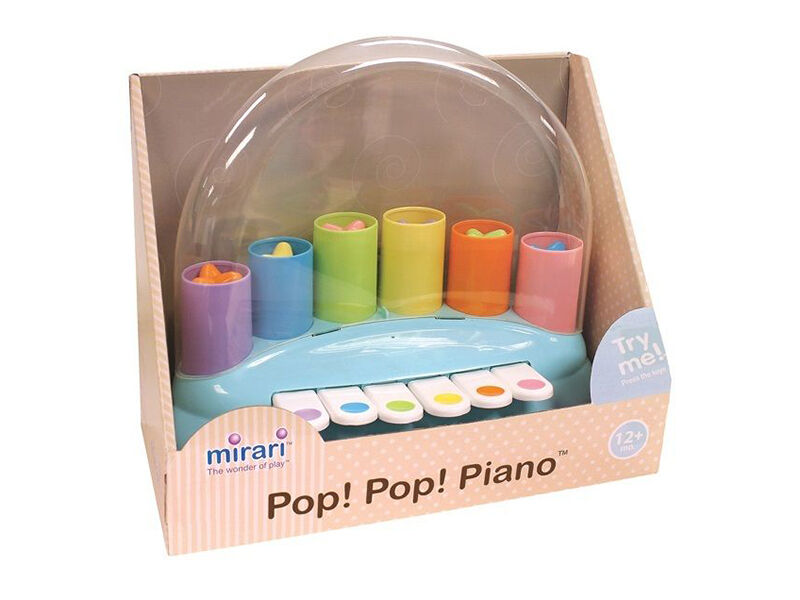 This fun piano plays musical notes, but with a switch it can play funny sounds, too. The Pop! Pop! Piano also launches stars with every press of a key. The top of the piano can be removed to allow the stars to launch into space and encourage babies to crawl after them. Playing with this toy will encourage cognitive learning and overall sensory development in babies 9 months or older.
---
10
VTech Sit-to-Stand Learning Walker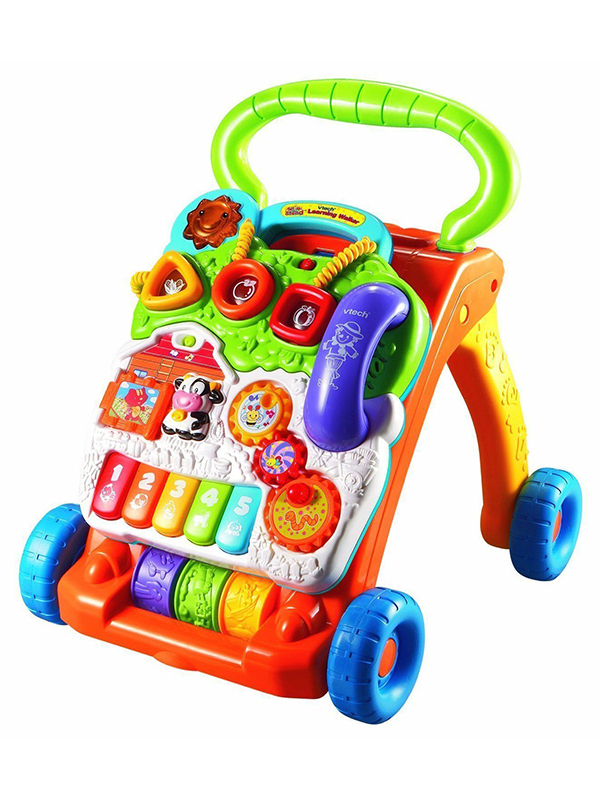 A push toy that will transition from sitting to walking will help babies develop the muscles and gross motor skills to sit, kneel, squat, stand, and reach starting at 9 months. As one of 2014's bestselling toys, the VTech learning walker offers babies a telephone, piano keys, rollers, shape sorters, and other fun pieces to explore in one exciting package. When playing with the different pieces, babies will also learn about cause and effect.
---