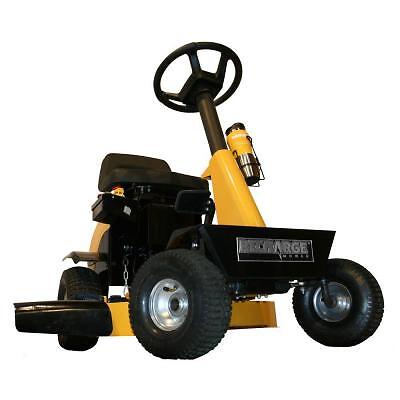 Buying the first riding mower can be a daunting experience for a novice. It is a major purchase, and there is always the fear of buying the wrong mower since many novice users may not feel they know enough to make informed buying decisions. Luckily, all people need to make good buying decisions is knowledge. They need to understand their needs and understand how the various riding mowers available can meet those needs. It does take some time and effort, but by limiting the search to the best riding mowers for a novice user, the amount of research can be easily managed to make coming to a purchasing decision that much easier for any buyer. All it takes is a little time.
Understanding Riding Mowers
Riding mowers, which are very similar to garden tractors, are no longer a new idea and date back to the middle of the 20th century. The basic idea is simple enough, a small farm tractor with a mowing attachment underneath as the defining feature. Many other tractors can be used for mowing, but they rely on towed attachments. A full-time riding mower has the mower built in to the tractor. Most rely on small petrol engines and offer roughly similar controls to the average car. Although many people need a lawnmower, not everyone needs a riding mower.
Understanding the Need for a Riding Mower
Before buying a riding mower, a prospective purchaser should take the time to determine whether it is needed. A good rule of thumb is that anything under a fifth of a hectare can be dealt with by a person with a push mower. Anyone with more lawn than that is probably in a position to benefit from a riding mower. The additional cost and maintenance pays for itself in the time saved not having to push a lawnmower around. It is a substantial investment, but for those who need it, it is worth it.
Most Important Features for a Novice
Riding mowers come in a wide variety of designs with a wide range of functions. The key for a novice rider is to not be drawn in by all the additional features and instead focus on the basics. Novice riders should focus on things such as ease of use and maintenance over advanced features. There is very little point to spending large sums of money on a riding mower with advanced features that are never going to be used. Instead, the novice buyer should focus on the features he or she is likely to use the most.
Choosing the 5 Best Riding Mowers for the Novice
While none of the following mowers have all the most advanced features, they are all easy to use and effective at cutting grass. There are not any zero-turn radius models on the list because they add an extra level of complexity that is not necessary. Instead, each of these models follows a standard control scheme and relies on a conventional steering wheel. Buyers can also add functionality to many of these mowers by adding accessories when they are ready for more features.
1. Rover Mini Rider
The Rover Mini Rider is an excellent choice for any novice with a lawn that is just a little bit too large to mow on foot. This is a small and simple design with a control scheme that is familiar to anyone who can drive a car. It offers both bagging and mulching options, and it has a 76 cm cutting deck. The small size makes it easy to manoeuvre, but buyers should be aware that it is not designed for heavy use, and it is not recommended for anyone with a lawn size of more than a hectare. This Rover also makes a good entry-level model for someone who could probably mow with a push mower but wants something to make it a little easier.
2. John Deere 100 Series
While John Deere may have started out making combine harvesters and other farm equipment, the company expanded its line long ago, and the John Deere 100 Series makes a great choice for any novice rider. These mowers feature comfortable seats for those who are not used to riding, and they even offer cruise control for riders who find they are having difficulty maintaining a constant speed. With five different blade height settings, the mower can adjust to handle almost any lawn. Aimed primarily at the residential market, this mower is not designed for heavy duty work, but it is a very good choice for anyone with a large lawn.
3. Husqvarna LTH19530
Perhaps best known for chainsaws, Husqvarna actually makes a wide range of power tools and implements, including riding mowers. The LTH19530 is an excellent first riding mower for anyone who no longer wants to walk when mowing the lawn. This model is designed for ease of use and ease of mounting and includes a step-through design that makes it easy to get on or off from either side. Both speed and direction are controlled by the rider's feet, freeing the hands to steer and control the cutting blades. Built with simplicity and reliability in mind, it is an excellent choice for someone who wants a basic mower at purchase but may want to explore additional features later.
4. Cub Cadet LTX 1042
As a company, Cub Cadet is best known for its lawn tractors and riding mowers. The LTX 1042 makes a great first mower for someone with a larger lawn. Able to cover more than a hectare, this mower has a 107 cm cutting deck to cut larger areas faster and the tightest turning circle in the industry. This makes it a great choice for anyone who has obstacles in the yard that limit the ability to mow in a straight line. It is also designed to be easy to clean using a high-pressure water system to clean clippings out from under the deck. Everything about this mower is designed for ease of use.
5. Greenfield MiniMow
Designed and built in Australia, the Greenfield MiniMow is an excellent choice for the novice mower who has to cut grass in more than one location. Small enough to fit in the back of a station wagon, this mower is still powerful enough to mow almost half a hectare. At only 63 cm in width, it fits through any standard door for indoor storage. Its metal construction ensures a long life, and the unparalleled portability makes it a superb choice for anyone who deals with the multiple lawns of extended family. The Greenfield MiniMow is where durability meets portability.
Buying a Riding Mower for the Novice on eBay
One of the best places for any novice to buy a riding mower is eBay. The site offers a huge variety of mowers as well as a host of helpful tools to assist buyers in finding the right models. All you have to do is type your interests into the search box on any page and wait for the results to appear. Once you have an initial list of items to consider, you can use the filters in the sidebar to narrow the list according to brand, price, and other criteria.
From there, it is a simple matter of checking out a seller's profile page to review his or her feedback before purchasing. You can also check the page for special deals such as bundles with mower attachments. Some sellers may even allow local buyers to pick up their mowers in person. Before purchasing, be sure to check the eBay Deals page for special offers, as well.
Conclusion
Buying a riding mower may seem difficult to a novice rider, but as long as he or she takes the time to do some research in order to focus on mowers that meet specific needs, it may very well be a quick and easy process. One of the easiest ways to ensure a successful purchase is for the buyer to start off by limiting the required options to just what is actually needed. Any of the top five riding mowers for novices can do everything a beginning rider needs and sometimes more. They are all easy to use, easy to ride, and easy to maintain. Making an informed decision is much easier when the attention is focussed on only a few models. All it takes is a little time and research, and a beginner can soon be riding in comfort as he or she mows the lawn.
Riding Mower|Ride-on Mower|Lawnmower|Lawn Tractor|Mower