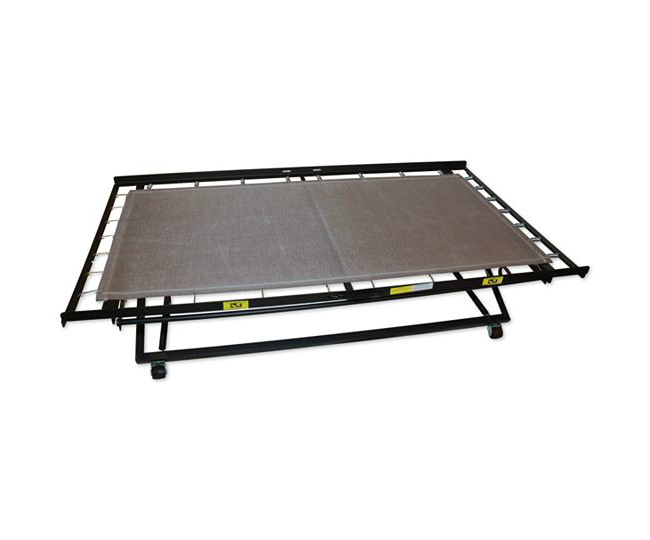 The trundle bed works well when conditions demand combining two different beds into the space of one. Like the bunk bed, the trundle bed saves space by stacking two mattresses on top of each other. However, unlike the bunk bed, the second mattress is stored underneath the first one and is typically pulled out only when needed. This creates two beds, one a little bit higher than the other.
Buying the right trundle bed frame is an important consideration, and there are different options to choose from. One can find a trundle bed for sale in a bedding store, large department store, or online via websites like eBay. However, making the right choice is not always easy. The buyer needs to examine the trundle bed frame based on factors such as bed size, design, and comfort level in order to make the right purchase.
Choosing a Trundle Bed
There are several reasons to select a trundle bed. Buyers need to examine these factors in order to decide if a trundle bed is what they are truly after, or if they need something else such as a bunk bed. Because of their versatile nature, trundles can serve several purposes.
Additional Sleeping Space
The main function of the trundle bed is to offer additional sleeping space during the night. By design, the bottom trundle mattress cannot be larger than the top one. Therefore, if the top mattress is a double, then the bottom mattress must be a double as well. This is different form bunk beds where, sometimes, the lower mattress is larger than the upper one.
Because of the space-saving sliding design of trundle beds, the mattresses do not use box springs. Children and occasional overnight guests usually do not mind the lack of a box spring, but this is not the best bed to use for everyday sleeping. Furthermore, elderly guests are not comfortable in a mattress without a box spring, especially if they have to get down on the floor to crawl into the bottom trundle bed. It is better used for children and occasional guests, but elderly guests should sleep in a real bed.
Additional Storage Space
The second benefit of a trundle bed is that it is ideal for extra storage. Many beds come with drawers that are already attached to the sliding mechanism underneath. The owner can keep the mattress in the closet, and use the drawers for storing everything from books to toys. This makes it an ideal bed for use in a child's room, since the room can quickly become cluttered with toys. Furthermore, when friends come over to stay the night, the drawers can easily be removed and the mattress added with minimal frustration.
The downside is that not all trundle beds come with a storage function. Those who are looking at trundles with this option therefore need to focus on models designed with drawers. Also, some of the drawers may be made out of flimsy materials, which add to the maintenance cost of the overall trundle bed frame.
Trundle Bed Size
Trundle bed frames come in several size options. Although it is rare to find a trundle in the queen size, bed sizes typically range from single to double.
| | |
| --- | --- |
| Size | Measurement (cm) |
| Single | 92 by 187 |
| Single XL | 92 by 203 |
| King Single | 106 by 203 |
| Double | 137 by 187 |
| Queen | 153 by 203 |
The buyer needs to be extra careful when selecting a trundle bed frame based on the size of the mattress. While the bed may fit into the room when it is closed, it may not fit when it is opened.
To ensure that the trundle bed fits into the room, measure the available space before purchasing the bed. Remember to allot enough space for two mattresses. There needs to be enough room between the bed frame and the wall so that guests can walk comfortably around the room. If one mattress size is too large, opt for the next size down.
Trundle Bed Frame Materials
Trundle bed frames are made of wood or metal. Each type has its benefits, but there are drawbacks to consider as well. Consumers need to think about practicality as well as design when selecting a trundle bed frame.
Wood
Wood is the traditional choice when it comes to furniture, beds included. After all, wood offers a natural and comfortable feel. It is also a beautiful material that comes in an array of colours, from pale yellow pine to deep toned oak.
Besides the beauty of the material, many homeowners go with a wooden trundle bed frame for its versatility. The wooden models often include drawers underneath the bed for additional storage space. Both the drawers and the trundle operate on sliders, and the maintenance for these pieces is low, if the bed is made out of quality wood. Stay away from purchasing a trundle bed that uses particle wood or heavy veneers, as these pieces usually fall apart quite quickly. Children also cause additional wear and tear on furniture, so be certain to only purchase a real wood bed for a child's room.
Metal
Metal is the other main contender when it comes to selecting a trundle bed. Metal beds offer several benefits. They are lighter than wooden beds, and this makes them a good choice for when the owner is renting a home or apartment and has to move. They also look more modern and therefore fit better into rooms with a modern design. Metal beds also tend to be less expensive than wooden ones.
However, these beds have some drawbacks. Metal beds usually lack the storage compartments found in wooden beds, and this makes them useless if the homeowner is buying the trundle bed to double as a storage compartment. Some builders do make customised metal trundle beds that come with storage compartments underneath, but buyers usually have to pay more for these models.
The other common concern with metal beds is that they lack durability. Often, the outer frame is made of a strong metal such as iron or steel, but the sliding mechanism often uses a lighter metal such as aluminium. This metal does not last as long as others and can easily be bent after being used repetitively. It can also suffer from rough use, such as having a child jumping on top of the bed.
How to Buy a Trundle Bed Frame on eBay
Get the most out of your shopping experience by finding a trundle bed on eBay. With a large selection of both new and used bed frames, you can expect to find the exact model you are searching for. Whether you want a large trundle bed for the guest room or a small trundle for a child's room, chances are that eBay has what you are looking for.
Start your search off right by typing in 'bed frames' in the search box on an eBay page. This takes you to a page full of different bed frames, but for specific results, search for 'trundle bed frames'. You can also narrow down your search by different criteria. For example, if you are looking for a specific brand, type in 'Ikea bed frame' in order to only return results for beds from Ikea. If you only want wooden bed frames, then search for 'wood bed frames'. Keep narrowing down the search list until you find the exact trundle bed model you want or search through eBay's Deals page for deals on bed frames.
Conclusion
A trundle bed works miracles in a small space where it expands into two different beds. These beds are often used in guest rooms and children's rooms for when visitors stay the night, and during the day, the sliding trundle part remains tucked away. Some types of trundle beds also contain drawers in the lower mattress compartment, offering extra storage space. Because these models come without a boxspring, they are better for occasional use and typically do not work well for elderly guests because of their low height.
When purchasing a trundle bed frame, the buyer needs to carefully measure the available space before deciding on a particular size. After the size is chosen, it is time to select the material for the frame. It is well known that eBay has a massive selection, and even a selective consumer can find the perfect trundle bed at a reasonable price on this website.