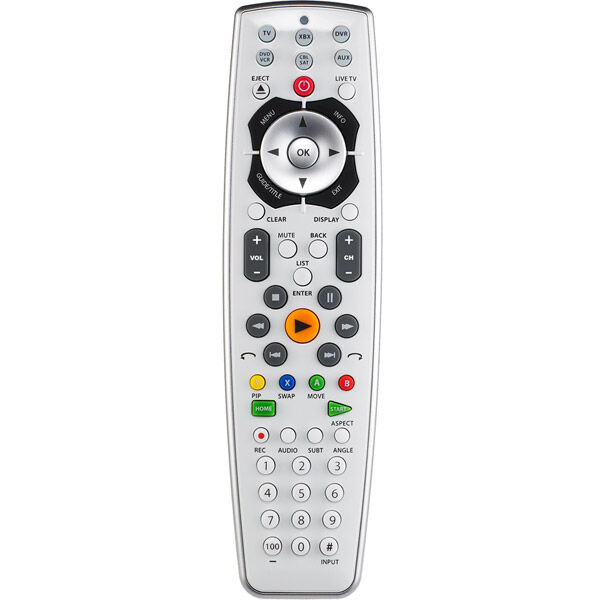 Almost every home entertainment option, whether it is audio or video, comes with a remote control. As technology continues to advance and people acquire new home entertainment hardware, the sheer amount of remotes floating around can become too much to bear. There is no better way to eradicate excess remotes than to consolidate them into one handy unit in the form of a universal remote control.
With no shortage of models and brands to choose from, finding the right remote can be tricky. However, with this guide and eBay's deals on digital entertainment accessories, a universal remote is never any more than a few clicks away.
Universal Remote Control Features
The purpose of a universal remote is to make the process of using a television or stereo hassle free. Universal remotes can handle all basic television remote features at minimum plus much more. Those who invest in a high-end option can expect to find features that will actually add to the viewing and listening experience.
Basic
A basic universal remote will have the following buttons at minimum, and these elements will operate simple television functions:
· Power Button
· Numeric Keypad
· Select Button
· Channel Selector
· Volume Selector
· Directional Pad
These features have the ability to operate one or more of the following devices:
· Television
· DVD Player
· Blu-ray
· Cable Receiver
· Satellite Receiver
· VCR
· DVR
The numeric keypad allows users to enter in information, such as channel number and recording timer information. The channel and volume selectors are pretty self-explanatory and are usually represented by either a + or – sign. The directional pad function simply allows for menu navigation on DVD, Blu-ray and DVR players. For many, these basic features are enough, but for some more control is required out of a universal remote.
Advanced
Technology in the world of home entertainment continues to evolve and universal remotes have to continue to advance as a result of this. New features are constantly being added to keep universal remotes sophisticated and relevant. Expect to find one or more of the following complex features on a high-end universal remote control.
| | |
| --- | --- |
| Feature | Description |
| Universal Functionality | High-end remotes will come with built-in manufacturer codes, which allows it to link to almost any home entertainment device instantaneously. This means they can be set-up in minutes with minimal effort. |
| PC and Mac Connectivity | Some universal remotes run off a basic firmware that can be updated to allow for added features. This also allows for a remote to be fully customised with graphic icons and the latest command codes. |
| Macro Commands | Similar to hotkeys that can be found on a computer. They allow for a sequence to do a certain activity to be shortened. An example of this would be to set up a remote, so that using just one button can immediately play a CD or DVD. |
| LCD Interface | An LCD touchscreen may seem like its redundant on a remote control, but such a thought process couldn't be more wrong. It can display data that remains otherwise unknown to the user and makes determining faults and errors easier. |
| IR or RF Extender | Remote controls run off either an IR (infrared) or RF (radio frequency) signal. Usually such signals can operate up to a distance of 25 feet. However, the introduction of an extender can stretch that up to 100 feet. |
| Illuminate Button | Many of the more up-market universal remote controls have an illuminate option. This lights up the buttons in dark conditions, meaning that the remote control can be seen at night. |
Price
The big question a shopper must ask himself or herself, is how much they are actually willing to invest in a universal remote. The price of such items range from budget friendly to bank balance depleting. Think about what exactly you need one for, is it for basic simple features or to improve the entire home entertainment experience.
Expect anything that has sophisticated features such as an LCD screen to cost upwards of $50, while a bargain option starts at around $15. Simply put, starting with a base model each additional feature will increase the remote's price. The best piece of advice is to only invest in a high-end remote if you have a vast home entertainment setup or are looking to create one. Avoid over-investing in a universal remote, as having features that don't get used can simply overcomplicate things and make things confusing.
Standard Batteries or Rechargeable Battery Pack
The all-in-one nature of a universal remote control generally means that it requires a lot of power to operate. In order to get the best out of such a remote, the shopper will need to decide what type of power they wish to use. Most use standard batteries but over time (even though they provide the longest amount of life per single use) buying them can become expensive.
However, battery packs don't necessarily have the longest life between charges. Depending on the model they can actually spend more time plugged into a charger than actually in use. Think about what takes preference, budget or usage, and then you can decide which type of power is suitable for you.
Infrared or Radio Frequency
There are two types of remote transmission available, infrared or radio frequency. Infrared requires a direct line between the remote and receiver; it is the most responsive type of connection. However, its negative standpoint is that the connection can be interfered with easily. Radio frequency isn't as responsive, but it can't be disrupted easily and is useable through walls, glass or even a person.
How to Buy a Universal Remote Control on eBay
Even though electronic stores stock various types of universal remote control, eBay is easily the most convenient way to buy one. To start browsing through what remote variations are on eBay, click on the home entertainment category and the television accessories and remote controls sub-categories. Before committing to a purchase, check out the eBay seller's feedback to get a better grasp on their transaction history. Remember that a seller's feedback is a big indication in how they go about selling, describing and shipping items.
If shoppers are looking for set features, using the search function is advised. It allows shoppers to get more detailed results in double quick time. To learn more about how to correctly use the search tools take a quick look at the search tips page.
After winning an item it will be time to pay for it, doing so via PayPal is the best option for all buyers. It will protect the item as an investment and make sure that buyers don't get short changed by a dishonest seller.
Conclusion
Universal remote controls have taken the world of home entertainment to a whole new level of comfort and usability. They allow people to get the best out of their home entertainment options with minimal fuss. The key is getting one that fits in seamlessly with the technology you currently own, while enhancing its overall performance.
If you're looking for the best deal on a universal remote, you won't have to look far to find one on the world's leading online auction site. eBay is the market leader in the world of home entertainment accessories and it isn't difficult to see why.