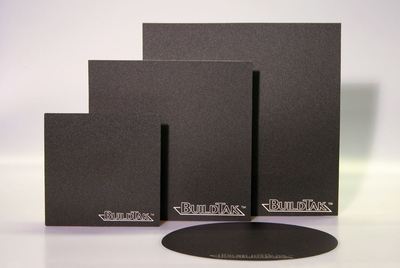 BuildTak easy 3d Printing
Using BuildTak is super easy but a few notes may help you,
You can cut BuildTak to size with scissors.
You can join 2 sheets together just leave a small gap for expansion.
Remove your parts while the build platform is warm say 40 degs.
Set your nozzle height about 0.2mm off the bed (std business card).
Level your bed when you set your nozzle heights.

A good guide is if you're finding it hard to remove parts then raise the bed height a little and this would be the opposite if your parts are not sticking as well. Your ideal range is between 0.1-0.3mm. Remember that if you change the bed height reflect that in your software to get the correct initial layer spread.
You can remove buildtak and reapply it back to your bed, but just be careful doing this. If the sheet has lost its adherence then that it throw it away.
You can use almost any materials you like. You can use BuildTak with ABS, PLA, HIPS, PET+, Brick, Wood & Flexible (TPE) filaments; additionally we have had success with getting nylon and t-glase (PETT) to adhere when used with a thin layer of washable glue stick on the BuildTak surface.
Get your Buildtak sheets from DNK Systems
HERE
If you're not sure just call or Email us we will be very happy to help you.