The Many Ways You Can Use Camouflage Tape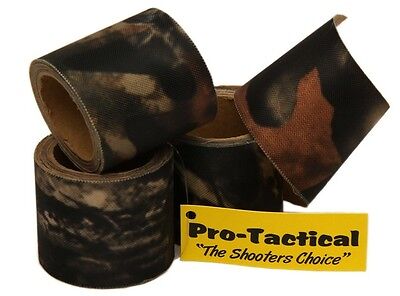 Camouflage tape may well be one of the most ignored accessories when it comes to hunting trips. Yet, you may not realize the many ways in which you can use it. The common perception regarding adhesive tape is that it can only be used to cover up tears. Well, that is the main purpose of camouflage tape but there are so many purposes for which you can use it. Let's look at the many ways you can use camouflage tape:
You can patch up clothes that get torn. If you are walking through the woods, there is always the risk of your clothes getting caught in branches and tearing up. This could lead to bugs getting in and crawling on your skin. Apply some camouflage tape to keep them out.
Same goes for your shoes. If your shoes get torn, it becomes extremely difficult to walk. Plus, the weather might be too cold (or hot) for you to get through the trip barefoot. Therefore, patch up your shoes by wrapping camouflage tape on them.
You can get a better grip on your firearms by wrapping camouflage tape. If you feel the handle is not thick enough, you need only wrap some tape and it will be all set for you.
You can camouflage your equipment which comes in handy if you have to leave it lying around for a while. This also gives you the chance to hunt better as the animals can't spot your firearm.
CLICK HERE
to purchase Camo Tape