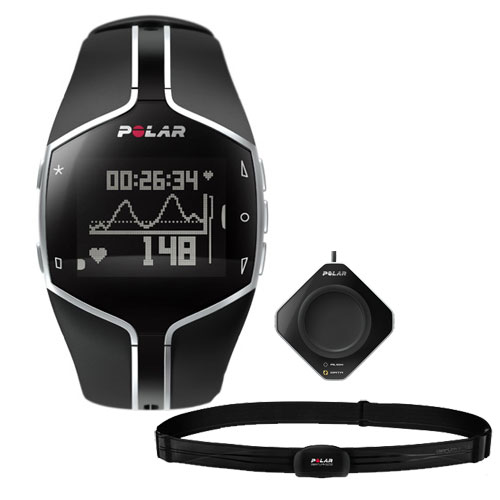 Whether one is a keen fitness enthusiast or embarking on a new exercise program, using a heart rate monitor can be beneficial towards maintaining a healthy lifestyle.
A great range of heart rate monitors can be found on eBay, from basic, entry-level models with limited functions, to advanced, elite-level models with several additional features.
Talking through the key elements of a heart rate monitor, this guide offers some basic guidelines on the various types, features and brands of heart rate monitor available to use as part of a healthy lifestyle. Heart rate monitors can be found quickly and easily on eBay.
Using a Heart Rate Monitor
A heart rate monitor is an electronic device that is worn during cardiovascular exercise. It monitors the heart rate, providing the wearer with up-to-date readings so that they can track their fitness levels. Using a heart rate monitor can be beneficial in several ways; it can show if the heart is working to the desired rate allowing the workout to be adjusted accordingly.
Whilst a heart rate monitor can be a valuable exercise companion, factors such as diet and emotional well-being must also be managed effectively to ensure a healthy general lifestyle.
Maximum and Target Heart Rates
It may seem logical that the higher the heart rate is increased during cardiovascular exercise, the more beneficial the exercise will be. In fact, the most beneficial form of exercise involves raising the heart rate to specific, 'target' levels. Depending upon the intensity of the workout, the target heart rate should be between 50% and 85% of your maximum heart rate, which is calculated by subtracting one's age from 220.
As well as the age, the target heart rate will vary depending upon the existing fitness. The following table gives a general indication of the target heart rates that should be aimed to achieve during exercise. Beginners should keep in the 'Low Intensity' range at first, so as to avoid any potentially adverse health effects.
Age

Maximum Heart Rate

Target Heart Rate Range (BPM)

(BPM)

Low Intensity (50 - 60%)

High Intensity (60 - 85%)

15

205

103 - 123

123 - 174

20

200

100 - 120

120 - 170

25

195

98 - 117

117 - 166

30

190

95 - 114

114 - 162

35

185

93 - 111

111 - 157

40

180

90 - 108

108 - 153

45

175

88 - 105

105 - 149

50

170

85 - 102

102 - 145

55

165

83 - 99

99 - 140

60

160

80 - 96

96 - 136

65

155

78 - 93

93 - 132

70

150

75 - 90

90 - 128

75

145

73 - 87

87 - 123
By using a heart rate monitor, it ensures working within the target heart rate zone throughout the workout. This helps to ensure that the exercise is being performed both effectively and healthily.
Types of Heart Rate Monitor
The three general types of heart rate monitor are as follows:
· Chest-Strap: This type of monitor involves the use of a strap that is worn closely fitted around the chest and contains a sensor that is positioned near the heart. The chest strap then transmits data wirelessly to a separate piece of equipment, such as a watch-like device that displays a constant heart rate reading.
· Optical Sensor: Thesemore advanced heart rate monitors will take a continuous heart rate reading without the need for a potentially uncomfortable chest strap. Instead, optical sensors in the back of a watch-like device or armband take the pulse continuously through the skin.
· Touch Sensor: Also known as finger sensor or pulse sensor monitors, these heart rate monitors offer an on-demand reading instead of continuously recording the heart rate. When a heart rate reading is required, simply press the fingers against sensors on a watch-like device. Whilst this type of heart rate monitor is usually more affordable and eliminates the need for a separate chest strap, they are generally less reliable and have fewer additional features than other types of monitor.
Heart Rate Monitor Features
Many heart rate monitors will offer a range of additional functions alongside a heart rate display, such as a stopwatch or alarm that sounds if the target heart rate zone is left. More premium models may offer many other advanced functions, including:
· distance travelled
· current / average speed
· average heart rate
· pre-programmed workouts
· split timer
· GPS
· altitude
· calorie counter
· waterproofing.
Make sure that the heart rate monitor chosen has all of the functions required, whilst ensuring that it is suitable for specific exercise needs. For example, if simply wanting a heart rate monitor to help improve general fitness whilst jogging on flat ground, a more basic model will be beneficial. If training for a triathlon however, a more advanced, waterproof model with additional functions may be better suited.
Buying a Heart Rate Monitor on eBay
You will find an extensive range of heart rate monitors for sale on eBay, including models from recognised brands such as Polar, Garmin, Mio, Ekho and Suunto.
To start your search for a heart rate monitor, navigate to eBay's Sporting Goods section. From here, click on Accessoriesunder the Fitnesscategory. You can then select Heart Rate Monitorsfrom the list of categories on the left-hand side of the page.
You will find several options to select from that can narrow your search results further, including "Condition" (New or Used) and "Item Location". You can also specify a price range using the "Price" slider, a particularly useful tool for people on a strict budget.
With exclusive offers updated daily, you may also find a heart rate monitor in the Sports Equipment section of eBay's Deals page.
Keyword Search
If you are searching for a specific model of heart rate monitor, you will find the Keyword search bar useful. If you wish to buy a Mio heart rate monitor, for instance, simply type "Mio heart rate monitor" (without quotation marks) into the search box.
You can also select "Include Description" to expand your search results. Visit eBay's Searching Helppage for more tips on searching with keywords.
If you can't find exactly what you're looking for, try browsing eBay Stores or tell the eBay Community what you're looking for by creating a post on Want It Now, or save a search on My eBay. eBay will then email you when a matching item becomes available.
Shop Around
You should spend some time researching the different heart rate monitors that are available on eBay. The more you shop around, the more you will appreciate the different options available to you, giving you a better chance of finding the right item.
As well as browsing current listings, you can also use the advanced search options to include completed listings in your search results. This will give you a better idea of the prices you should expect to pay for certain heart rate monitors.
Buy a Heart Rate Monitor with Confidence
Make sure that you know exactly what you're buying and understand how eBay and PayPal protect you.
Know Your Item
Read the details in the item listing carefully.
Remember to add delivery costs to your final price. If you're buying a high value item, check that the seller will insure it until it is delivered to you.
If you want more information, click the "Ask seller a question" button on the seller's profile or the "Ask a question" link at the bottom of the item listing page.
Know Your Seller
Research your seller so that you feel safe and positive about every transaction.
· What is the seller's feedback rating?
· How many transactions have they completed?
· How many positive responses do they have?
· What do buyers say in their feedback?
· Do they offer a money-back guarantee?
· What are the terms and conditions?
· Are buyers positive about the seller?
· Most top eBay sellers operate like retail shops and have a returns policy.
Conclusion
Heart rate monitors are an invaluable exercise aid; they help to keep the heart rate in the target zone during a workout. Be sure to check that the heart rate monitor has all the features that are needed for your specific fitness regime.