Use this guide to help with applying hotfix crystal transfers.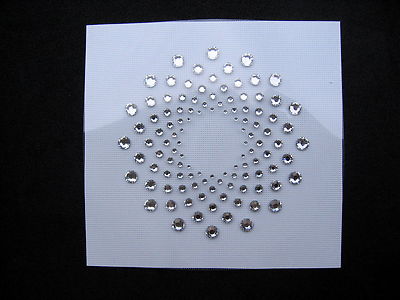 Always trim transfer paper as close to the design as possible.
Swarovski recommend a temperature between 120 and 170 degrees celsius for applying their hotfix crystals. This is between the silk and wool settings if using a domestic iron.
Establish type of fabric and correct timing for heat application.
It is recommended to heat the crystals from the reverse side (glue side) after they are fixed from the top. This becomes more important as the crystal size increases.
METHOD

1. Place a layer of cardboard or felt between the front and back of the garment (ie. inside the t-shirt 'body' or pant 'leg' to prevent hotfix glue marking the back layer of fabric).

2. Peel white protective film off transfer.

3. Place transfer in desired position.

4. Heat top of transfer.

5. Allow to cool and turn garment inside-out carefully.

6. Use teflon sheet (or non-stick baking paper between the heat source and the fabric, heat the glue-side of the crystals.

** Always use recommended times and temperatures and test if unsure **

7. Ensure garment and crystals are completely cool before carefully removing clear transfer film.

8. Post-wash garment (after allowing glue to cure for 24 hours) to remove possible marks caused by heat application.


See our other guides on; Bejeweler tips & hints, Create your own Crystal T-shirt transfer, fabric preparation & more.