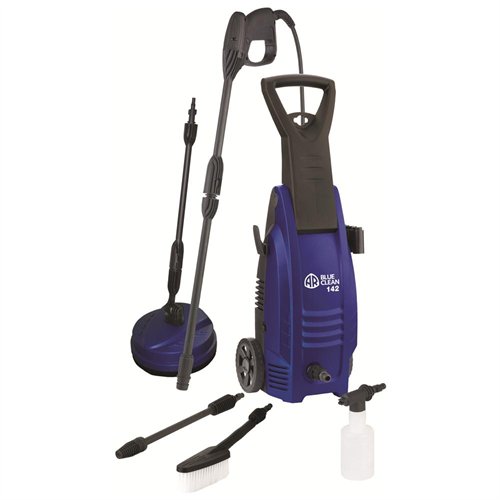 A pressure washer is a mechanical device that uses jet sprays of water as a means to remove dirt and paint from an object or building. Pressure washers come in a range of sizes and have different power sources, so buyers need to be sure that the washer they purchase is suitable for its intended purpose.
Buyers are recommended to look for these items on eBay, as the site has a great selection of new and used washers at lower prices than those found in retailers. The following guide shall examine the various types of pressure washer available to buy, and explain how to find a suitable washer on eBay.
Pressure Washers
All pressure washers are comprised of the following three basic components. These are:
1 – A petrol engine or an electric motor.
2 – A high-pressure hose connected to the engine/motor and the nozzle.
3 – A nozzle incorporating a trigger switch.
Pressure washers also contain a very powerful pump and another hose that connects the washer to the water source, which is typically a cold-water tap. The pressure of the water is measured in bar units and is related to what the washer should be used to clean. The duty of the washer will influence its price.
Light Duty

Light duty pressure washers have a maximum power of 100 bar. These washers are ideal for use cleaning garden equipment, such as tools or furniture, as well as bicycles, motorbikes and small cars. Light duty washers can clean small to medium patios and decking areas. Light duty washers can be bought for low prices, but models with additional features will be more expensive.

Medium Duty

A medium duty washer will be able to achieve a pressure of 110 bar. Medium duty washers are used to clean cars and other vehicles, as well as gutters, drains and grates.

These can be used to clean pools, hot tubs and fences, and are suitable to use on a medium to large size patio or decking. Medium duty pressure washers start at around $300, but buyers searching for used washers may find them at lower prices.

Heavy-Duty

Heavy Duty pressure washers can achieve sprays of between 110 and 130 bar, depending on the power of the pump. These washers are used for cleaning large vehicles and brick and stonework. The water is sprayed at a very high pressure, so buyers are advised to take care using these devices. Heavy-duty pressure washers range between $750 and $3000. They are generally kept for industrial use.
Pressure Washer Power Sources
There are a number of different options to choose from when looking at the power source of the pressure washer. The power source should be influenced by where the washer is being used and what it is being used to clean.
Electric Motor

If the pressure washer uses an electric motor then it will need to be connected to a main or generator to work. Light and medium duty washers often have electric motors and are the most suitable for use in and around the house.

Petrol Engine

As the name suggests, these pressure washers use a petrol engine to provide power for the pump. Petrol engine pressure washers are available in all sizes, but are more suitable when used as medium or heavy-duty washers. Buyers should consider the fumes that the engine produces, and all petrol engine pressure washers should be used outdoors.

Diesel Engine

These work exactly the same as the petrol engines, but use diesel instead. Again, these engines are more suited for use with medium to heavy-duty washers, and should never be used indoors.

Hydraulic Pressure Washer

These are more ideal for use within the farm and agriculture industries, and use an existing hydraulic system, such as that found on a tractor to provide energy.

The benefits of using a hydraulic pressure washer are that it eliminates the need for a fuel to provide power, and it can be used in areas far from an electric power source. These washers are also very quiet, compact and quite light. Buyers looking for washers for use at home or in the garden should avoid these.
Pressure Washer Accessories
There are a number of accessories that can be used to improve a pressure washer's function. These include brushes attached to the nozzle, which can help clean stubborn dirt, and lances used to extend the length of the nozzle section and clean hard to reach places. Also, buyers can purchase specially made detergents for use with their pressure washer, but they need to first check that the washer has a cleaning solution tank.
Buying Considerations
Buyers should consider the following before beginning a search for a pressure washer.
· Where will the pressure washer be kept and what will it be used to clean? For instance, a light duty pressure can be stored indoors and used to clean a small patio, but probably won't suffice in bigger gardens.
· How strong is the pressure washer and where does its power come from? This will be influenced by the size of the area the washer is cleaning and where the washer will be used. Buyers need to buy washers appropriate for their intended use, i.e. a hydraulic pressure washer is more suitable to use cleaning a barn than a diesel engine model.
· If the pressure washer is being attached to a water tank then the buyer needs connect a filter to stop sediment or debris from entering the pump. If this is not done, the water being used may be dirty, and it could damage the machine.
Searching for Pressure Washers on eBay
To begin a search for a pressure washer on eBay, take the following simple steps:
1 – Log onto eBay.com.au, and click on the Home & Garden title located to the left of the search bar.
2 – Scroll down and click on the Gardening link, followed by the Outdoor Power Equipment link.
3 – On the following page buyers will see a link for Pressure Washers, which is about halfway down the ''Categories' table. Simply click on the title of the link to be brought to the pressure washer's listings page.
Searching Tips
It is advised that buyer spend some time beforehand thinking about what level of pressure and power source would suit them best, as this will speed up the search process. Buyers with an idea of the pressure washer they want should enter as much detail about it into the search bar and press enter, e.g. electric pressure washer. If searching for a specific make and model then make sure to enter the brand and the year it was manufactured.
Buyers have the choice to search for new and used pressure washers, and the condition of an item can drastically affect its price. However, if searching for a used pressure washer then remember to always check the 'Description' box on the item page for additional information, such as parts that may need replacing or physical damage.
Buyers should also inspect the photos of the washer for cracks or splits on the body. Extra photos and details about the washer can be requested by using the 'Ask A Question' feature.
Buyers should also check the Gardening section of eBay Deals, as new pressure washers are constantly being listed at very low prices. To find this page, simply click on the Deals heading on the top of the page, followed by the Gardening link found in the Tools tab.
Conclusion
Pressure washers are mechanical devices that use pressurised streams of water to remove dirt and paint. Pressure washers can vary in strength from light to heavy-duty, and the unit of measurement is the bar.
Buyers need to consider the power source of the washer, as this will determine where the washer can be used, and all buyers are advised to search for these devices on eBay. When purchasing a pressure washer, remember to do so through PayPal, as eBay's Buyer Protection Programme will cover the transaction.