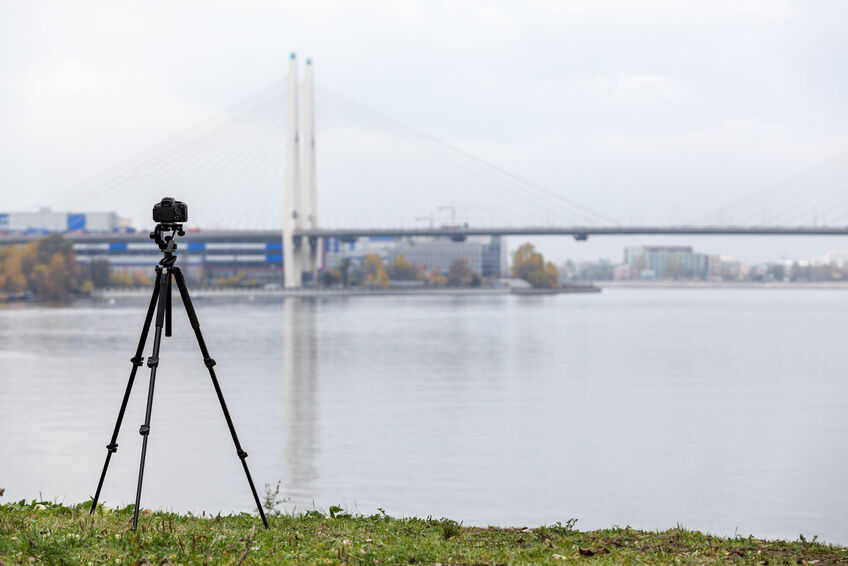 In the world of high-tech digital photography where anti-vibration functions and stability enhancers exist on even the most basic point and shoot camera, tripods are still important. The "original" anti-shake mechanism, a good tripod allows photographers unmatched control over their photographic frame and a completely shake-free shot. However, choosing from the many tripod options available is tough. It is important to understand the basics as well as the major features that differentiate tripods from one another.
Know the types of tripods available
Through the basic structure and type of tripod used, photographers gain different advantages that are important to match to their photography style and needs. To this end, there are five basic types of tripods: pocket, travel, tabletop, sturdy duty/studio, and medium duty models. The design of each tripod type is specific to the camera used and the type of photos a user wishes to take.
Pocket tripods
Generally no more than 12 to 13 cm high when collapsed, pocket tripods fit neatly into a photographer's bag for transport. They are strong enough to support a compact or smartphone camera and work well for self-portraits, group photos, and party pictures.
Travel tripods
Though larger than pocket-sized models, travel tripods still collapse down to about 55 cm for easy transport. They are strong enough to support a medium-sized DSLR camera with a moderate lens and work well for nature photography, sports photography, and amateur videography.
Tabletop tripods
Small and lightweight, a tabletop tripod is designed to sit on a flat surface and generally reaches a height of no more than 30 cm. Often used to stabilise a camera against a wall for more complex shots, other common uses of the tabletop tripod include self and group portraits, close up shots, and travel photography.
Sturdy duty or studio tripods
Meant for the professional photographer, studio tripods support even the largest professional DSLR camera and lens combinations. Incredibly large and typically hard to transport, most professionals operate a variety of studio tripod types to match their cameras, angles, and spatial needs.
Medium duty tripod
Medium duty tripods are a bridge model between heavy-duty studio tripods and small travel tripods. Most models set up at least at eye-level, offering more angular precision and come with different types of heads for custom configuration. These tripods are favourites for professional nature and sports photography, event photography, and location portraits.
Consider major tripod features
While knowing the general type of tripod that suits a photographer's style and camera is important, there are additional features within each tripod type that photographers should also consider. Each of these features further defines the functionality of the tripod and the type and quality of photos that result from its use.
Height, weight, and stability
Depending on its anticipated use, the height and weight of a tripod are both important to consider. For transportation purposes, the ability to fit a tripod into a camera bag or into carry-on luggage matters, as does its overall weight. However, an increase in weight does not always mean an increase in stability.
Tripod head type
There are two main types of tripod heads: ball heads and pan heads. Generally, the type of tripod head determines the way photographers attach their cameras, the angles they can reach, and if any additional equipment or adapters required.
Ball and socket heads
Including a ball in the centre and a single mechanism to tighten its grip, ball and socket heads offer increased flexibility and are generally easy to use. However, they must tighten sufficiently to hold heavier cameras in place.
Pan and tilt heads
Also known as three-way heads, the pan and tilt head offers photographers separate controls for each of three orientations: horizontal, vertical, and rotational. They are more common on older-style, heavier tripods.
Tripod legs
Tripod legs should lock into place in order to allow photographers to precisely set camera height. Different mechanisms, including multiple leg sections, are used to accomplish this. Photographers should look for legs with a strong hold and be aware of the time it takes to assemble a tripod with multiple leg sections.
How to buy tripods on eBay
Regardless of the type of tripod you need, the large inventory on eBay is a great place to turn to. It is easy to search through tripods and other photography equipment by using the main search bar, located on every page of the site. Simply type in the kind of tripod you want and browse what sellers are currently offering. You can also use the filters provided to further narrow these choices by brand or price.