When to Pick Citrus Fruit

Maturity
Citrus fruit will hang on the trees for some time after maturity before the fruit deteriorates due to ageing. This allows the home gardener to pick fruit fresh from the citrus tree for a long period especially if they have several varieties ripening at different times of the year. A range of varieties may mean Navel oranges, Imperial mandarins and grapefruit ripen during fall/autumn, Emperor mandarins followed by Darcy mandarins in winter, Ellendale tangors in late winter, Lanes Late Navel oranges in winter-spring and Valencia oranges from spring through to fall/autumn. Limes ripen throughout summer and lemons are available most of the year. Fruit maturity varies in different climates and also depends on the rootstock used.
Most citrus fruit skin begin as a very dark green color and as they reach maturity, turn from green to orange or yellow depending on the variety. It may still be months before the fruit reaches optimum sugar content and distinctive flavor, as sugars increase and acidity decreases. If one you pick one fruit from the tree and it tastes good to you, then usually the fruit will be ripe enough to harvest.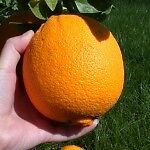 Harvesting
Most citrus fruit can be harvested by twisting and pulling the fruit from the tree. This should not be done with mandarins as the skin around the (stem end) will pull away from the fruit. The fruit will then be open for infection and will deteriorate rapidly. To prevent damage, clip the fruit off, cutting the stem just above the button. Lemons to be stored should also be clipped off in the same manner.
Citrus fruit to be stored, should not be picked when it is wet with rain or dew as this makes the fruit cells swell and fruit is easily bruised or damaged by rubbing. If too much moisture is present then fruit will not keep well. Always take care to handle fruit gently when harvesting.

You will find full details about harvesting citrus in my book titled Grow Citrus: The Insiders Guide to Growing Great Citrus