What are Wishing Well Cards?

Wishing well cards can be included with your Wedding Invitations to let your guests know that you are having a Wishing Well at your wedding. It is a polite way to let them know that you would prefer to be given money rather than gifts at your wedding.

Who uses Wishing Well Cards?

Anyone who is having a Wishing Well at their wedding should use them. Otherwise your guests might buy you a wedding present if they don't know you would prefer money.

This is a relatively new trend and but it is common with couples who have been married before or couples who are already living together. After all, if you have moved out of your parent's house then the chances are you already have everything you need for your home.

But it is also a sign of the times to give money at a wedding. There are so many reasonably priced household items available today that most people can afford to buy their own things, and usually like to choose their own style of homewares.

Do they need to be separate from the Invitations?

Yes, current etiquette says that your request should be on a separate card from the invitation. This also makes it possible to only give the cards to certain guests. For example, you may not want to ask for money as a gift from your work colleagues.

Do they need to match my Invitations?
No, your Wishing Well Cards do not need to match your invitations. But it is a good idea to find some that match the theme of your wedding.

How much do they cost?

Wishing Well Cards will vary in cost in line with the quality of the card and the printing. You can buy quite cheap ones with basic printing and minimal decoration. Or you can buy glossy full colour professionally printed cards that will look amazing with your invites. Prices also vary depending on the quantity you buy. As a guide, expect to pay between 10 cents and 50 cents per card.

What do they look like?

Wishing well cards look similar to an invitation but they have a very simple message. In fact, the simpler the better. Here are some examples: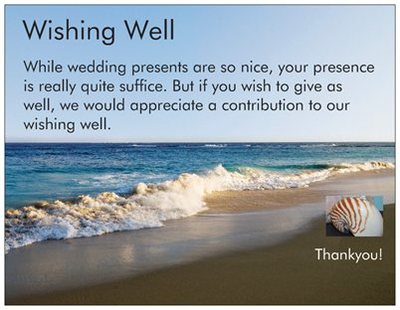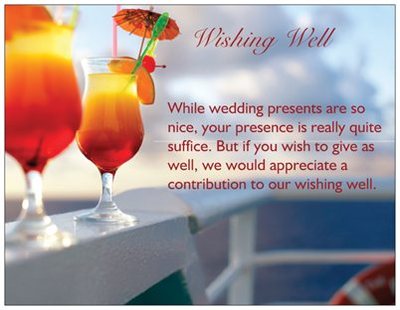 After reading this guide, please take a moment to vote on it so I know whether it was helpful to you or not. Thankyou!