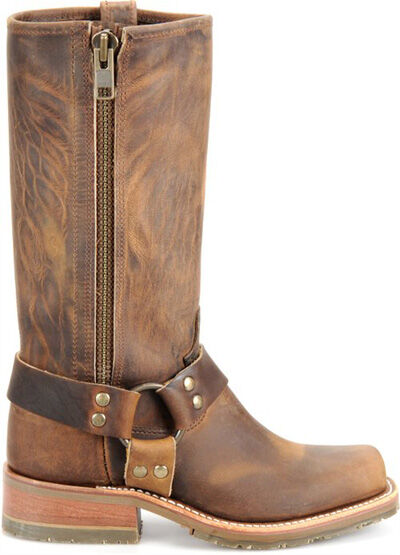 Used boots and shoes may not be the first idea that springs to mind when you think of updating your footwear, but they are worth considering for two good reasons: the price and the worn in factor. When you check the eBay listings, you are instantly reminded that used footwear can be virtually new. Combined with a lower price tag and instant comfort, it is not hard to see how it makes perfect sense. Dress boots, in particular, are quite expensive and can take some time to break in, so buying second hand can take a load off your feet and your budget.
Although the benefits of second hand footwear are obvious, the potential pitfalls need to be addressed upfront. Knowing how to avoid items that may undermine any benefit, is key to your second hand satisfaction.
Buying used Footwear
Buying used shoes and boots can save a lot of money over the course of a few years, and if chosen wisely, can look nearly as good as new, and feel a lot better than new. Many sellers list their shoes for sale after having only worn them a few times. In such cases, shoes are generally found to be moderately worn in and yet retain a mostly new look. All types of shoes and boots can be purchased second hand from eBay, but some retain their shape and condition much better than others. Therefore, quality brand names should be your first consideration when shopping for used footwear.
If you have children to dress, replacing their shoes with new ones as they grow out of them can become very expensive, and the used option ever more practical. For many families in this situation, a common solution is to buy new but cheap department store shoes regularly. However, cheap shoes may not even last until the child has outgrown them. It may be more economical to buy a second pair of a high end brand name.
Despite the advantages, used footwear can pose a problem if you do not choose carefully. When selecting used shoes and boots on eBay, there are some precautions you should take to ensure you get the listed item as it is listed.
Considerations Before Making a Selection
If you buy an old pair of shoes or boots that have had a great deal of wear from the previous owner, the innersole and lining has likely moulded to their footprint. This can make the shoe uncomfortable for you, potentially to the point of being unwearable. Before purchasing second hand footwear, it is imperative that you find out the age of the footwear, and some indication of how much wear they have had. Remember that shoes that are old have a more relaxed fit. Take this into consideration if you purposefully purchase a pair that have had lots of wear. Also, footwear sizing varies from one manufacturer to another, so always choose a pair from a brand in which you know your size.
Photographs
It is essential that you view good quality and close up images of your proposed shoes or boots. The seller should provide photographs of the shoe from various angles: side, front, back, top, interior, and especially the soles. The sole of the shoe gives the best indication of the type of wear. You should only consider shoes with slight, even wear, if any. You should avoid them if the item is shown to have noticeably more wear on one side of the heel than the other, or on one side of the front.
Top down views showing the inside of the shoes are important also, however, this is often not possible with boots. To gain a better clue as to the condition of the inside, look for closeup photos that display the innersole. Again, you should only buy if shoes appear to have just light wear, and soles appear flat, or in their original shape. You should avoid any footwear with obvious foot moulding of the innersole.
Brand of Footwear
The resale value of footwear depends on its quality. You should look for brand names that you know specialise in well made shoes and boots. Although the brand name itself may determine the price, it is their tendency towards a longer lifespan that makes them a particularly worthwhile choice. For this reason, cheap footwear from the low end of the market does not have a high resale value.
Seller Information
You must take note of who is selling their footwear. Both individual and commercial sellers have listings for used shoes and boots, and although the majority of individual sellers on eBay are honest, it can be a safer option to buy from a commercial seller. This type of seller has a business reputation to protect and is therefore less likely to mislead a customer. Irrespective of who the seller is, however, you should note their customer feedback score and read through feedback left by previous customers. If all feedback pertaining to the product itself has been positive, you have found a seller with an honest reputation who provides good service.
Sales Policies
Make sure you read the fine print of any listed item. You need to thoroughly understand the terms of sale and returns policies before you make a purchase. Buying online is never a guarantee of satisfaction. Irrespective of how much you like a pair of shoes or boots, confirm that your designated seller has a reasonable returns policy in place.
Communication
You should never purchase until you are happy with the provided information. If the listed item presents more questions than it answers, avoid it. If it answers most of your questions, yet some ambiguities remain, contact the seller and ask for clarification. How the seller deals with you via email indicates the type of sales service you can expect from them. Take note of their cooperation in your correspondence; this goes a long way towards building your confidence in both item and seller.
Pre-Purchase Precautions
Despite the appeal of a great pair of shoes or boots, they are of no benefit to you if they are worn out. Always be astute with the photographs provided in each listing. If you need the seller to provide more of them, just ask.
| | |
| --- | --- |
| Used Footwear | Checklist |
| | Inspect any wear or breakage on heel and straps |
| | Inspect interior and exterior uneven wear |
| | Inspect structural condition; uneven wear |
| | Inspect innersole for footprint moulding and uneven wear |
| | Inspect for uneven wear on soles; loose seams |
As you do not know the seller, neither do you know their personal hygiene practices. Always disinfect your used shoes before you wear them, even if they have been worn only a few times.
How to Buy Used Boots on eBay
Finding the shoes you are looking for on eBay is not difficult, although you may need to search the worldwide database for extra listings. You can make a general search, or a specific one if you know exactly what you want, such as "ladies Charles David boots". If you wish to buy a single pair and have found the type you are looking for, see if you can find the same item in another listing also. Three or four listings of the same pair is even better. This is so you can make the needed comparisons, and broadens your perspective. If you decide to try a pair of shoes or boots that you are unfamiliar with, do some external research on the item first.
Conclusion
Finding the right used shoes can give you the feeling that they were made just for you. Being somewhat pre-softened, used footwear should have a closer and more homely feel on your feet than brand new shoes. This is especially so for dress shoes and boots, which can take a long time to wear in from new and give you aching feet in the meantime. eBay is is a leading supplier of second hand footwear and provides never ending opportunities among an ever shifting set of listings; and eBay's deals on women's footwear can extend your savings even further with free postage. Provided you know your size in your chosen brand and follow the listed precautions carefully, you should be more than satisfied with your purchase and feel the advantages of worn in shoes.