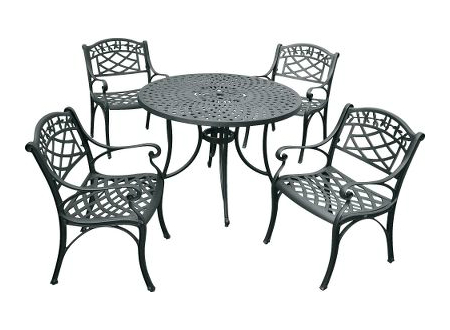 Perfect weather calls for spending time outside, relaxing in the garden while reading a book, or dining on the patio. Outdoor furniture deserves careful attention from the consumer, as this type of furniture has to be able to stand up to the elements.
Because this furniture is typically built to last, it also tends to be rather expensive when brand new. Many consumers therefore choose to purchase used outdoor furniture to save money. Used outdoor furniture can be just as beneficial as new furniture, provided the buyer knows the furniture's condition and has also researched the material to make sure it can withstand being left outdoors with little maintenance. Although used furniture is often available through yard sales and second-hand stores, one can expect to find a wider selection on a website such as eBay.
Types of Outdoor Furniture
The good news about buying outdoor furniture is that there are not nearly the overwhelming material choices consumers see when shopping for indoor furniture. However, there is plenty of variety to go around when looking at outdoor tables and chairs. The material the furniture is made out of typically determines how long it lasts. Outdoor furniture is usually made out of wood, metal, wicker, or plastic.
| | | | |
| --- | --- | --- | --- |
| Type | Price | Durability | Maintenance |
| Plastic | Low | Low | Low |
| Metal | High | High | Low to Medium |
| Wood | High | High | Medium |
| Wicker | Medium | Medium | Low to Medium |
Price is not the only determining factor when it comes to used outdoor furniture. The type of outdoor furniture a buyer selects largely depends on his or her needs and preferences, although the primary consideration usually is how long the material can withstand being outdoors.
Plastic
Plastic is usually the least expensive type of outdoor furniture and is available in different pieces like tables and chairs. Sometimes, plastic furniture is referred to as resin furniture, but they are both the same thing. The good thing about plastic is that it is lightweight, so it is a good choice if the buyer lives in a place with harsh winters where furniture needs to be stored inside. Plastic chairs, for example, are also stackable, making them easy to store and maintain. Wiping the surface every now and then with a cleaning cloth prevents mildew from growing.
The problem with plastic is that, because it is so lightweight, it is not as durable as other types of outdoor furniture. This is an obvious problem when buying used plastic furniture, as it may have hidden cracks that are not noticeable in pictures online. Furthermore, most plastic pieces seem extremely similar to one another. Some designers are trying to change this by creating interesting modern shapes, but these pieces tend to be more expensive.
Metal
Metal makes durable outdoor furniture. With the right care, metal pieces can last forever. Some of them, especially the wrought iron designs, are also beautiful to look at and fit right in an elegant garden setting. Besides the wrought iron style, many pieces are often sold in steel and aluminium.
One drawback of metal furniture is that it is usually very heavy. This adds to its durability, but it also makes it difficult to move the furniture around if it needs to be stored during winter. Likewise, metal is not extremely comfortable for sitting in during long periods of time. Buying weatherproof cushions helps relieve this problem. Finally, metal also tends to get very hot in the sun, so it is a good idea to place this furniture under an outdoor umbrella or a shady tree so that it does not become too hot to use.
The main concern with used metal furniture is rust. As mentioned above, when these pieces are properly cared for, they can last for many lifetimes. Proper care means periodically treating the furniture with a rust-resistant varnish. However, once metal starts to rust, there is little to be done to stop it. Buying rusted metal furniture is useless, even if there are only tiny patches of rust. The problem only gets worse over time, and therefore these pieces are better left alone.
Wood
When people think of outdoor furniture, they usually think about wood. This fantastic material was designed by nature to be absolutely perfect for the outdoors, although certain types are better than others. The price of wood depends on the type of tree it came from and how well it withstands outdoor environment.
Before examining different types of wood furniture, it is worth taking a look at how the furniture is constructed. This is especially true when buying used pieces, as good construction leads to longer-lasting furniture. Good pieces are fitted with either zinc-plated or stainless steel screws. Wood naturally absorbs a bit of water and therefore slightly expands and contracts over time. This can lead to several slats becoming loose as the years pass by. Screws allow these areas to be tightened easily so that they work just like new.
When it comes to exploring different wood types, the main thing to look out for is that the wood was made from centre-cut heartwood lumber. This is the part of the tree that was closest to the centre and is best suited for outdoor furniture. Regardless of the type of wood, heartwood cuts are always preferred.
Australian Jarrah
Jarrah is a tropical tree that can withstand large amounts of both rain and sunlight with little deterioration. It also comes in a deep reddish tone that sets it apart from other wood types. It does need a special treatment to preserve its natural colour, and it tends to be expensive because it has a very long life. However, a buyer cannot go wrong with purchasing used jarrah wood furniture.
Teak
Teak is another tropical tree that is ideal for outdoor settings. It comes in a golden colour, and if left untreated, fades to grey. The best way to tell if a piece of teak furniture is still in good condition is by looking at its colour. If the piece is still golden, then it is still in prime condition. Treat teak furniture with teak oil two times a year, and it can last up to 50 years.
Cedar and Pine
Cedar and pine are both softwoods. They are less expensive than teak or jarrah and can last for decades with the proper type of care. Cedar is a soft red colour that looks like jarrah, while pine typically resembles teak. Both of these woods can fade to grey unless they are sealed.
Wicker
Wicker is another popular type of outdoor furniture, although it is not always suitable to be left outside uncovered. Common or traditional wicker is woven from rattan vine, bamboo, or cane. It needs to be sheltered from the rain and is ideal for an outdoor porch. As the piece ages, it needs to be painted in order to preserve its shape.
All-weather wicker is made from synthetic fibres or twisted paper, yet it looks almost identical to traditional wicker. The main difference is that this type can withstand prolonged water exposure, although it does have problems with full sun and works best when kept in the shade. Wicker can be a bit of a risky proposition when buying online, since it is difficult to ascertain if the piece has any damage in its weave.
How to Buy Used Outdoor Furniture on eBay
Thrifty shoppers love the great deals on outdoor furniture on eBay when it comes to buying used furniture. One can avail of the fantastic deals from private sellers and furniture companies. Remember, however, that condition is extremely important when it comes to buying used outdoor furniture. It is therefore better to sacrifice on design than on the furniture's overall condition.
Begin your search by typing 'used outdoor furniture' into the search engine on any eBay web page. At this point, thousands of results are displayed, which makes it difficult to find the piece you want in a short period of time. Try to narrow the search down by material type, such as 'used iron outdoor furniture', in order to only find the right type of materials. You can also limit the search further by including the type of furniture, such as 'used iron outdoor chair', or whatever piece that is needed. Adding more description to your search narrows the results for easy browsing.
Conclusion
Outdoor furniture helps homeowners enjoy the backyard, front porch, or poolside view. Buying used outdoor furniture is a great way to design a patio or porch without having to spend a small fortune, as long as the buyer knows what to look for. When it comes to used furniture, this usually means judging the state of the materials used on a particular piece. For outdoor furniture, the choices range between plastic, metal, wood, and wicker.
Depending on the lifestyle and budget, buyers can mix and match different types for an updated style. By doing a bit of research into the care of each type of furniture, one can pick the right piece for sale on eBay. Thanks to the thousands of used outdoor furniture pieces for sale, one can always find a piece that meets the needs and falls within the budget.