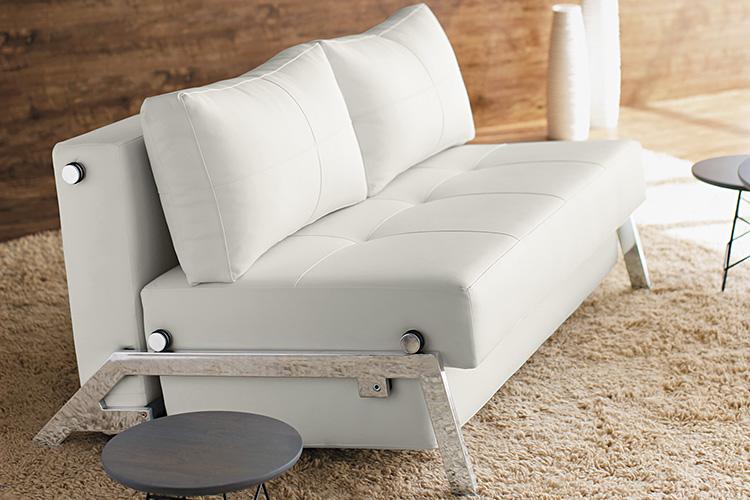 Comfortable fold-out beds provide a great space-saving option for guests and small bedrooms. Hideaway and fold-out bed, getting a comfortable mattress, an easy-to-use storage option, and the ideal-size bed are key factors to consider.
Choosing the Right Size Bed
Having the right size bed is critical for comfort and space. Many consumers purchase fold-out beds due to lack of room. The bed folds up during the day, providing much-needed extra space in a room.
When purchasing a fold-out bed, it is important to consider the size of the bed when unfolded. Although moving furniture around may work with a bed that is only used during rare visits from company, doing so everyday can be tedious. Doors, windows, and walls could also make using some sizes of bed impossible. The chart below lists the width and length of common bed sizes. This makes it easy to determine how well fold-out bed can fit comfortably in a given space.
| | | |
| --- | --- | --- |
| Bed Size | Width (centimetres) | Length (centimetres) |
| | 92 | 188 |
| Double | 138 | 188 |
| Queen | 153 | 203 |
| King | 183 | 203 |
Fold-out beds are available in standard sizes, though single and double sizes are more common. When taking measurements, be sure to account for the room needed to get up and out of bed in a hurry. Also account for any furnishing, walls, doors, or other obstacles that may impede on space when the bed is fully extended. Since bed sizes may vary slightly, check with the manufacturer to ensure size accuracy when space is limited.
Convertible Furniture or Wall Hideaway
When it comes to fold-out beds there are two primary options. There are beds that fold flat into the wall, disappearing during the day. Often, these beds are custom-designed and match the existing wall and decor perfectly. The bed may fold out of a bookshelf or simply come out of the wall.
The other option is the fold-out couch or another furniture piece. Disguised during the day as a couch, loveseat, chair, or ottoman, these beds fold out when additional sleeping space is needed. These work great in spaces where the living room or den must double as a guest room.
Furniture-style fold-out beds are rarely used on a permanent basis. They look good and provide a great, functional piece of furniture when not in use. There is no reconstruction necessary and no need to find storage space when using convertible furniture. In fact, thanks to the fold-out sofa and the futon, this is a common form of fold-out bed.
Mattress Type
A comfortable mattress begins with a comfortable design. Fold-out mattresses come in a variety of filling and design options, just like their standard mattress counterparts. The more popular types include memory foam, latex, and traditional coil. An uncomfortable mattress can cause poor sleep. It is possible to purchase additional padding or pillow tops to add an extra layer of comfort to a fold-out mattress. Additional padding may not fold up properly with the mattress due to space and design constraints. Therefore, aftermarket padding requires storage elsewhere in most cases.
Memory Foam
Memory foam's biggest contribution to a good night's sleep is its ability to absorb a partner's movements rather than disperse them throughout the bed. The mattress reduces pressure points and pain, especially in the back. However, it is necessary to keep in mind that memory foam may absorb heat more than a traditional mattress, leading to overheating during the night. Some newer memory foam options include cooling layers to prevent this problem.
Latex
Latex or solid foam mattresses consist of natural or synthetic rubber. The latex mattress is more supportive than memory foam, though not as soft. A great option for those suffering from chronic back pain, the latex mattress offers firm support throughout. Materials used to make latex mattresses are hypoallergenic and resistant to mould. The material offers breathable comfort in all seasons.
Traditional Coil
Considered standard, the traditional coil or innerspring mattress is a common type of fold-out mattress, which features steel spring coils intermixed with cushioning. These mattresses come in a variety of comfort levels, from super-fluffy to firm as a board. This type of mattress is low-priced as well.
How to Buy a Comfortable Fold-Out Bed on eBay
Finding a fold-out bed on eBay is easy. You can initiate a search using simple key terms, such as " fold-out bed", in the site's search engine on any eBay page. Then use eBay's refinement options to narrow dozens of available listings. Carefully review eBay listing information to determine whether or not the bed fits in the space you have and can meet its purpose.
Careful mattress selection and proper sizing are a must for satisfactory fold-out bed purchases, whether for temporary or permanent use. Once the new space-saving fold-out bed arrives, expect a bit of adjustment to routine, but without sacrificing comfort. The right fold-out mattress is just as comfortable and cosy as a traditional bed.