Introducing the Nike Air Max 90: A Running Shoe Enthusiast Favourite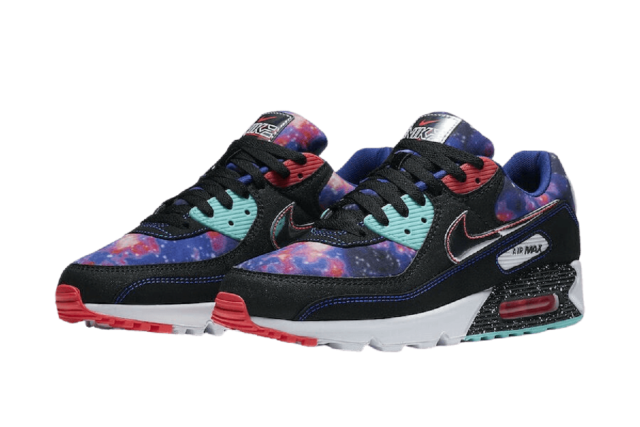 Many running shoe enthusiasts consider the Nike Air Max 90, launched in 1990, to be the greatest Air Max design ever. Originally referred to as the Air Max 3, the Air Max 90 proved itself worthy of stand-alone distinction and paved the way for a series of Air Max designs.
The original Tinker Hatfield-designed Air Max 1 set the stage for what was to come, pulling its inspiration from a controversial inside-out building design and applying it to the shoe. The Centre Pompidou in Paris turned things inside out with its functional and structural elements built on the outside for all to see. Not everyone was a fan, feeling its colossal coloured tubing and exterior escalators didn't fit with its more traditional surroundings.

For the Air Max 90, Hatfield was tasked with improving upon its beloved predecessor. He put a bold aesthetic spin on the shoe that has endured for more than 30 years among a growing audience of fans and collectors.
Nike Air Max 90: Architecturally Sound Design

The architect-turned-shoe designer upped the ante on his inside-out concept and dressed the Air Max 90 up even more. "Architecture is, by nature, pretty broad," Hatfield said. "It's both technical and creative, and rich in cultural education." In the original Air Max version, now dubbed "Infrared," Hatfield made sure no one could miss the visible air bubble, emphasising it with a brilliant Infrared window around it. He further refined the design using lighter materials and modernised it with bolder lines and more dominant colours.

Besides the aesthetic enhancements, Hatfield improved upon the performance features

Lightweight, breathable Duromesh leather/suede upper
Air Sole cushioned midsole that embraces the contours of the foot
Max Air unit for better responsiveness and shock absorbency
Thermoplastic detailing around the laces for extra support
Stitched overlays and TPU accents for a retro look
Thick, sturdy outsole that provides outstanding traction
Nike Air Max 90 Colourways: Retros to Collabs

There's no denying that the OG Infrared release, which has appeared multiple times since 1990, is the flagship design for the Air Max 90. The combination of White/Black/Cool Grey with Infrared accents creates a showstopping look collectors seek out. Additional colourways, technologies and collaborations have given the Air Max 90 a catalogue to rival any Air Max lines.

Though it took 15 years for the Air Max 90 to go retro, Nike was busy pushing out new models of the Air Max silhouette for years:

Bacon

One of the first and still most popular collabs released in 2004, drawing inspiration from New York's Dave's Quality Meats butcher shop-themed boutique

Black Volt

Designed by artist KAWS in 2008, it features a monochromatic black finish with vivid accents

Tongue N' Cheek

Fans of UK rapper Dizzee Rascal went crazy for this fresh 2009 version in White/Clear/Metallic Silver/Chalk

Atmos

This eye-catching look from 2013 in Duck Hunter Camo certainly didn't go unnoticed, despite its camouflage upper

Patta collab

Amsterdam-based Patta is arguably the most collaborative of Air Max designs, allowing buyers to customise them with their own unique spin in 2006's Homegrown Pack

The Ten collection

Whenever designer Virgil Abloh takes on a silhouette, it creates buzz. The Ten was his first foray into the Air Max 90, and he's since added more Air Max 90 designs from his Off-White label

It's not just collaborations that strike a chord for lovers of the Air Max 90. There's the addition of Hyperfuse technology in 2012. The Nike Air Max 90 Essential release featuring a one-piece mesh upper. There's a design paying tribute to the P-40 Warhawk fighters from World War II. The list goes on, with trail-inspired themes like Sertig, Camowabb and Escape 2, and an EZ slip-on, slip-off iteration of the original.

Other models coveted by collectors include:

2019: Mars Landing, Hufquake, with a skate vibe, and Viotech, which ties to the Nike SB Dunk
Collectability and Value of the Nike Air Max 90

If you're craving Bacon, this Air Max 90 favourite will run you around $AUD1,3001*. The price tag on a Patta collab like Homegrown Grass can grow to over $AUD2,6002*. But if you want a more affordable Air Max 90, you can find versions like Volt and Grape for under $AUD1303*. Then there are more limited versions that can skyrocket the value of a collectable shoe. There are models you're lucky to even find, like the 25th anniversary Cork or the Nike Blue Ribbon Sports Powerwall. You could dish out well over $AUD3,9004* for a Dizzee Rascal or KAWS model, proving that the Air Max 90 has incredible staying power.

1Australian Price indication converted from US$1,000.
2Australian Price indication converted from US$2,000.
3Australian Price indication converted from US$100.
4Australian Price indication converted from US$3,000.
*All prices are based on historical eBay data. Actual selling price of items not guaranteed and may vary.
Cultural Relevance of the Nike Air Max 90
George W. Bush had his own Air Pres version of the Air Max 90, and Kanye West made the Independence Day version a running shoe enthusiast favourite. With collabs aplenty, the Air Max 90 has found a home in popular running shoe culture–a home that isn't going anywhere. Nike even celebrates Air Max Day every March 26, the release date of the original Air Max 1, and invites every Air Max line to the party, with the Air Max 90 getting a front-row seat.
While the Air Max 1 is known for technological advancements like the visible air bubble, the Air Max 90 propelled the design forward, paving the way for the retros and collabs that followed.
Nike Air Max 90 Afterpay
Enjoy now and pay later with Afterpay at eBay. Shop for men's Nike Air Max 90 in a variety of colorways ans sizes. We've got you covered with Afterpay, meaning you can get your Nike Air Max 90 online now and pay it off with 4 interest-free payments over 8 weeks.
Authentic Nike Air Max 90 Sneakers without a doubt
No fakes. No fraud. No doubt. eBay is the OG destination for buying and selling sneakers, and we're keeping it real with professional authentication now available for available for shoes meeting Authenticity Guarantee eligibility. A team of local independent authenticators will meticulously inspect your sneakers and attach an Authenticity Guarantee tag for genuine peace of mind. Get your Nike Air Max 90 Sneakers authenticated and securely delivered express from the authenticator at no additional cost to you. Just look out for the blue Authenticity Guarantee check!