Introducing Flyknit:
High-Flying Performance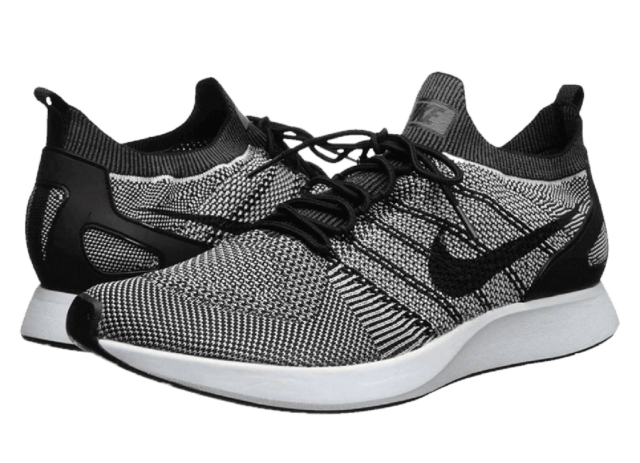 First introduced by Nike in February 2012, Flyknit is an innovative technology that uses high-strength fibres to create a shoe that's incredibly lightweight, breathable and supportive.

The technology was researched and developed for ten years before being unveiled in the Nike Flyknit Racer, a lightweight, form-fitting running shoe. Flyknit running shoes feature one-piece uppers comprised of micro-engineered yarns. The manufacturing process reduces manufacturing waste and materials when compared to the traditional cut-and-sew process.

The Flyknit Trainer soon followed. The launch of these versions spurred the expansion of the technology into the worlds of basketball, global football, golf, lifestyle and apparel.
Nike Flyknit Customized Design and Features

Since its debut, Nike Flyknit has evolved to suit the category or sport to which it's tailored. Flyknit can be engineered for the strength and durability needed in contact sports such as soccer or basketball, and the fabric can be modified to fit the needs of a specific athlete. Nike Flyknit has been applied to the signature running shoe lines of sports greats like Kobe Bryant and LeBron James. The technology has also been used to reimagine running shoes in the Nike archives. The Air Jordan 1, Air Jordan 4, and Nike Air Force 1 have all seen releases retrofitted with Nike Flyknit uppers.

One of the main benefits of Nike Flyknit is that it's much lighter and more breathable than traditional materials found in the upper of shoes. On average, a running shoe constructed with Flyknit is 56 grams lighter than a conventional running shoe. That may not sound like a lot, but it's a difference you can feel.

The environmental impact of the material and its manufacturing process is also appealing to eco-friendly running shoe enthusiasts. On average, Flyknit running shoes reduce waste by 60 per cent in comparison to the typical footwear manufacturing process. In 2016, Nike shifted the production of its core Flyknit yarn material to recycled polyester.

Note on care: Do not put your Flyknit running shoes in the washing machine as the heat may cause the shoes' glue to loosen. Apply a water-repellent spray before use.
Popular Colourways in the Flyknit Family

A wide variety of eye-catching colourways have made a splash in the Flyknit collection. Here are some of our favorites:

Top colours in the Flyknit Racer:

Volt

This vibrant lime green is sure to get noticed.

Total Orange

Vivid orange mixes with dark grey and white accents for a true showstopper.

Team Orange

Even bolder than the Total Orange colorway, and nicely offset with black detailing.

Black/White

For those who prefer to tone things down a bit, this classic combo can't be beat.

Game Royal/Pink Flash

Arguably the most striking in the mix, in a dizzying swirl of blue and pink.

Oreo

This cookies-and-cream mixture looks almost too good to wear.

University Red/Black

Brilliant red dominates the black and white accents.




Top picks in the Flyknit Trainer:

Olive/Brown/Sail. A subtle brown and olive upper gets a shot of red and black for added impact.
Night Purple. Rich, deep purple with tonal purple laces and a subdued black Swoosh is a real stunner.

Black/Anthracite

One of the most coveted colourways, this understated all-black version is pure refinement.

Atmosphere Grey

A vibrant blue outsole boosts the low-key grey upper.

White/Gum

You can never go wrong with a classic white with a gum outsole

Cirrus Blue

A soft, calming blue upper is the perfect backdrop for the in-your-face black Swoosh.

Bright Citron

If you like bright and yellow, this is your foot's new go-to



Nike Flyknit Running Shoes Break a World Record
While Nike Flyknit wasn't designed for running alone, the technology and material have strong roots in the sport. The Nike Flyknit Racer, a porous and lightweight running shoes, was first to hit the pavement. Right on its heels was the Flyknit Trainer, a slightly more protected and stable running shoe, that's built for training runs.
Nike Flyknit material has been incorporated into most of Nike's running shoe launches since its debut. Flyknit also made its way to the Nike Free line of natural motion running shoes. The Flyknit upper has combined with Nike's React cushioning foam in the popular Epic React and React Infinity styles, and has been paired with Nike Air tooling in the Nike VaporMax series. But nothing put Flyknit more in the spotlight than the Alphafly NEXT%, the running shoe Eliud Kipchoge wore to break the world marathon record–in a modified version of Flyknit called Atomknit.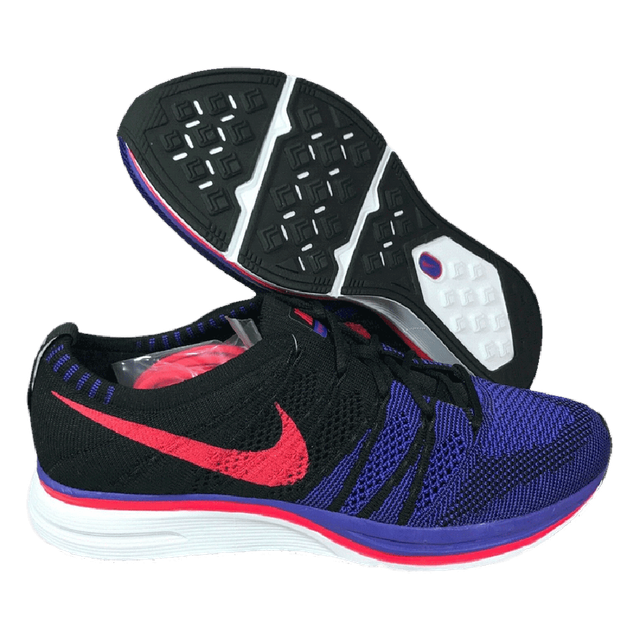 The Cultural Impact of Nike Flyknit

Within the first year of Nike Flyknit's debut, Nike CEO Mark Parker and designers Tinker Hatfield and Hiroshi Fujiwara collaborated on a collection of Flyknit Running Shoes. Their design collective, named HTM (Hiroshi-Tinker-Mark), has teamed up since 2002 to amplify Nike's new technologies. Their HTM Trainer+ was limited to 100 pairs and individually numbered, making the silhouette, featuring a Lunarlon midsole, an extremely limited collector's item.

Nike Flyknit made its mark in pop culture during the 2012 Summer Olympics in London. While Volt racing flats were burning up the track during the Games, they were even more prominently displayed on the medal podium. Many Olympians received their medals wearing the neon green Nike Flyknit Racer, which boosted the sneaker's status around the world.

The popularity of Nike Flyknit continued to soar as it made its way to the basketball court. The first basketball running shoe to feature Nike Flyknit was Kobe Bryant's signature line in the high-top Nike Kobe 9. The design showcased how storytelling can be told through colour. Noteworthy Kobe 9 colourways that exemplified this were Moonwalker, Beethoven, Masterpiece and Detail.
Nike Flyknit Afterpay
Enjoy now and pay later with Afterpay at eBay. Lace up with the Nike Flyknit range for a breathable and lightweight shoe. We've got you covered with Afterpay, meaning you can get your Nike Flyknit running shoes now and pay them off with 4 interest-free payments over 8 weeks.
Authentic Nike Flyknit Sneakers without a doubt
No fakes. No fraud. No doubt. eBay is the OG destination for buying and selling sneakers, and we're keeping it real with professional authentication now available for available for shoes meeting Authenticity Guarantee eligibility. A team of local independent authenticators will meticulously inspect your sneakers and attach an Authenticity Guarantee tag for genuine peace of mind. Get your Nike Flyknit Sneakers authenticated and securely delivered express from the authenticator at no additional cost to you. Just look out for the blue Authenticity Guarantee check!