Nike React: Introducing a New Technology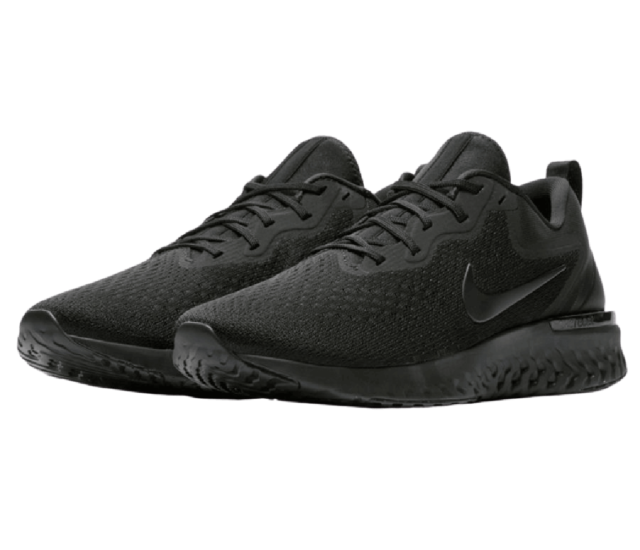 Nike's Air technology ranks at the top of the brand's signature innovation. Nike Air fuelled popular silhouettes like the Air Force 1 and entire lines like the Air Jordan and Air Max series.
Nike Air is here to stay–but by the early 2010s, the technology was more than 30 years old, and Nike was looking to boost its performance know-how further. In 2013, adidas released a ground-breaking cushioning technology called Boost–and for the first time, Nike was playing catch-up in the market. With comfort for sport and performance up-trending with consumers, the focus on technology took precedence over style. The Swoosh needed an innovative foam cushioning of its own–that's where Nike React got in the game.
Nike React Technology: Dense Materials Make for a Soft Landing

Nike React is a responsive foam cushioning system that provides cushioning, support and energy return to the wearer. Unlike traditional soft EVA foam and the harder TPU material found on running shoes across the industry, Nike found a balance between density and softness. The React's foam is multi-faceted, which means it can be used in a variety of ways.

Softer materials typically provide great cushioning but lack in energy return. Imagine jumping onto a pile of feathers versus a springboard. The feathers will cushion you, but if the goal is to propel yourself forward like a runner or upward like a basketball player, the result is far from ideal. Super-dense materials, on the other hand, provide excellent energy turn. However, the wear and tear from repeated impact is harsh, making it hard for your body to perform efficiently.

Because it is both soft and dense, React technology allows athletes to perform at the best of their abilities for more extended periods, with less fatigue.
The Origins of React: From Basketball to Running

Since 2008, Nike has used Lunarlon, its go-to cushioning system. With competition heating up in the foam running shoe market, Nike needed to step things up. After three years of research and development, they debuted React foam in the Nike React Hyperdunk 2017, a running shoe worn by Golden State Warriors champion Draymond Green. The Jordan.Super Fly 2017 also incorporated the material into its tooling.

The balance of the foam provided the cushion and spring a big man like Green needed better than any other Nike basketball shoe had done before. After testing the running shoe with other players, Nike quickly realised that runners had been asking for running shoes that met the same requirements–and that's when they decided to bring the React material to the world of running.

In 2018, Nike officially launched the Epic React Flyknit, its first running shoe to use the revolutionary material. While the basketball running shoes encase the React foam in the tooling, Nike stripped it down to a cageless design for the running shoe, constructing the complete midsole and outsole from React foam. The exposed foam allows Nike to use as much of the material as possible for maximum performance while maintaining a lightweight silhouette crucial to running shoes.
The Appeal of React Technology: Runners React

When the Epic React Flyknit released, consumers and critics couldn't help but compare it to the adidas Ultra Boost. The overall shape and design–a lightweight knit on the upper and a foam outsole–were similar, but the React wasn't merely a copy. The running shoe was two ounces lighter, which may sound minimal, but the difference is substantial enough to feel in-hand and on-foot. Runners also love the Epic React Flyknit for its durability and longer life.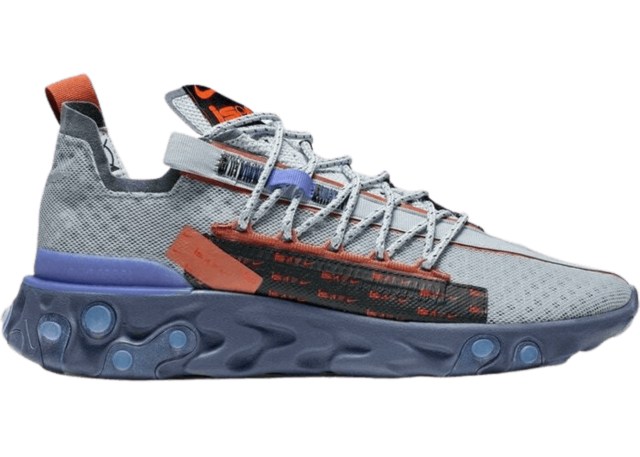 Nike React's Introduction to Streetwear Trend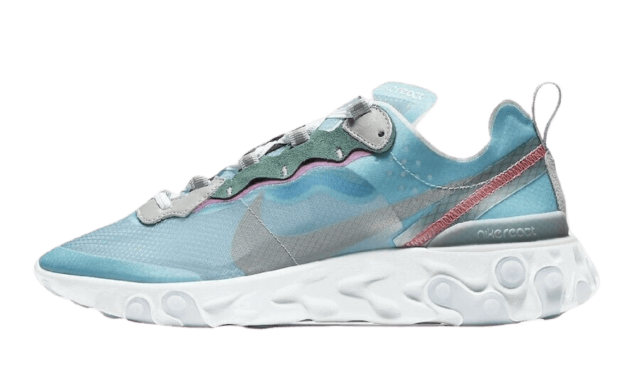 React Element 87

Nike followed up the Epic React Flyknit with the React Element 87, a captivating running shoe that's both modern and retro-inspired. The shoe features semi-translucent panels on the upper, cork insoles and full React tooling. For the first round of releases, Nike launched the Sail and Anthracite colourways, and both quickly sold out.

In September 2018, Japanese streetwear brand Undercover launched a four-running shoe collection of React Element 87s. The line was initially previewed during Paris Fashion Week six months earlier, and the launch was an immediate success once fans could get their hands on them.
React Element 55

Shortly after, Nike launched the React Element 55, which is essentially a pared-down version of the React Element 87. It has identical tooling but swaps out the semi-translucent panels for solid ones, and sheds the cork insoles. Although it isn't as aesthetically unique as the React Element 87, it remains popular and offers a variety of colourways.
The Evolution of Nike React

It's only been a few years since Nike React made its debut, but the technology has now infiltrated Nike's product offering. React technology can now be found in shoes designed for casual lifestyle wear, running, training, basketball and even skateboarding.
From updated classics like the React Presto to all-new silhouettes like the Odyssey React 2, Nike's willingness to incorporate the material into a wide variety of running shoes proves how versatile and beneficial it is to the average consumer and athletes of all types. It's safe to say that Nike React technology is a mainstay in the Swoosh's line-up.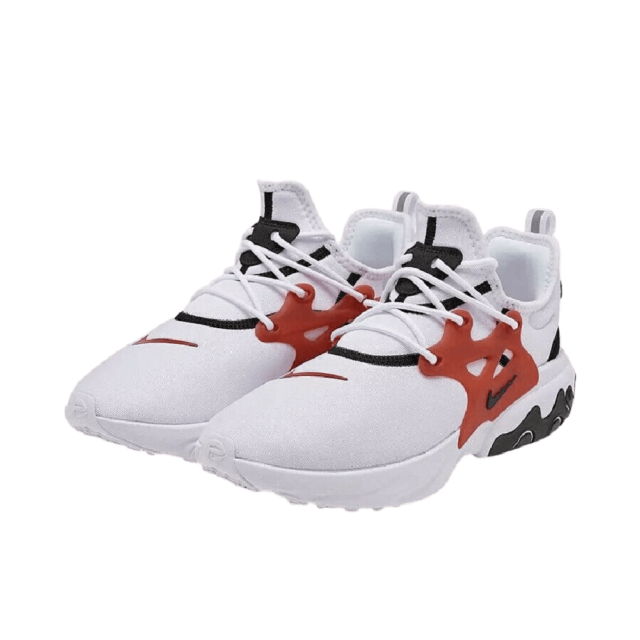 10 Nike Running Shoes with React Technology to Add to Your Collection

Nike Epic Flyknit 2

Nike Air Max 270 React

Nike React Infinity Run Flyknit

Nike CruzrOne

Nike Odyssey React 2

Nike React Element 87

Nike React Element 55

Nike React Presto

Nike SB Bruin React T

Jordan React Elevation
Nike React Afterpay
Enjoy now and pay later with Afterpay at eBay. Shatter those cardio routines with Nike React technology to keep your feet running and you active. We've got you covered with Afterpay, meaning you can get your Nike React sneakers now and pay them off with 4 interest-free payments over 8 weeks.
Authentic Nike React Sneakers without a doubt
No fakes. No fraud. No doubt. eBay is the OG destination for buying and selling sneakers, and we're keeping it real with professional authentication now available for available for shoes meeting Authenticity Guarantee eligibility. A team of local independent authenticators will meticulously inspect your sneakers and attach an Authenticity Guarantee tag for genuine peace of mind. Get your Nike React Sneakers authenticated and securely delivered express from the authenticator at no additional cost to you. Just look out for the blue Authenticity Guarantee check!