Introducing the adidas Gazelle: Old School Meets New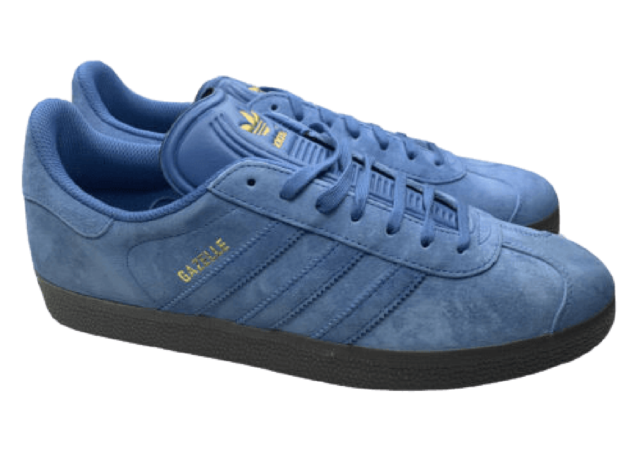 Germany is a hotspot for handball, so it's no surprise that the iconic adidas Gazelle, born in Germany, originally had a handball-specific release as part of its two-style drop in 1966. The Gazelle marked the first time a trainer featured suede across the entire upper. The brand launched the Gazelle Blue with white stripes for training and the Gazelle Red with white stripes, designed for handball players.
The Gazelle went through a series of tweaks over the years–a new outsole tread by 1972, fresh colour perspectives along the way, and a 1990s-era design that leaned into the running shoe's lifestyle appeal. Though the Gazelle took a back seat for years, a 2016 reissue of the shoe in various retro versions (both general releases and collaborations) celebrated the 50th anniversary of the Gazelle. This reissue got collectors and running shoe enthusiasts buzzing about the shoe once again.

The Gazelle may have had its initial roots in handball and training, but as is the case with many old-school adidas styles, its influence spanned other arenas like the soccer and skate worlds–which led to its transition into the lifestyle culture, particularly across Europe.
adidas Gazelle Performance Features and Luxe Design

The original Gazelle, with its low-profile silhouette, track shoe last and full suede upper, was a unique concept. Suede was featured prominently, giving kangaroo leather a luxurious new touch. The reason for the two initial colourways wasn't purely aesthetic–each colour represented an outsole with a unique level of traction. The red iteration featured a transparent non-slip outsole intended for outdoor wear. The blue version had a microcell rippled sole that was better suited for indoors and featured miniature air bubbles in the rubber for added cushioning.

Other key design components include:

Foot-form tongue
Padded ankle
Arch support

By the 1970s, the Gazelle underwent updates and modifications. These include a "Soft Protect" heel tab to protect the Achilles tendon, a vinyl foot-forming tongue for added comfort and a hexagonal-shaped tread on the outsole. Handball-inspired designs launched, including the Handball Spezial in 1979 and a retro version roughly 30 years later, dubbed the Gazelle Indoor. And running shoe enthusiasts were thrilled to see a retro comeback of the Handball Spezial in 2019.

In the 1990s, adidas Equipment became a popular line for the brand, bringing performance practicality to a variety of sports. The 1999 release of the Equipment Gazelle was one of the most significant design changes to hit the Gazelle, blending the running styling of the 1990s with a completely new take on the running shoe. However, other than its name, the Equipment Gazelle has little connection to the original Gazelle.
adidas Gazelle Colourways and Collaborations

Colour has always been a driving force in the Gazelle releases. From the original red and blue classics in 1966 to the expanding lines in the 1980s and 1990s, the Gazelle embraced colour. The luxurious suede upper and the iconic three-stripe detailing were the ideal canvas for a host of colours–subtle tans, vivid oranges, rich golds and striking lime greens and pinks.

General releases for men and women have included various colourways, all based on the 1991 styling, along with remakes of the 1999 Equipment Gazelle. And the Gazelle saw its share of collaborations and special editions too:

Wings & Horns in premium vintage suede

Saint Alfred collab with a Gore-Tex lining

Ostrich pack with ostrich leather in Nomad Yellow and Core Black colourways

adidas Craft Pack featuring a one-piece deconstructed suede upper with a translucent rubber outsole

Sneaker Politics collab in a Mardi Gras-inspired silhouette

adidas Consortium that allowed retailers to help design looks specific to their region, included iterations like United Arrows, Slam Jam, Alife and Starcow

adidas Stitch and Turn premium edition in a sleek silhouette with no visible seams
Cultural Impact of the adidas Gazelle: a Celebrity Go-To
From the late 1960s to the 1990s, the "terrace" culture of European soccer took to the look, making the Gazelle a casual lifestyle play that helped the running shoe assimilate within cultures beyond the sports world, namely music and art. Countless high-profile celebrities have adopted the style for decades.

Michael Jackson wore the Gazelle during his early Jackson 5 days. Rolling Stones members Mick Jagger and Keith Richards rocked them in the 1970s. Supermodel Kate Moss, who has worn the Gazelle since her teen years, teamed up with adidas in 2016 in a campaign to relaunch her signature go-to style. Other A-listers seen kicking around in Gazelles include Brie Larson, Emma Roberts, Gigi Hadid and Oasis frontman Liam Gallagher.
Collectability and Value of the adidas Gazelle

Like the adidas Samba, the Gazelle is a terrific addition to any running shoe enthusiast's collection, but if you're looking to turn a big profit, you'll want to look elsewhere. With a lack of big-name collaborations and long-gone original versions that are tough to find, the most commonly available versions are the varieties launched since the shoe made its reappearance in 2016.

General releases in a variety of colourways are all highly accessible from a resale and pricing standpoint. And with plenty of new Gazelle options available, the general releases don't command a premium price and are often found below retail. Still, with its rich history and longevity, the adidas Gazelle is an addition to your collection that you'll want to display with pride.
Adidas Gazelle Afterpay
Enjoy now and pay later with Afterpay at eBay. The slender, suede style of Adidas' Gazelles fitted with OrthoLite sockliner technology continues to offer the comfort and feel we've always expected from Adidas! We've got you covered with Afterpay, meaning you can get your Adidas Gazelle sneakers now and pay them off with 4 interest-free payments over 8 weeks.
Authentic Adidas Gazelle Sneakers without a doubt
No fakes. No fraud. No doubt. eBay is the OG destination for buying and selling sneakers, and we're keeping it real with professional authentication now available for available for shoes meeting Authenticity Guarantee eligibility. A team of local independent authenticators will meticulously inspect your sneakers and attach an Authenticity Guarantee tag for genuine peace of mind. Get your Adidas Gazelle Sneakers authenticated and securely delivered express from the authenticator at no additional cost to you. Just look out for the blue Authenticity Guarantee check!