Introducing the adidas NMD_R1: A True Original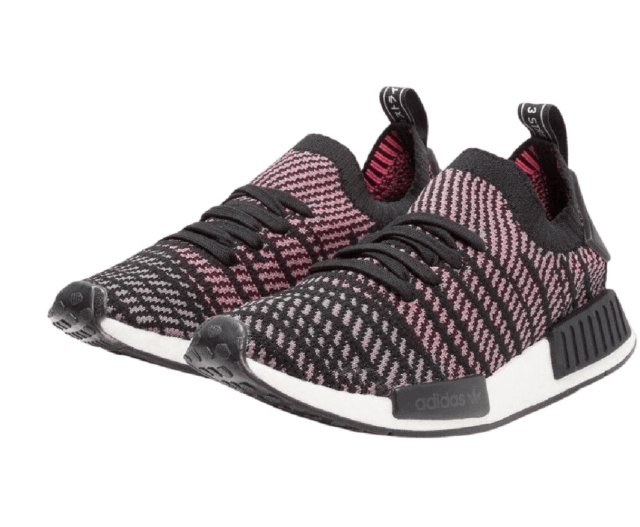 When adidas released Boost cushioning in 2013, they kicked off a whole new era in the running shoe game. At first glance, the innovative cushioning system may have resembled Styrofoam, but Boost technology took off in the running world due to its ultimate comfort and incredible energy return. It wasn't long before non-runners soon caught on to the Boost phenomenon, and shoes like the Ultra Boost runners started crossing over as lifestyle running shoes.
In 2015, the original NMD (later called the NMD_R1) was launched and marketed as a pure lifestyle running shoe. The R1 would go on to be released in hundreds of colourways and spawn an entire family of NMD iterations. But it's the original R1 that remains one of adidas' most iconic modern running shoes.
Performance Features of "The Nomad"
NMD stands for "Nomad," perhaps because these shoes are so comfortable, you can roam anywhere in them. The simple, yet innovative features include:
Primeknit textured upper gives a sock-like, comfortable fit
Boost midsole provides cushiony comfort and superior shock absorption
Durable rubber outsole provides excellent traction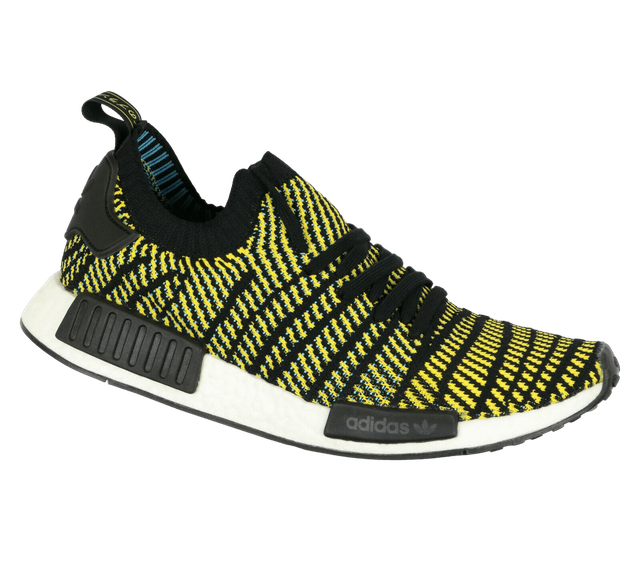 NMD_R1s Are Rocked by Everyone

The NMD_R1s are beloved by running shoe enthusiasts and kids of all ages. They've also been spotted on famous feet, from athletes to A-list celebrities:

Portland Trail Blazers' Damian Lillard has a post-game pair.
Record producer Metro Boomin and rapper Fabolous kick around in them.
They've walked the red carpet with the likes of Jaden Smith, Kylie Jenner and Justin Timberlake.
Drawing Inspiration from the adidas Originals
While creating this "runner," designers pulled directly from the adidas running vault, borrowing elements from three adidas Originals. The bold blue and red colour blocks in the midsole were hatched from Boston Super and further refined, taking cues from Rising Star and Micropacer. The NMD_R1 takes these elements to the next level with large, 3-dimensional plugs that provide lateral stability. Some critics say the midsole plugs detract from the Boost midsole's overall comfort, but the R1 wouldn't be the R1 without them.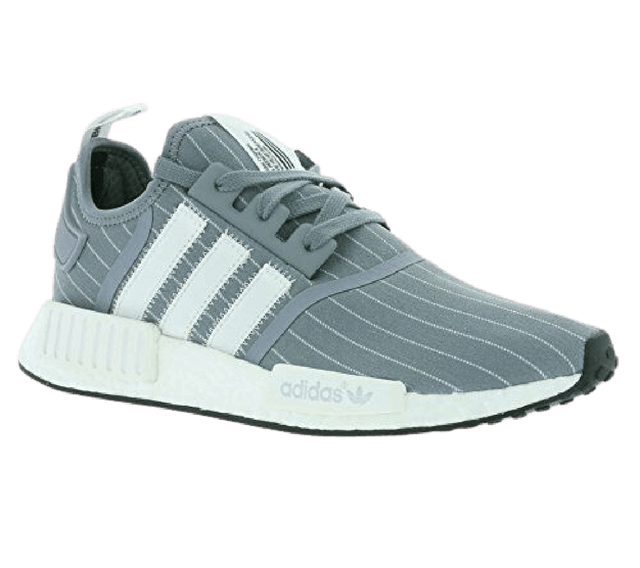 Popular NMD_R1 Colourway Releases

Since 2105, the R1 has dropped a virtual rainbow of colourways and collabs of the "Nomad." Many are hard to come by and can command four-figure prices. The most sought-after NMD_R1 collectables include:

Primeknit Black OG

This is the shoe that started it all. The OG features a black Primeknit upper, white Boost midsoles, and red and blue midsole plugs. After its initial release, this model blew up on the resale market, selling for upwards of $AUD1,3001*. But as more pairs became available, its value has levelled off, going for a more affordable $AUD2602*. The Black OG is the most quintessential R1, so if you can only afford one pair, this might be the one.

Consortium "Key City" Black 3M

The second R1 release features a black upper with reflective grey stripes and highlights. You can pick up a pair for under $AUD2603*.

Friends and Family 2016. This ultra-rare version features a Primeknit upper in Oreo on top of the Black OG's tooling. This shoe was never sold to the public and can resale in the thousands.

Primeknit

Primeknit "Yellow Gold" Camo. This textured black and gold colourway without stripes or branding can pull in $AUD260-$AUD3904* or more.

adidas X Nice Kicks NMD_R1 Primeknit. One of the most collectable of R1s, this silhouette features a tie-dyed red upper and sells for upwards of $AUD1,3005*.

Primeknit Vintage White and Lush Red. The first white colourway with the same blue and red midsole plugs as the OG is rare and can garner hundreds of dollars.

Bape Olive Camo

adidas and Bape dropped a handful of camo colourways, with Olive Camo the most hyped. This shoe regularly commands over $AUD6506*.

Primeknit Black OG 2017

Fans eagerly awaited a restock of the first black OGs, and they finally came in 2017. That release dropped the bottom out of the resale market for this colourway, but it still can collect $AUD260 to $AUD3907*.

Solar Red

This brilliant monochromatic crimson running shoe goes for around $AUD260 to $AUD3908*.

1Australian Price indication converted from US$1,000.
2Australian Price indication converted from US$200.
3Australian Price indication converted from US$200.
4Australian Price indication converted from US$300.
5Australian Price indication converted from US$1,000.
6Australian Price indication converted from US$500.
7Australian Price indication converted from US$300.
8Australian Price indication converted from US$300.
*All prices are based on historical eBay data. Actual selling price of items not guaranteed and may vary.
Collectability of the NMD_R1: Rock It or Stock It?
Because the NMD_R1 comes in rare, highly collectable colourways and more accessible hues, it's perfect for rocking and stocking. The earlier classics and some of the more valuable collabs tend to hold their value, while others increase in value. Since resale prices vary so drastically, running shoe enthusiasts can pick up one or two rarer versions for displaying and a couple more for kicking around.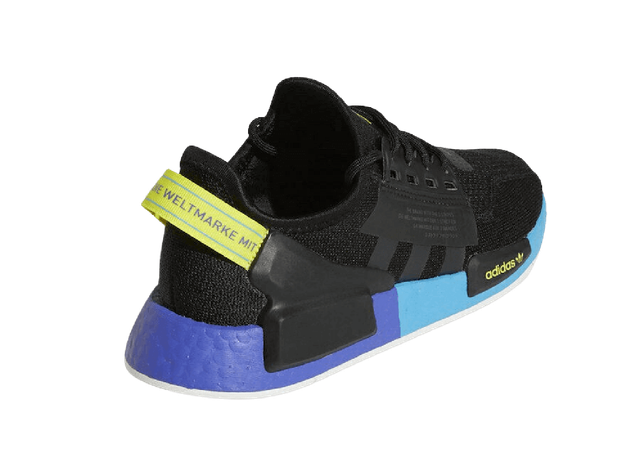 Adidas NMD R1 Afterpay
Enjoy now and pay later with Afterpay at eBay. Resembling sock-like comfort and boasting a snug yet flexible fit, the Adidas NMD R1 range is an innovative athletic sneaker you just can't pass! We've got you covered with Afterpay, meaning you can get your Adidas NMD R1 sneakers now and pay them off with 4 interest-free payments over 8 weeks
Authentic Adidas NMD R1 Sneakers without a doubt
No fakes. No fraud. No doubt. eBay is the OG destination for buying and selling sneakers, and we're keeping it real with professional authentication now available for available for shoes meeting Authenticity Guarantee eligibility. A team of local independent authenticators will meticulously inspect your sneakers and attach an Authenticity Guarantee tag for genuine peace of mind. Get your Adidas NMD R1 Sneakers authenticated and securely delivered express from the authenticator at no additional cost to you. Just look out for the blue Authenticity Guarantee check!