10 Types of Nail Art Brushes and How to Use Them
Did you know that Nail Art Brushes can help you create everything from thin detailed lines, to colour-blended shadows, and even elaborate flowers? Better yet the right brush or tool can help your creations look more professional and ensure you can create anything from simple to complete creations.
There is no limit to what you can do when it comes to nail art.
Here's a guide to help you choose the right brush for your special designs.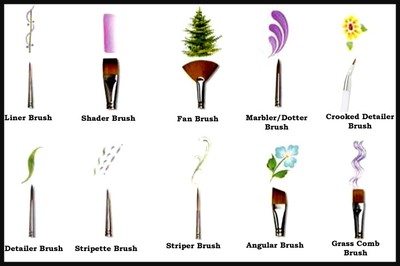 10 Types of Nail Art Brushes and How to Use Them
1. Liner Brush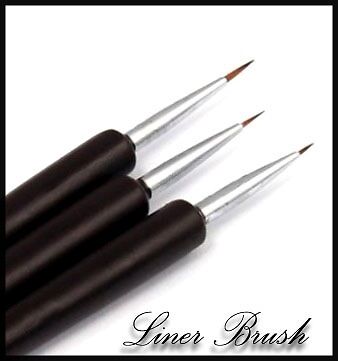 A type of brush that has a short, round point with only a few bristles.
Use:
Excellent for short strokes, a Liner Brush can be used to draw smile lines and details. It's great for outlining images and adding contours.
Nail Art Created using a Liner Brush: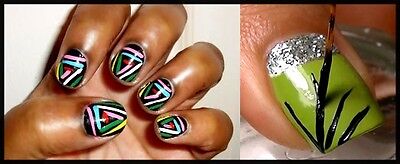 2. Shader Brush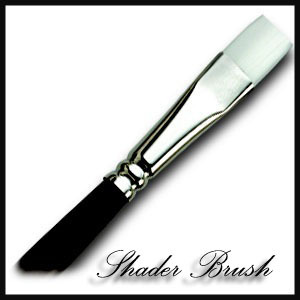 A type of brush that is short, with a square/blunt end
Use:
The Shader Brush is great for backgrounds and painting larger details. This brush is versatile in that it can be loaded with two different colors on each side.
Nail Art Created using a Shader Brush: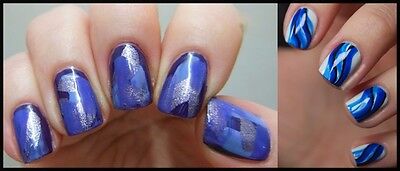 3. Fan Brush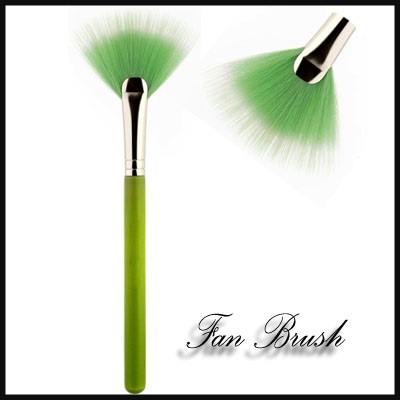 This brush has a medium length bristle, it's flat, fanned bristles helped name it the "Fan Brush"
Use:
The Fan Brush has many functions, it helps create airbrush effects; streaks; mix of colours on brush and is great for creating gradient effects too. Particularly great for shading, creating swirls and when working with glitter. It can also be used in brushing off excess flocking powder or glitter too.
Nail Art Created using a Fan Brush:

4. Marbler (Dotter) Brush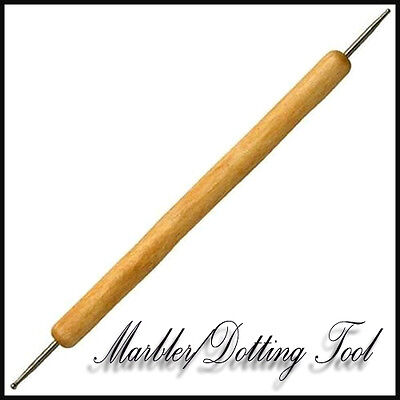 A nail art brush that is quite thick and rounded, which narrow to a pointed tip
Use:
Zigzags or swirls, the Marbler Brush can mix and blend colors together in an interesting design. Whether the colors are swirled on the nail plate or in a water solution, the marbler blends colors in a free, uneven pattern. The Marbler can also be used to make dot flowers.
Nail Art Created using a Marbler Brush:

5. Crooked Detailer Brushes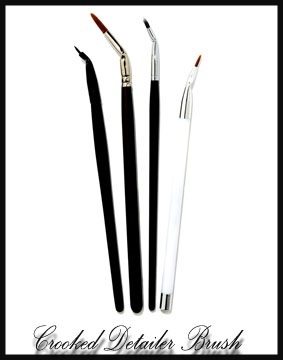 Angled shaft; with a short length round brush, that has uneven bristles
Use:
Providing an angular tip, this brush easily paints fine details and outlines. It can also be used in a more upright position and can be used to add highlights.
Nail Art Created using a Crooked Detailer Brush:

6.
Detailer Brush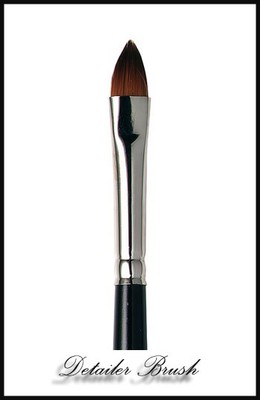 Short bristles, flat composition, with the brush graduating to a tip at the end
Use:
The Detailer Brush can be used for intricate work and is especially suited to drawing delicate flowers. Flower petals can easily be painted by placing the brush flat and lifting it straight up.
Nail Art Created using a Detailer Brush:

7.
Striper Brush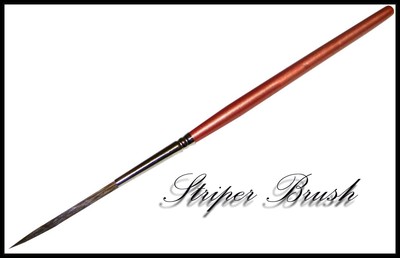 Very long bristles, generally fine brush without too many bristles; round and pointed tip
Use:
Efficient for elongated lines, the Striper Brush creates long vertical or horizontal lines. Thick or thin lines; elongated; thickness of lines depends on amount of paint on bristles and thickness of brush.
Nail Art Created using a Striper Brush: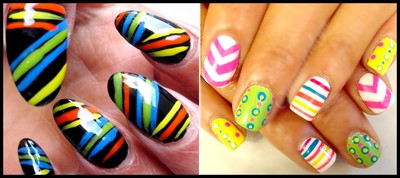 8. Stripette Brush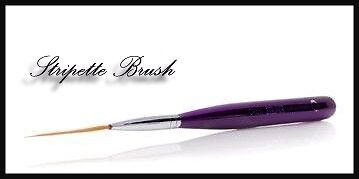 A shorter version of the Striper Brush, creates vertical and horizontal lines instead in shorter strokes.
Use:
A shorter version of the Striper Brush, the Stripette creates the same vertical and horizontal lines but in shorter strokes. The Stripette is great for drawing wisps and netting and creating finer detail when painting in your lines.
Nail Art Created using a Stripette Brush:

9. Grass Comb Brush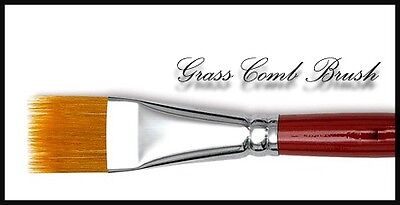 This type of brush has short, flat, separated bristles with uneven lengths.
Use:
For detailed dry brush techniques, this brush has separated bristles for easy application. It creates an airbrushed effect with a swipe of the brush.
Great for dry brush techniques; airbrush effects, grass, feathers and leaves
Nail Art Created using a Grass Comb Brush: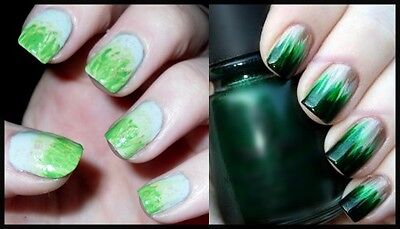 10. Angular Brush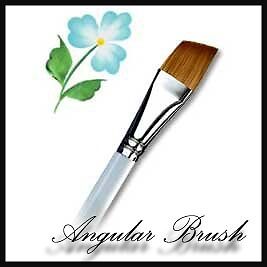 A type of brush that has a short, flat, angled brush; cut at forty-five degree angle.
Use:
Its angled head helps you create intricate detailed designs. Bristles are cut at a 45° angle for control when drawing at a slant. Perfect for creating slants and angled shapes
Nail Art Created using an Angular Brush:

TIPS FOR CLEANING NAIL ART BRUSHES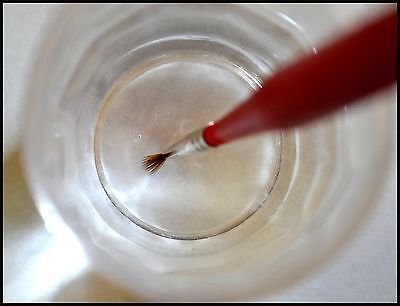 DO'S
Wipe off the excess (gel polish, water or glitter) on your brush using clean paper towel dampened with isopropyl alcohol. Pull the bristles (between your index and thumb) smoothly together to restore the original shape of the brush.
Clean your brushes once you're finished with your session before product dries into the bristles and becomes more difficult to clean
Allow your brushes to dry before storage.
DONT'S
Never clean or dip brushes in hot water. The bristles will fall out and loose shape.
Never leave your brush with its bristles resting on any solid object or cleaner at all times, instead have them lying flat or upside down.
Thanks for stopping by!
Have a sensation-nail rest of the day!
Cheers,
Jo, Jeanne & Jennifer
The Hollywood Beauty Team xXx