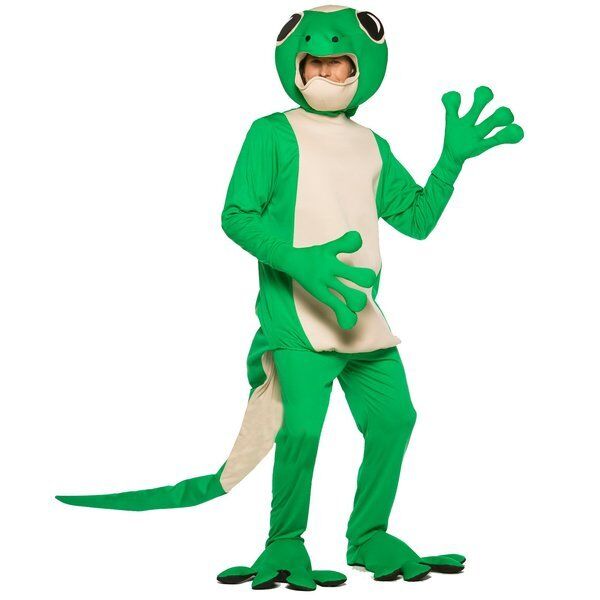 Depending on the animal, an animal costume can work for a variety of fancy dress parties. Adults can dress as gruesome, drooling werewolves, or sexy, sultry, slinky cats, or can opt for something a little less extreme and go for a bunny or a cute little chick costume. For something a little different, consider a fantastical creature such as a dragon, a manticore, or a hippogriff. Adult animal costumes are available from eBay sellers in new and used condition, catering to every size and every budget. Adult animal costumes are also available from most fancy dress hire shops. For the creative costume wearer, eBay also offers everything required to create a costume from scratch or to personalise a ready-made costume.
Choosing an Animal Costume
There are so many different animals that one can dress as that it can sometimes be difficult to know where to start. Many adult costumes are available including elephant costumes, lion costumes, and dinosaur costumes. One can purchase these costumes as a single item but some people choose to buy accessories that they can pair with clothes they already have in their closets. An adult onesie makes a great base garment for creating an adult animal costume. Onesies are bodysuits that were traditionally worn by babies but are now popular with adults who wear them both as outdoor outfits and as pyjamas. By choosing a plain onesie, one can then adds accessories to create a unique animal outfit.
Onesie Chart
Choosing a onesie in the correct size is essential. The correct size ensures the wearer is comfortable in her animal costume. If the onesie she chooses is too small, she may feel restricted.
| | | | | | |
| --- | --- | --- | --- | --- | --- |
| Onesie Size | X Small | Small | Medium | Large | X Tall |
| | 140-150 | 150-160 | 160-180 | 180-190 | 190-220 |
| Chest Size in cm | 98 | 106 | 120 | 126 | 124 |
| Chest Size in inches | 39 | 42 | 47 | 50 | 49 |
By using the chart above a buyer can choose the correct size adult onesie quickly and easily. Manufacturer sizes may differ slightly from the measurements above.
Choosing an Animal Costume
When choosing an animal costume, it is a good idea to choose an animal that is related to the theme of the party or celebration. For Halloween, one should consider choosing an scary animal such as a werewolf. A black cat is another option for a Halloween costume. At Easter try dressing as a fluffy bunny or a cute, baby chick. Christmas animals include reindeer .
Cat Costume
There are several different cat costumes available to purchase. From the the Cheshire Cat in "Alice in Wonderland" to Batman's arch nemesis and sometimes love interest Catwoman, there is a cat costume to suit everyone's taste. A Catwoman costume tends to be quite revealing. The costume is made from tight leather or PVC with thigh length boots.
Making a cat costume at home is easy and one can make such a costume by using items already available in a home. The base garments of the cat costume include pants and a pullover in the same colour. Most people choose black garments as these are common items but white or grey are two other possible choices. For the tail of the cat, one can wrap some furry black material around a wire coat hanger that one has bent into the shape of a tail. Attach it to a piece of elastic and then tie it around the waist. One can make cat ears by taking a black headband and attaching two ear shapes made out of stiff cardboard. For paws, the partygoer can wearblack socks over her hands. Use black face paint to draw on the whiskers and the nose.
Reindeer
Deliver Christmas presents at an office Christmas party by dressing as a reindeer. The base of the costume is a brown onesie or brown trousers and a sweater. Use a piece of white faux fur and cut out an oval and stick it onto the front of the costume. Add a wide strip of faux fur around the ankles and the wrists of the sweater. One can fashion antlers by attaching two pipe cleaners to a headband. Bend the pipe cleaners into the shape of antlers and wrap them in brown felt. To complete the Rudolph look, draw on a red nose or purchase a red flashing nose.
Rabbit
A partygoer can assemble an Easter bunny costume by wearing a white sweater and white leggings or trousers. A large oval piece of pink felt should be glued onto the front of the costume to represent the rabbit's stomach. Add a large pom pom to the back of the costume for the rabbit's tail. One starts making the bunny's ears by cutting two pieces of white felt. The centre of the ears consists of gluing a smaller piece of pink felt to the white outer ears. One can then fix them to a headband. For the face of the rabbit, one applies pink makeup using a sponge. Draw on whiskers and use a black eyeliner to draw the outline of two buck teeth. To finish the look, draw on a cute pink nose.
How to Buy
eBay sellers provide costumes, costume supplies, and accessories suited to a huge range of animal costumes, from penguins and monkeys, to hydras and hippos. eBay sellers have everything you need to amaze your friends and family with your costume at very competitive pricing, and some sellers include the cost of delivery in the purchase price. If you are shopping for your costume on a budget, consider buying used costumes and accessories or shopping eBay deals. If you have any questions regarding the costume, you can simply contact the seller before you make your purchase. To do this, simply click on the seller's user name and then the contact link. Let your imagination run wild and find the perfect animal costume on eBay.