Looking for a Snorkel for your 4x4 ?
Here's 7 facts about snorkels to help you...
1. Construction - most snorkels on the market that are commercially available are made from plastic, in particular LLDPE (Linear Low Density Poly Ethylene) which is a strong, durable plastic popular for making all sorts of things and widely found in the auto parts industry for items that require long life, impact resistance and good UV durability. Snorkels we sell are made from LLDPE and are manufactured in roto moulding machines using engineered dies by blending LLDPE raw material with carbon black raw additive. The carbon black additive not only gives it an attractive black finish to compliment modern 4WD's but the carbon black additive is also one of the most effective UV resistant additives that can be added to LLDPE to provide many years of UV resistance against fading, cracking and perishing in the torturous Australian sun. Typical wall thickness of our snorkels is 5-6mm (see pictures below) which will provide maximum resistance against impact damage. Nut inserts required for bolting the snorkel to the vehicle body are machined from rust proof aluminium and fully moulded into the main snorkel body (see pictures below) during the roto-moulding process to ensure maximum strength. The internal walls of the snorkel body are smooth to provide maximum airflow efficiency for your engine (see pictures below). Our snorkels will last many years under Australia's harsh roads and environment
An extra note about UV ratings: Most of the worlds plastics raw material suppliers (Eg Mobil Exxon, DuPont etc..) will only quote a UV rating of 8 (UV8) and will advise that by combining their virgin raw material with UV stabilisers and/or carbon black will increase the rating but there is no plastics industry recognised set formula for re-rating the plastic to any higher rating than 8, however some snorkel manufacturers will claim UV ratings up to 20 (UV20). Be aware that any claims of a UV rating above 8 is not a recognised platics industry quoted UV rating but merely a marketing tactic to get consumers to believe their product is higher rated than other brands of snorkels.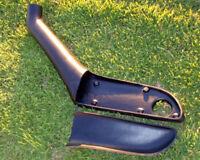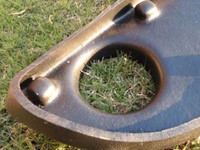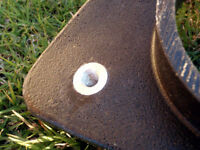 2. Design - Snorkels we sell are manufactured to suit individual vehicle models as advertised in our listings and will fit snugly and neatly against vehicle bodywork. All parts included will fit the vehicle air intake its advertised to fit and all parts needed to complete the installation are provided. You will need some DIY tools like spanners, screwdrivers, drills, hacksaw or tin nibbler plus some sealant suitable for auto applications (Sikaflex or similar poly urethane sealant). We also include a unique transparent PVC fitting template and fitting instructions to make the job easier.
3. Cost - For many years the snorkel market has been dominated by a limited number of snorkel manufacturers and prices have seen these selling for approximately $400-$600 or more and by the time you might get someone to fit it for you (an extra $200-$300) it can end up costing around $700 to $800. Quite a bit for a piece of plastic and some fitting hardware. We now offer Snorkels for under $300 and with the instructions and template provided, some tools and a few hours of your time you can save hundreds of dollars and be satisfied with "I did it myself !"
4. Protection - Probably the single most important feature of a snorkel is the protection it provides your valuable engine against water and dust. In particular water can be catastrophic for your engine if ingested while crossing a relatively shallow water crossing. Most factory air intakes are inside the front fender at quite a low point where they are very vulnerable to water and all the dust kicked up by your front tyres. With our snorkels all parts included are designed to fit correctly and if installed properly will provide a water and dust proof path for your air intake system. This will save your engine against costly repairs if water otherwise entered the engine plus with a snorkel, your air filter servicing costs are reduced as it will draw in cleaner air from its elevated intake. This is particularly beneficial while following other vehicles on dry dusty roads. We can even offer optional pre-cleaner air intakes that remove even more dust at the snorkel intake point before it gets into the air intake system. The snorkel intake heads we provide standard in each snorkel kit will also by their design remove water and rain at the head, once again protecting your engine from water ingression. In extreme conditions of rain or snow the head can also be rotated rearwards to prevent direct ingestion of rain and snow.
5. Performance - By providing a cleaner, more direct intake of air into your engine, a snorkel will improve your performance and economy. Not a huge amount (A 4WD magazine recently tested snorkels and showed economy to improve by saving around 250ml of fuel per 100km) but every bit helps !
6. Origin - Our snorkels we sell are imported from overseas from one of the largest auto part manufacturing countries in the world, China. Many of the Auto parts you buy for your 4x4 today in Australia come from China, just look at the origin of many of todays bull bars, roof racks, winches, fridges etc. - many of them come from China, in fact one of the largest 4x4 Accessory manufacturers in Australia setup a manufacturing plant in Taiwan in 2005 to manufacture a range of their bull bars and other steel based products. The "other" large 4x4 accessory manufacturer here in Australia also imports some of their bull bar range from China. The snorkels we sell are made using precision roto moulding machines and are made to a high quality standard using only virgin raw materials. You can be assured of getting a quality made, precise fitting, long lasting, tough and durable snorkel from us.
7. Options - We can also supply optional swirl type clear bowl pre cleaners for your snorkel. If you drive regularly on dirt roads then a precleaner will save you changing you air filer as often, it will pay for itself in the savings you make on your regular servicing costs.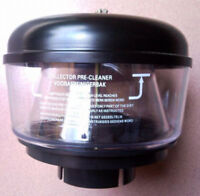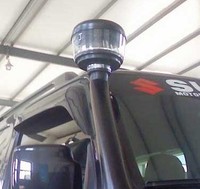 Snorkel models we currently stock are:
Toyota Landcruiser 100,105 Series 1998 to 2007 , all engine versions - Toyota Prado 120 Series 2004 to 2009, Petrol and Diesel Engines
Toyota Prado 90 Series - Petrol engine only (Diesel coming Early 2011) - Toyota Landcruisr 80 Series, all engine versions
Toyota Landcruiser 40, 42, 45 and 47 series, 2F, 3B and 2H engines
Toyota Landcruiser 75,78,71,73 Series 1985 to 2007, 3F, 1FZ-FE, 3B, 2H and 1HZ engines
Toyota Hilux 105,106, 130 Series, 22R & 3L engines (including 2.4 litre Surf) - Toyota Hilux 25/26 Series 2005 onwards, Petrol and Diesel engines
Toyota Landcruiser 200 series, Diesel and Petrol engines
Nissan GU Patrol series 1,2,3 and 4 , all engine versions - Nissan Patrol GQ Series - Nissan Patrol MQ/MK Series
Nissan Navara D40 and Pathfinder R51 , Diesel engines only
Mitsubishi Pajero NH to NK - Mitsubishi Pajero NM to NP
Jeep XJ Cherokee - Jeep JK Wrangler
Land Rover Discovery 3 Series - Land Rover Defender TD5
Toyota Hilux 167/172 Series, Petrol and Diesel
Toyota Prado 90 Series Diesel
Isuzu D-Max - Holden Rodeo RA 2007 onwards
Ford Ranger 2007 onwards
Mitsubishi Triton ML Series
Suzuki Vitara
Toyota FJ Cruiser
Holden Jackeroo
Nissan Navara D22
Holden Rodeo 1988 to 1996
Jeep Grand Cherokee (ZJ Only)
Mitsubishi Pajero NA to NG
Toyota Landcruiser 60 series
Toyota Hilux 65 series (1983 to 1988)
Land Rover Discovery SERIES 2
Suzuki Jimny
Please see our listings for more specific vehicle compatabilty
More models arriving early 2012
Mitsubishi MK Triton - petrol and diesel versions
Jeep TJ Wrangler
Models arriving 2012
Toyota Prado 150 - Holden Colorado - Holden Rodeo RA 2003 to 2006
Nissan Navara D40 2010 onwards (Spanish built) - Mazda BT50 - Ford F250
NL Pajero (buldge guard model)
Please Note : Direct 4x4 Accessories do not sell any copright infringing fitting instructions or fitting templates and Direct 4x4 Accessories are not associated with any Australian manufacturer of snorkels.