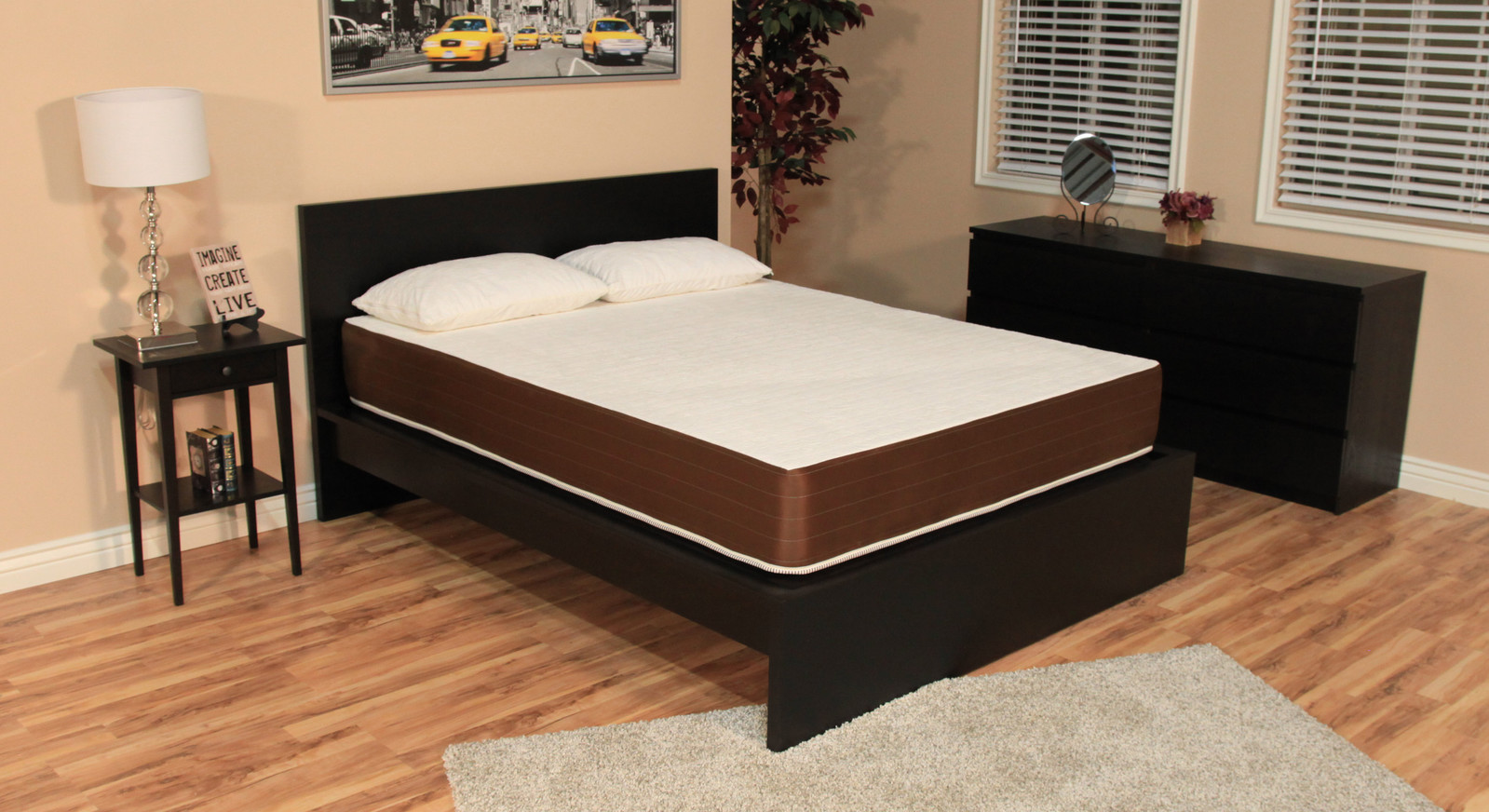 Over time, traditional mattresses sag and dip, which create positioning problems when sleeping. For this reason, many people prefer memory foam mattresses, which offer better stability and support. Also, a memory foam mattress adjusts to the body heat and shape to provide optimal comfort, and because it does not have pressure points it helps relieve back and neck pain for many users. Users also benefit from the anti-microbial properties of the mattress and its capacity to resist dust mites.
Buyers land a good deal for a budget-friendly memory foam mattress if they know how and where to look. General pointers about choosing a memory foam mattress help in understanding this type of mattress. In addition, knowing the popular brands as well as the top alternatives provides buyers better perspective in their purchase decision.
Follow General Pointers
As a rule of thumb, a memory foam mattress needs to weigh at least 1 kilogramme. The denser or heavier the foam, the more it is able to hold up over time. The cell structure in memory foam varies from very open cells to almost closed cells. Buyers must find a memory foam mattress that leans toward the open-cell structure to provide better airflow and better recovery. Those who are sensitive to odours need an open-cell memory foam mattress because it retains fewer odours.
Also worthy of consideration are mmHg and ILD. The unit of measurement mmHg determines the mattress reaction to pressure. A memory foam mattress that has 30 mmHg or lower relieves pressure, which means there is less tossing and turning while sleeping. ILD, on the other hand, refers to indentation load deflection which is anywhere between 6 and 40. Quality memory foam mattresses rate between 10 to 16 ILD.
Serta 11-inch Sure Temp Memory Foam Mattress
The Serta 11-inch Sure Temp budget memory foam mattress features two layers: one has 3-inch thickness and the other has 8-inch thickness. One issue that sometimes comes up with regards to memory foam mattresses is that they get too warm. According to bestcovery.com, the 3-inch layer of Serta adjusts to the sleeping style to keep the mattress at a comfortable temperature. The second layer, on the other hand, focuses on providing increased support. Bestcovery.com recommends the Serta 11-inch Sure Temp memory foam mattress to couples, as the mattress gives comfortable rest to each of the sleepers.
Bodipedic 10-inch Memory Foam Mattress
According to bestcovery.com, the Bodipedic 10-inch budget mattress possesses the good things about memory foam mattresses, including 100 per cent hypoallergenic materials and temperature-sensitive properties. The first layer of Bodipedic is a 3-inch NASA-grade memory foam, while the second layer is a 7-inch traditional memory foam.
Spa Sensation 12-inch Theratouch Memory Foam Mattress
Another popular budget memory foam mattress is the Spa Sensation 12-inch Theratouch mattress. This Spa Sensation mattress, according to bestcovery.com, features soothing properties that give comfort for soreness. The mattress also consists of hypoallergenic materials, so allergy sufferers need not worry. Bestcovery recommends the Spa Sensation 12-inch Theratouch memory foam mattress to young women, people suffering from chronic soreness, and seniors who rather enjoy a warmer temperature when sleeping.
Buy a Pre-Owned Memory Foam Mattress
To stay within a tight budget, buyers opt for a used memory foam mattress. There are sellers who offer a pre-owned memory foam mattress which is only slightly used. The key to buying such a memory foam mattress is to ask the seller for information about the condition and age of the mattress. Buyers should choose a mattress that retains its thickness and does not have permanent imprints. Also ask the seller for mould and mildew problems. Memory foam in general turns yellow over time because of oxidation, so the yellow colouring of a pre-owned mattress should not put off buyers.
Before sleeping on the pre-owned memory foam mattress, be sure to spray it with a fabric cleaner and water solution. Let the solution sit for 30 minutes and rinse the mattress using a water hose. Then spray the mattress with a spray bottle filled with one part distilled vinegar and four parts water. Rinse it off and let it dry outside or use an electric fan to it dry quickly.
Buy a Spring Mattress with a Memory Foam Top
A spring mattress with a memory foam top, or a combination spring and memory foam mattress, is cheaper than an all-foam mattress. One example is Real Roland, a budget-friendly mattress available online. The company offers premium memory foam and high-grade knitting fabric covers. The mattresses, which are usually available in medium-soft variety, features 532 pocket springs, with each spring having five zones.
Another reasonably priced mattress is Morfeusflex. The company promises eco-friendly, bamboo-fibre fabric that is cool in hot weather and warm in cold conditions. NASA memory foam covers the top of the Morfeusflex mattress. Buyers also check out the mattress from Lily Hill. The mattress features all the comfort and stability of a memory foam top and the support of a six-turn coil system.
Consider a Memory Foam Topper Instead
Those who already have a mattress that works fine opt for a memory foam topper which provides more cushion and support on top of the existing mattress, and with the added benefit of conforming to the shape of the body. Options for memory foam toppers include a Tempur-Pedic topper, Lullaby Dream, and Beautyrest.
Budget-Friendly Memory Foam Toppers
The table below provides details on a few memory foam mattress toppers options for consumers who only need a memory foam topper and not an entire memory foam mattress, which buying just the topper helps them stay within a budget. The price ranges in the chart are estimated costs.
Brand

Thickness

Sizes

Price Range

3 inches

Twin

Twin Long

Double

King

California King

$300 to $500

Lullaby Dream

5 7/8 inches

Single

Queen

King

$80 to $120

Beautyrest

2 inches

Twin

Full

Queen

King

California King

$100 to $140
The table above is a quick reference guide for buyers who wish to save money by purchasing just a memory foam topper. Aside from the mentioned brands, there are many other memory foam brands which buyers choose from.
How to Buy
eBay offers a wide variety of budget-friendlymemory foam mattresses as well as great deals for bedding. Typing the keywords "memory foam mattress" into the search field starts the search. The filter system allows you to see listings based on their preferred price range. When searching for these items, look for listings from eBay Top-sellers who offer very competitive prices and sometimes even provide free shipping as part of the deal.
A memory foam mattress is very effective in giving comfort and support, but buyers need not shell out a large sum for it. The best options for buyers include finding a budget-friendly all-foam mattress, a spring/memory foam mattress combination, or a memory foam topper for their current spring mattress.