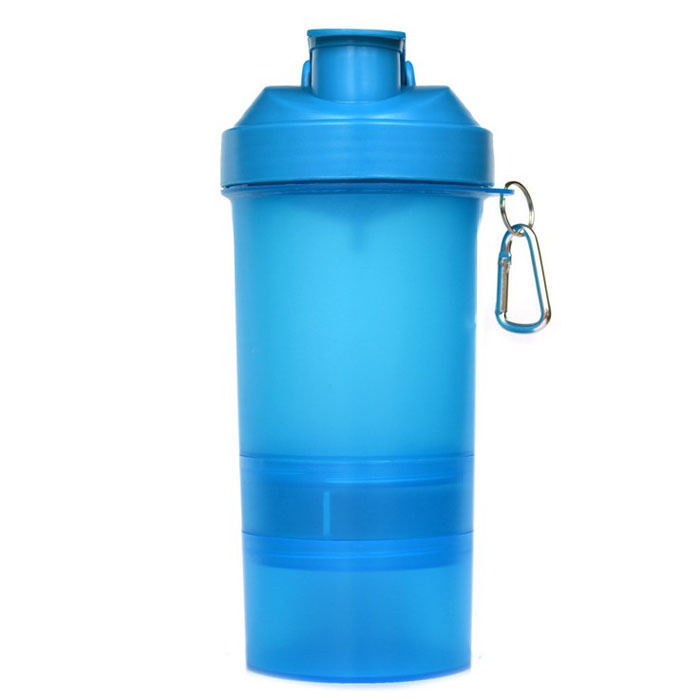 Protein shaker bottles are popular these days, and they have become a little more advanced in recent years. For people who are new to making protein shakes, however, it can be a little confusing to use these tools. The more advanced bottles also have mesh screens or ball whisks that make mixing the protein powder shakes even easier. Keeping them clean and ready to go poses another set of challenges, as well.
What is a Protein Shaker Bottle?
A protein shaker bottle is a container that measures and mixes protein shake powder with water, milk, or other liquids. Although it is possible to stir the shake mix into the liquid, this can leave clumps in the drink that are unappetizing. In addition, these bottles are handy when people are at the gym, at work, or otherwise on the go, so they are a convenient way to make the drink. These bottles often have a sip top lid, which helps users to drink the shake without spilling it.
Benefits of Protein Shakes
Protein is essential for muscle growth, and when building muscle or spending a lot of time working out, protein helps to keep the body fueled. Protein also burns energy while the body processes it, so eating more protein helps to speed up the body's metabolism. Protein shakes are a portable way to add more protein to the diet without having to eat more food. They are also more affordable than large quantities of meat, poultry, and fish.
Types of Protein Shaker Bottles
While plain bottles are most common, other styles of protein shaker bottles are becoming more common. These are especially helpful when mixing protein shakes on the go.
Type

Description

Plain bottles

Usually made from plastic or aluminum

Has a top with a separate opening for sipping

May have measurements marked on the exterior

Mesh screen

Similar to a plain bottle

A mesh screen inside helps to dissolve the protein powder

Ball whisk

Similar to a plain bottle

A wire ball whisk in the bottom assists with dissolving the protein powder
Some protein shaker bottles also have compartments or twist-off components. These provide extra space to hold doses of protein powder or extra supplements.
Using a Protein Shaker Bottle
First, add the liquid to the protein shaker bottle. If the bottle has measurements printed on the outside, it is more accurate if nothing else is in the bottle. In addition, the powdered mix is less likely to clump when added to the top of the liquid. If the bottle has a ball whisk, drop it into the bottom of the bottle.
If the bottle uses a mesh screen, attach it before putting the lid in place. Once the lid is firmly in place, make sure the sipper lid is securely closed. Shake the bottle vigorously. With a ball whisk or a mesh screen, the bottle does not need to shake as long. If it is a plain bottle, users may need to shake the bottle harder or for a longer timeframe.
Cleaning a Protein Shaker Bottle
Most people who use a protein shaker bottle find that they use it multiple times a day. A good rule of thumb is to rinse out the shaker bottle once after every use. Ideally, users should wash out the bottle with warm water and dish soap after each use. Some protein shaker bottles are dishwasher safe, but not all of them are. The bottle should air dry between uses to ensure that mold, mildew, and bacteria do not begin to grow.
Removing Odors
From time to time, protein shaker bottles can start to smell sour or bad. Often, a good washing with plenty of dish soap or a trip through the dishwasher cannot completely dispel the odor. In that case, add one to two tablespoons of baking soda to the protein shaker bottle and add one to two cups of warm water. Seal the bottle, and shake the solution. Let the bottle sit for several hours, occasionally shaking the baking soda and water solution. Rinse the shaker bottle well and smell to see if any odor remains. If the bottle still smells bad, repeat the process until the odor is gone.
How to Buy Protein Shaker Bottles on eBay
Buying protein shaker bottles on eBay is an easy way to look at a variety of these types of beverage containers from a number of different sellers. Simply type the phrase "protein shaker bottles" into the search bar on any eBay page and press enter. If you already know that you want a bottle with a whisk ball or a mesh screen, be sure to include that in the search query. You can also find protein powder mixes from eBay sellers to use with your new bottle.