With the number of supposedly old luggage racks being offered on Ebay, not all are what they claim to be. Nearly all the nice polished brass racks are reproduction racks and are being listed as genuine racks. With the prices for these going up around the $100 mark and more, you really need to ask the seller a few questions.
The first question you should be asking is "Is the luggage rack a reproduction?"
The next question that should be asked is " Are there any numbers stamped on the back of the brackets?"
A genuine railway luggage should have numbers stamped on the back of the brackets that go against the surface they are fixed two. These numbers are the identifiers for what carriage they are fitted to and the position number. As there have been a lot of different numbers used on the carriage numbers, you could also end up with a couple of numbers stamped in the bracket.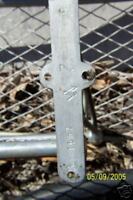 This example above shows the numbers that should be on a genuine luggage rack offered for auction. The number 1562 represents the actual carriage the rack was fitted to. Every carriage had it's own number. There have been that many used now it would take ages to go through them all, but finding a rack with numbers stamped in them like that will assist you in finding out about them. Once you have that number, it is then a matter of checking out the relevant state railway that the rack is from. Once again, there were so many different types of carriages. Without going into that area of markings, lets just keep it simple and only look for any stamping like that on the racks. the other number used on the example above, the number 2, represents the actual position where the rack was fitted in the carriage.

I hope that this helps anyone who is in the market for a luggage rack and helps you get a genuine one. Just remember to ask the seller questions about the item for sale or you could end up paying a lot of money for a imported repro rack. I cannot be 100% sure that this applied to each any every rack fitted to every carriage in Australia, so please use your judgement if your considering bidding on one.