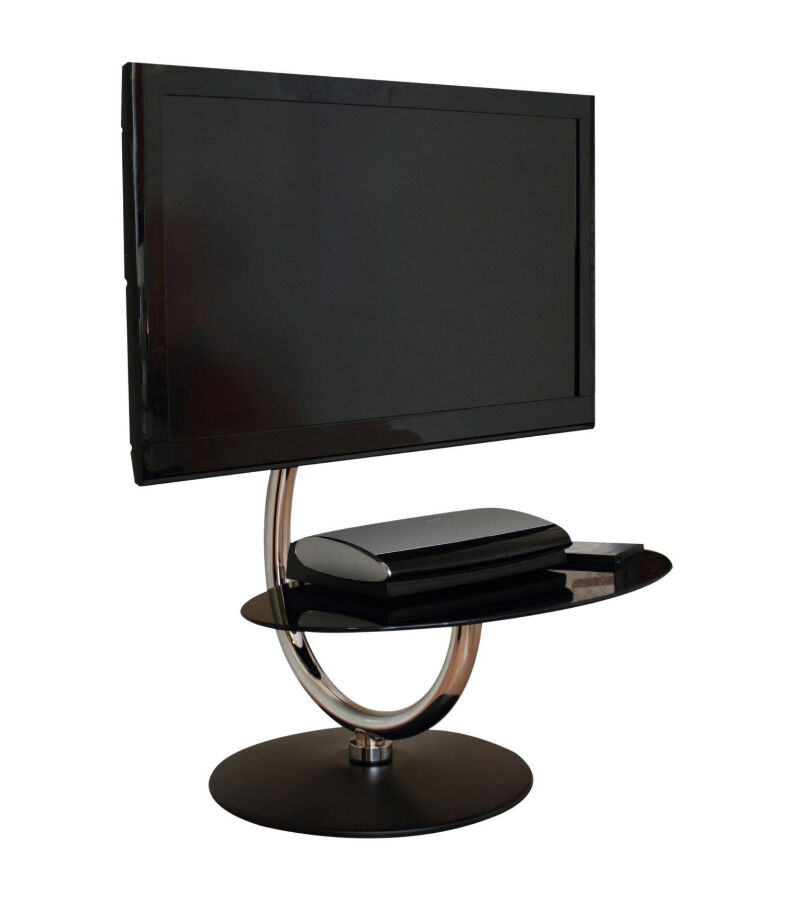 Although it is possible to mount a flat-screen TV on a wall, a TV stand is still relevant in that it also holds other home media appliances like a DVD player. A TV stand is also a fitting fixture for those who do not want to place their television at a viewing level higher than the couch.
When shopping for TV stands, there are a number of factors to consider. Buyers should think about their preferred main material; as stand can be made of wood, metal, or a combination of different materials. It is also wise for buyers to think of how many drawers and shelves they want. With these considerations, buyers can better sort through all the TV stand options and make a better buying decision.
Considerations When Buying a TV Stand
There are quite a few top brands for TV stands; however, the best TV stand is always the one that fits right to the needs of the users. Although it is important to know the top brands, buyers must also consider their preference, space limitation, among other factor, when choosing a model from the top brands.
Size of the TV Stand
Buyers must be aware of the dimensions of their room to know what TV stand sizes they can only buy. Another consideration is the size, particularly the width of their flat-screen TV. However, buyers can find it easy to get an appropriately-sized TV stand as manufacturers always state what size, and even weight, of TV that their models can support.
Placement of the Flat-Screen TV
Buyers should also know what part of room they want to place their flat-screen televisions. There are corner TV stands that are shaped like a right triangle, allowing them to fit into a corner against both walls. A corner TV stand makes use of the corner space which is otherwise not occupied, which makes perfect sense to those who want to maximise the space of a small room. There are also the standard, rectangular TV stands that are usually placed in the middle of one side of the wall. These TV stands offer the most ideal placement for better viewing, considering the arrangement of the furniture in the room, such as the couch.
Init TV Stands
Among all the brands of TV stands for flat-screen TVs on the market, Init TV stands are the most popular amongst buyers. Init, aside from being a maker of quality TV stands with ergonomic designs, also produces TV wall mounts for those who prefer their TV hanging instead of sitting atop a surface.
Init TV Stand with a Gaming Nook
The Init TV Stand with a Gaming Nook for a flat-screen television of up to 117 cm sports a classy wood construction with an espresso finish, complete with five wood shelves for storing home media and components. This TV stand has a gaming nook to hold a gaming system and its accessories. The Init TV stand also features a cord management system for an orderly look. In addition, the TV stand offers two drawers so users can store remote controls, CDs, and other media accessories.
Init TV Stand for Flat-Screen TVs Up to 147 cm
This Init stand is made of a combination of wood and glass: three black shatter-resistant tempered glass shelves and a cherry wood support. The tempered glass shelves are long and wide and able to hold many media devices. As the TV stand features a cord management system, users can organise their devices neatly. The cherry wood finish offers a great contrast to the glass and complements other wood furniture. The metal back support of the TV stand is durable.
Init TV Stand for Flat-Screen TVs up to 140 cm
This Init model can support television sets up to 100 lbs. It features two spacious black glass shelves for storage of media devices. The front panel is specifically designed to accommodate centre-channel speakers or sound bars. Just like other Init TV stand products, this TV stand allows neat placement and storage of devices with its wire management system.
Init TV Stand for Flat-Screen TVs
The Init TV Stand for Flat-Screen TVs up to 60 Inches is a stylish wood and metal combination. The stand offers two tempered glass shelves that are wide and long to hold many media devices and components. It also features a metal back support with holes as exit points for wires, providing a neat placement and storage of device.
Other TV Stand Options
Aside from Init products, there are also other brands very popular amongst online buyers. TV stands from Whalen, Bell'O, and Studio RTA are among customer favourites.
Whalen 3-in-1 TV Stand
The Whalen 3-in-1 TV stand can accommodate flat-screen TVs up to 142 cm offers a durable and sleek metal construction with a glossy black finish. This 3-in-1 TV stand can support up to 61.2 kg and be converted into a swinging floater or a wall-mount system, even offering a 45-degree swivel base to accommodate different angle preferences. There is ample space in each of the three 5-millimetre thick glass shelves, and it features a cord management system, as well as two cable-gathering wheels.
Bell'O PTP9682 Triple Play A/V System
The Bell'O PTP9682 Triple Play A/V System that supports flat-screen TVs up to 140 cm offers convenience in threes; its three configurations allow flexibility as it can serve not only as a TV stand but also a swivel floater or a wall-mount system, while its three shelves are long and wide to accommodate several home media devices and accessories. The simple yet stylish TV stand comes complete with a cable management system as well as an open construction to allow ventilation.
Bell'O PTP9650 Triple Play TV Stand
Another Bell'O creation that supports up to flat-screen TVs up to 140 cm inches is the Bell'O PTP9650 Triple Play. This stand sports a solid wood construction with a Bentwood dark espresso finish. Its three glass shelves are spacious, while its flexible configurations allow it to also serve as a swivel floater or a wall-mount system. The sleek TV stand has an ergonomic design with an excellent cable management system.
Studio RTA Copper Canyon TV Stand
The Studio RTA Copper Canyon TV Stand can support TVs up to 107 cm or 43.1 kg. It has two bronze tempered-glass shelves, a rear cable layout for neat and organised placement, and an espresso veneer finish that significantly adds to its classic look. Its dimensions are 56 by 112 by 53 cm.
Buying Stands for Flat-Screen TVs on eBay
TV stands on eBay come aplenty, and buyers can find the right one for their flat-screen TVs when they shop on the website. Buyers only need to type keywords, such as "TV stand", into the search bar that appears on every page of the site in order to view relevant listings. The search filter system allows buyers to input specific preferences, such as brand, material, and price range, in order to narrow down the listings.
Top-rated Sellers
Knowing the seller provides peace of mind to buyers. The most credible sellers on the site are top-rated sellers as they have very high positive feedback scores. These sellers are most likely to provide buyers with quality products, excellent customer service, and on-time and sometimes free shipping. Exercising caution when shopping on eBay can help buyers to land a great deal.
Conclusion
When shopping for TV stands, factors such as design, storage capacity, and flexibility in function are very important considerations. Buyers who are searching for TV stands for their flat-screen television would do well to know the best TV stand options out there. Many top TV stands offer flexibility to the user, with the stand doubling as swivel base and a wall mount system. These stands also provide user with wire management system for a neat look when media devices are in place. The most popular TV stand brand on the market is Init, followed by brands such as Whalen, Bell'O, and Studio RTA. Despite the fad of mounting a television on the wall, TV stands are still much-needed furniture for storage of media devices while being a great usage of space.
TV Stand for Flat-Screen TV|Television Stand|TV Entertainment Unit|TV Stand with Wall Mount System|TV Stand with Swivel Pole