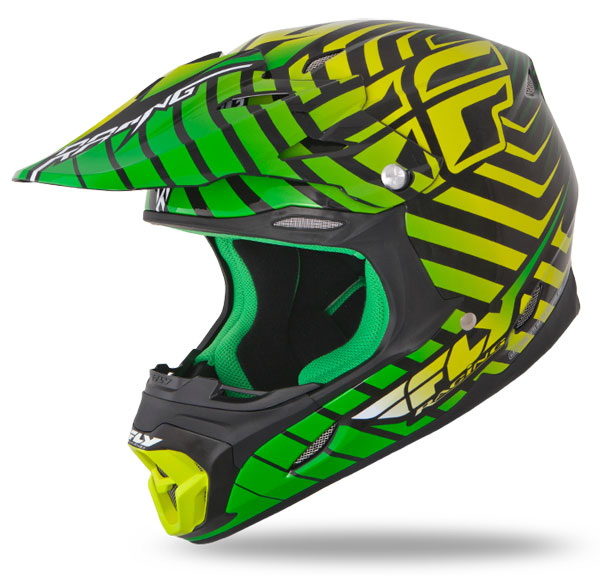 Purchasing a youth helmet for use on a motorcycle requires care and thought. Buyers must find a helmet that offers the right amount of protection and fits properly. Buyers can choose between new or used helmets depending on their budget, and can choose to purchase in a store or from an online shop like eBay. In either case, the most important considerations are the protection offered by the helmet, the helmet's size, and whether or not the helmet is certified to be used for motorcycles.
While buying a helmet can be very easy, there are multiple considerations. Parents, guardians, and anyone buying a helmet should pay attention to the helmet and always take the time to measure the child before making a purchase. The following information, including the basic size information, safety regulations, and list of helmet types that can be used with motorbikes and cycles, can be used to locate and buy the right helmet for a child.
Helmet Size
The size of the helmet is very important as a helmet that is too small offers little to no protection and a helmet that is too big can actually be dangerous in the event of an accident. A good fitting helmet should cover the child's head without covering the eyes, and should cover at least part of the forehead. If the helmet sits up too high, then it could dig into the forehead; if the helmet is too low, it can impair vision, which can be dangerous as well.
Sizes tend to vary from brand to brand, especially depending on the age range that the helmet is intended for. Various factors such as whether or not the helmet has a faceguard can also affect the fit. Some sellers might use a standard XS through XL size chart while others might show the size in centimetres or in a 4–6 or 8–10 size. Sizes vary greatly from one brand to another and a small in one brand might be an extra small or a medium in another brand. As a rule, it is always important to measure the child's head and then directly compare those measurements to the size of the helmet being purchased.
Measuring the Child for a Helmet
To measure a child for a helmet, simply take a string or soft measuring tape. This can be paper or plastic but for safety reasons should not be aluminium. Wrap the tape measure around the child's head about one centimetre above the ears, and check the size without overlapping the measuring tape. Check to ensure the accuracy of the measurement.
Typically, this measurement should be about one centimetre above both the eyes and the ears as this is normally the widest part of the head. Children should not be wearing hats for the measurement and their hair should be brushed down like it would be with a helmet on. Write down the measurement in centimetres and then use it to compare to size charts while shopping for a motorcycle helmet.
One-Size-Fits-All Helmets
Statistics show that children can wear the same helmet for at least five years of their life if the helmet is purchased correctly. For example, an estimated 90 per cent of children aged 8 can fit into a 54-centimetre helmet or smaller, and 50 per cent of those children still fit the same helmet at age 13. This means that the right helmet should fit for years to come if fitted properly. For this reason, many youth helmets are made to be an appropriate fit for children with a 45- to 54-centimetre head so that they can fit a wide range of children for a very long period of time. It is important to check with measurements and the recommendations for the helmet before purchasing a one-size-fits-all helmet.
Helmet Safety Standards
Youth motorcycle helmets have much stricter safety standards than bicycle helmets because they have to protect the head during higher velocity falls. A standard helmet is typically made up of two layers with a chin strap while a motorcycle helmet should be made of three layers with a chin strap and usually a face guard.
Australian motorcycle helmet safety standards stipulate that the helmet must have a rigid exterior and interior, a strong and durable strap or retention system to keep the helmet in place, and not impact peripheral vision. Safety standards also say that a motorcycle helmet must have ridges in the interior to absorb impact as well as a high impact absorption material between the two layers of rigid materials. Helmets produced in Australia must also be marked as 'vehicle users helmet' if they meet the required safety standards to be used on a vehicle.
Youth Helmet Types
There are multiple types of helmets that are each designed to offer different levels of protection or to be used with different types of motorbikes. Helmets can include visors, face guards, partial face guards; cover half of the head or the full head; and come in a variety of shapes and sizes. Choosing one should depend on the amount of protection required as well as the type of biking.
| | |
| --- | --- |
| Helmet | Description |
| Sport Helmet | Heavy helmet that offers high protection; typically features a visor and faceguard |
| | Lightweight helmet designed for comfort |
| | Designed to stay on in rough conditions; may or may not feature a visor and faceguard |
| Full Face | Offers a visor and faceguard |
| | Designed to be lightweight, highly protective, and versatile |
While each of these helmets offers a different level of protection, it is usually possible to simply allow the child to choose the helmet based on style preferences as long as the helmet is certified by the AS/NZS 2063:2008 regulation found in the Consumer Protection Notice No. 9, which was released in 1990. There are penalties for not holding up to these standards, so most buyers can simply choose any youth helmet on the market, provided the helmet holds up to the correct standards.
Buying a Used Youth Helmet
Anyone who would like to save money on a youth helmet can likely get a good deal by going online and choosing a used one. Second-hand helmets are most likely the same quality as new ones but more affordable. Some may also have to be cleaned before use but should otherwise be good quality. Buyers can check for dents, cracks and damage, as well as damage to the straps before purchasing in order to verify the integrity of the helmet. Other than that, a used helmet should be an equally good purchase idea for anyone on a budget.
Buying a Youth Helmet on eBay
Buyers can look on eBay to find and purchase youth motorcycle helmets or to find deals on motorbike accessories. Options on eBay range from new to used and can include budget as well as name brand options. Conditions, sizes, and shipping time do vary depending on the seller so it is important to read the description and check any item specifications before placing an order. It is also important to check to ensure that a helmet purchased from outside of Australia holds up to Australian certifications.
Styles available on eBay range from girls, to boys, to unisex, and options are most often available in every size. It is possible to purchase anything from toddler to teen helmets, and everything in between, on eBay, so the site is a great place to look for anyone who needs a very specific size. However, it is important to ensure that the item should arrive when needed by checking the estimated delivery time before purchase. Asking any questions of the seller should also be done before committing to buy the helmet.
Conclusion
Purchasing a youth helmet requires that the buyer know the size of the child's head before purchase as sizes can greatly vary from brand to brand. It is also important to specifically choose a motorcycle helmet rather than a bike or sport helmet as motorcycle helmets are specifically designed to absorb the high impact of a motorised vehicle. Helmets sold for motorsports should be marked as 'for vehicle passengers' on the helmet itself.
Choosing an appropriate helmet size depends on the size of the child's head because some kids can wear the same helmet for years between the ages of 8 and 13. For this reason, one-size-fits-all helmets are quite popular and probably a good idea for any child who does not require a helmet for heavy use. Finally, it is possible to purchase helmets in new or used condition, especially on sites like eBay, but it is always important to pay attention to the durability and function of the helmet before purchase.
Youth Helmet|Motorcycle Helmet|Motorcycle|Full Face Helmet|Sport Helmet