Coded Coupons
Create, print and share your own discount codes for buyers. Incentivise buyers to purchase, and build buyer loyalty.
What are coded coupons?
Coded Coupons let you offer your many buyers a discount through a coupon code. You can make your Coded Coupon publicly visible on your eBay listings or share it through your own marketing channels.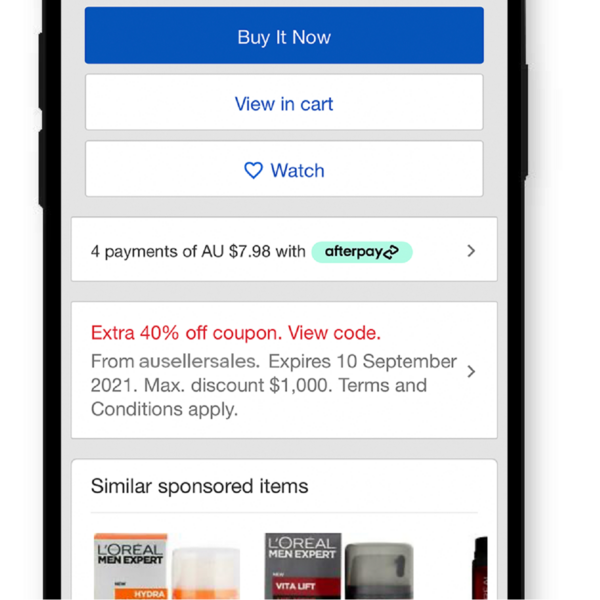 When might you use Coded Coupons?
Encourage repeat purchases
2
Control budget & margins
3
How to set-up your Coupon Promotion
To create a Coded Coupon promotion
1
Go to the Marketing tab and select Promotions.
2
Choose your unique Coupon code
3
Pick your inventory and launch straight away
5
Customise Your Discounts
Note: Your Coupon Code must be unique.
1. Offer a Set price reduction:

YOURDISCOUNT10

$10 off over $50. Ends 31 Dec 2023. T&Cs apply.

2. Offers a percentage discount:

20% OFF with coupon 20OFF

Min spend $20. Max discount $40. Ends 31 Oct 2023. T&Cs apply.

3. Offer a multi-item offer:

BUY 1 GET 1 HALF-PRICE with 2FOR1


Ends 30 Sep 2023. T&Cs apply.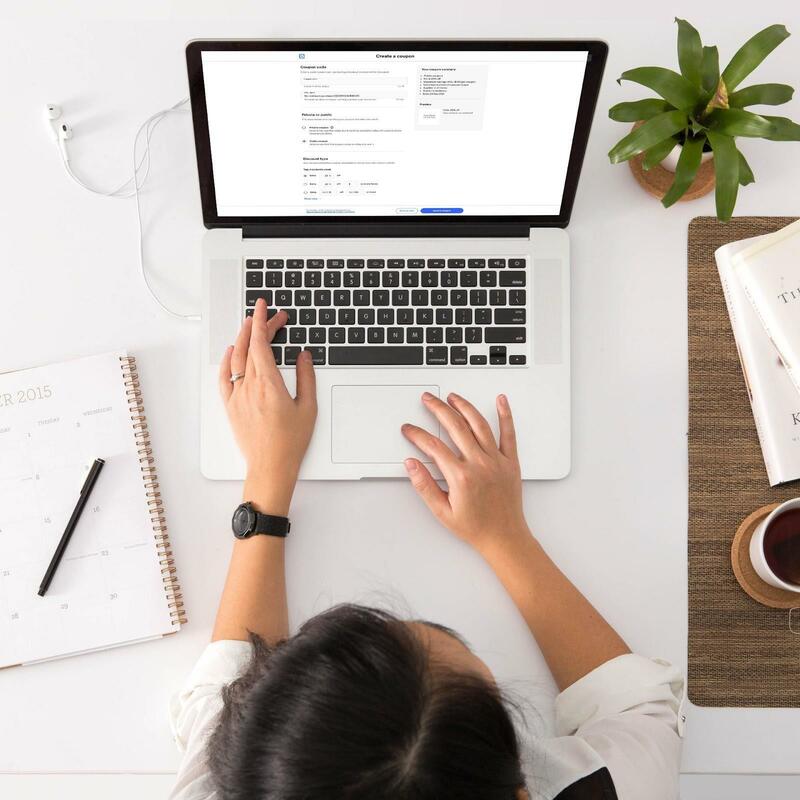 Sharing Your Coupons
On ebay.com.au search results page
On your listing page
In your buyers cart and at checkout
Share privately — off eBay
Print and send a coupon to buyers to incentivise another purchase
Send coupons through the Offer to Buyers tool to your interested buyers
Share your coupon code on social media
Make sure you refer to all of the significant terms and conditions to ensure you are not misleading your customers (including a link to the Terms and Conditions)
Note: With Private Coupons, anyone can use this code, but it won't be posted on eBay. For the avoidance of doubt, a private Coded Coupon cannot be restricted to a single buyer and can be used by any qualifying buyer that gets access.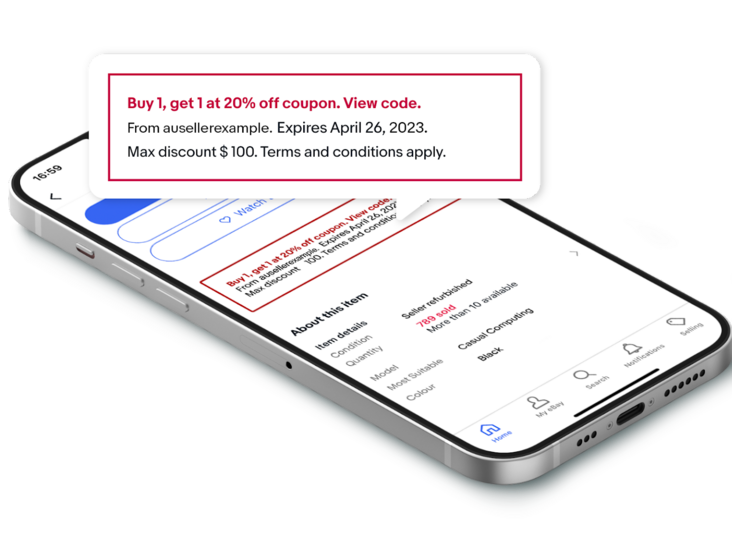 How to share you coupons
Note: Social Media can reach many buyers, ensure you have set up your Coupon parameters to suit your needs such as budget and maximum discount.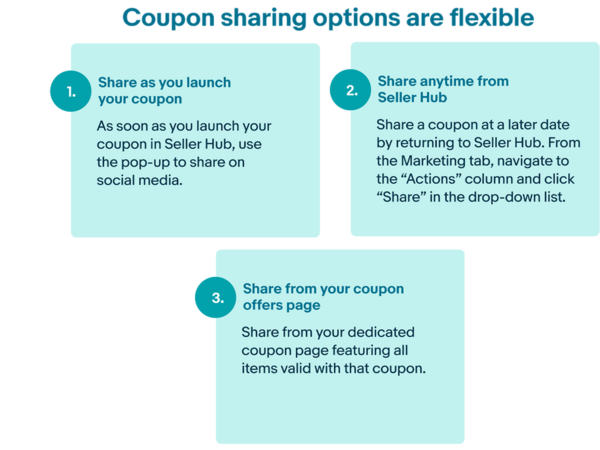 Share your Coupons on Social Media
Social media is a powerful entry point to the eBay platform for your prospective buyers. You can share the new coded coupons off eBay, via social media and in your own marketing channels. This may help to:
Reach new buyers: Share coupons through social media to increase traffic to your listings and begin long-term engagement with new customers. 

Retain existing customers: Share coupons to encourage repeat purchases and customer loyalty. You might also persuade customers to come back to your store if they haven't visited for a while.

Sharing features Captions: Write your own caption or message to accompany your post when sharing.

Shareable link: Each coupon has a shareable link, making posting to other platforms quick and easy.

Note: Social Media can reach many buyers, ensure you have set up your Coupon parameters to suit your needs such as budget and maximum discount.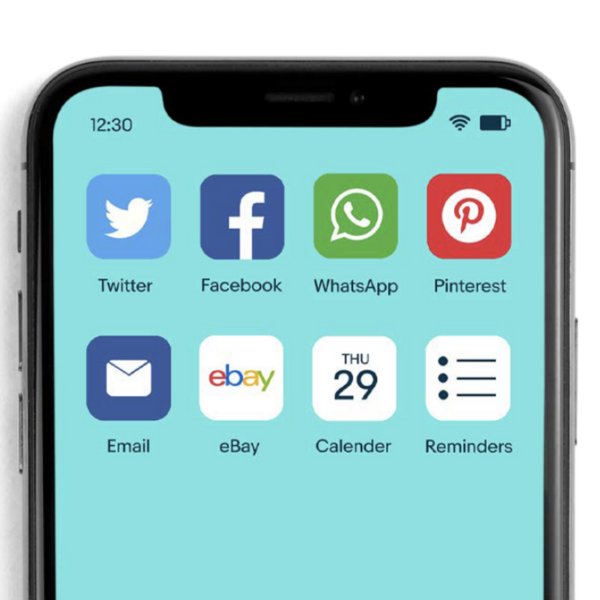 Print a Coupon
In your Orders tab in Seller Hub, you can select an order and choose Print Coupon to generate a Coupon page. You can print Coupons for one order or in bulk. Or, choose Send Coupon to send the coupon directly to a buyer via email.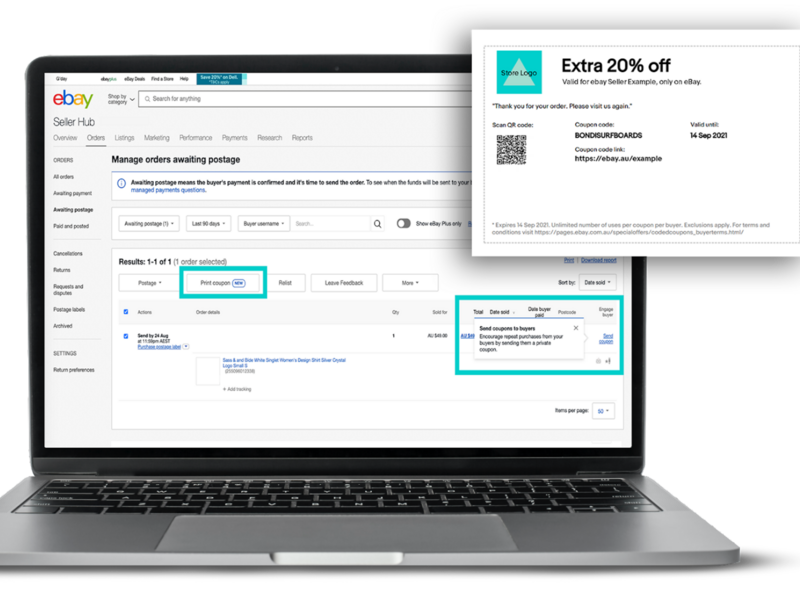 New Features Coming soon
You will soon be able to send Coded Coupons to specific buyer groups.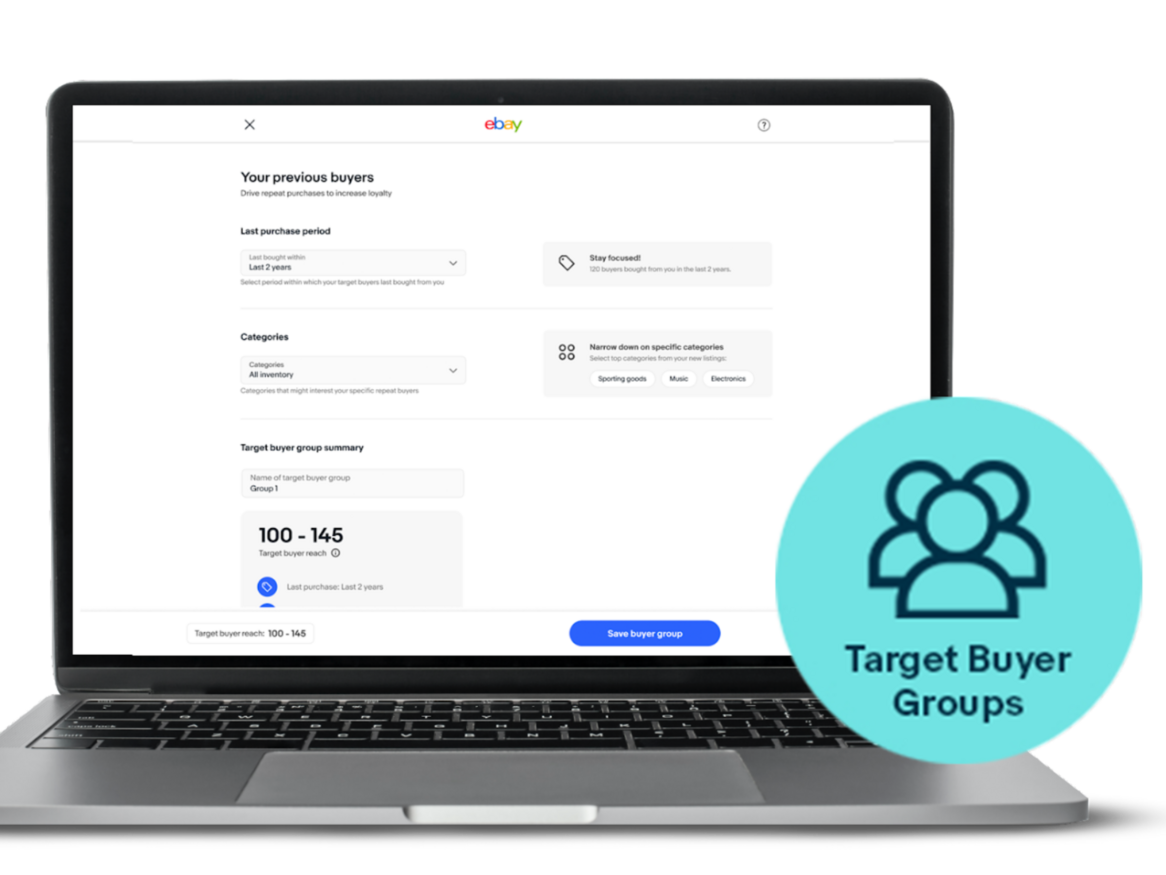 Did you know?
You can access more Promotion Tools to help grow your business in the Marketing Tab in Seller Hub with your eBay Store Subscription.